You're gonna fall in love with these Slow Cooker Thai Style Pork Spare Ribs.  I mean, the meat falls off the bone, y'all!  The taste is so delicious and the flavors are so good together!  They are a great week night meal and perfect for Game Day weekends!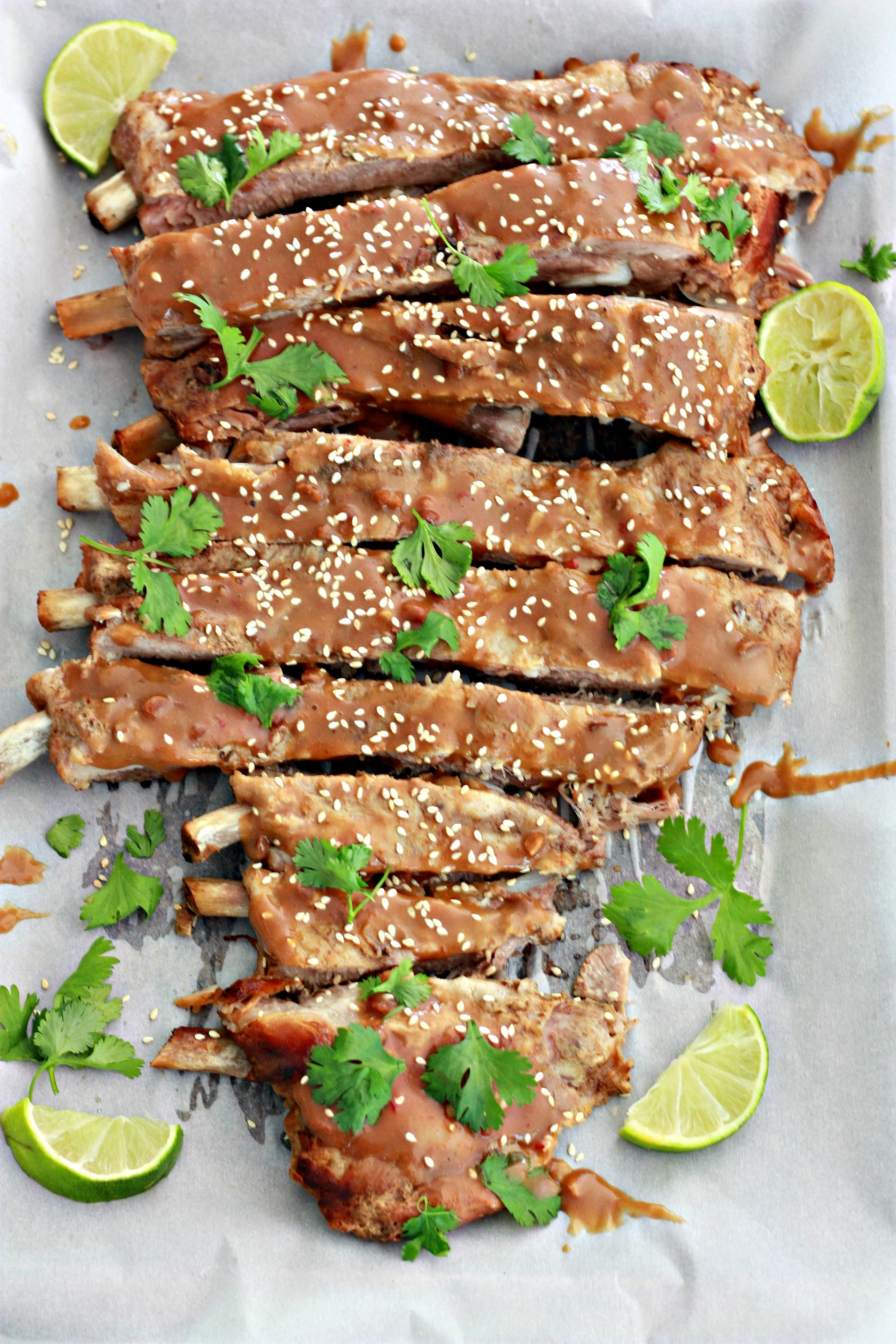 My kids went back to school last week, and like most of the first days, I try to make their favorites for dinner when they come home.  My oldest LOVES ribs!  He craves and talks about them all the time.  You know how growing boys eat…he could probably eat an entire rack of ribs, if we let him.  Thankfully as my kids are growing older they are starting to like more flavors.  In our house we are huge fans of Mexican and Asian infused meals.  So I thought I would combine my oldest's love for ribs with our love for Thai style food in one delicious slow cooker meal.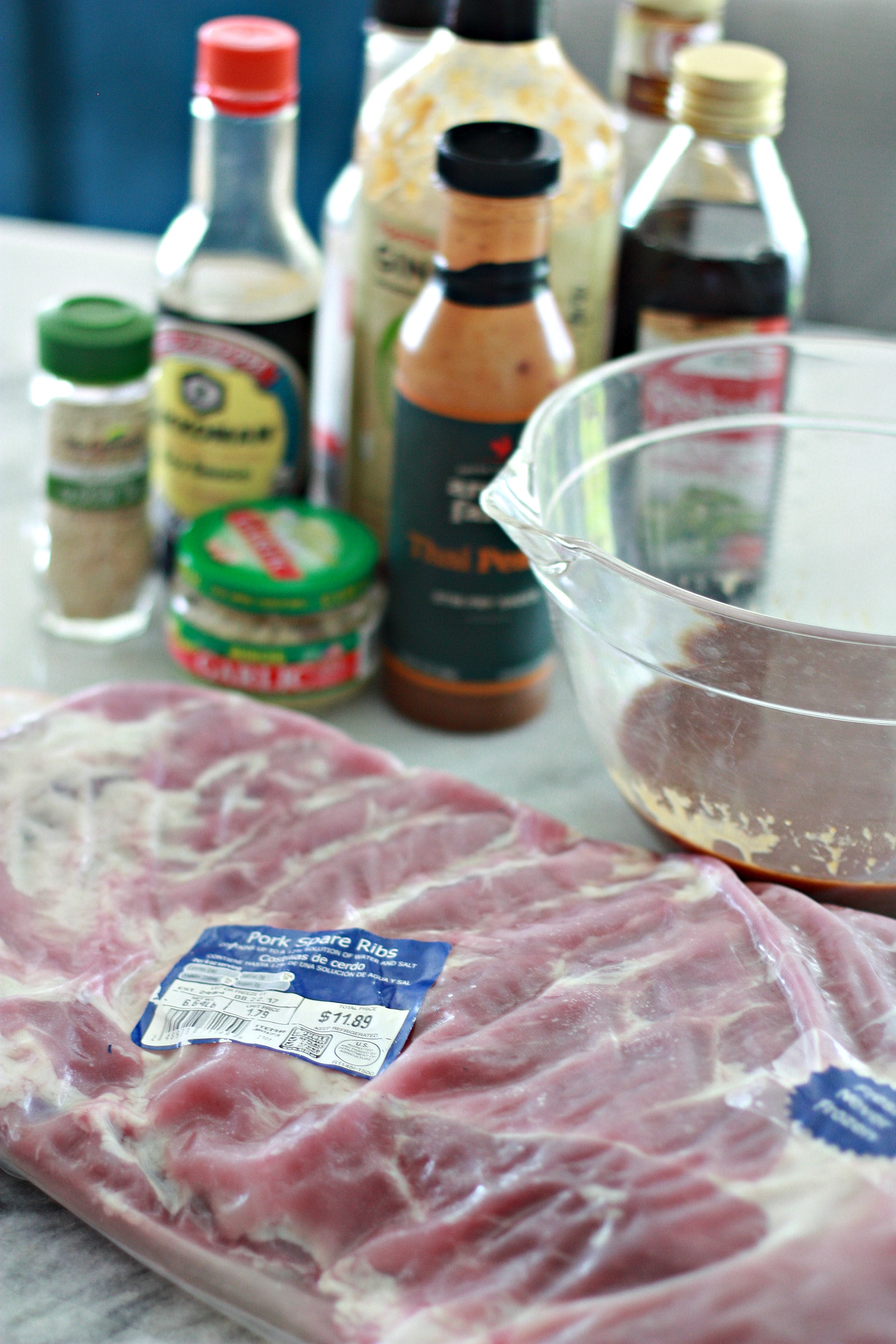 I actually got this rack of spare ribs from Aldi's!  Along with the cilantro, lime & rice to go as a side dish for this meal.  They were having a special so for 6+ lbs – I paid $9.99.  Which is a great price for a family of 5 plus to have leftovers for my husband to take to work!  Which is always a win in my book.
Slower Cooker Thai Style Pork Spare Ribs
Ingredients
5-6 lbs of Pork Spare Ribs
11/2 cups of Peanut Sauce
1 Tablespoon of Sesame Oil
11/2 teaspoons of minced garlic - or fresh if you have on hand
1/2 cup of Ginger dressing
1/3 cup of low sodium Soy Sauce
1 Tablespoon of Worcestershire Sauce
Juice of 1 lime - set aside a few slices for garnish
1/4 chopped cilantro + some for garnish
1/4 green onion - if desired
1 Tablespoon of sesame seeds* for garnish
Instructions
Start preheating your slow cooker on low.
If you have 5-6 lbs of ribs - they should be cooked within 7 hours on low*
In a mixing bowl combine all ingredients together.
Be sure to set aside some cilantro, lime wedges, sesame seeds & green onion* for garnish.
Cut your rack in half if needed to fit inside your slow cooker (that's what I did)
Spray your slow cooker with Butter Spray
Lay your ribs inside the slow cooker and pour your mixture over the ribs
Try to get in between the layers with the sauce mixture.
In about 7 hours they should be "fall off the bone" ready!
Slice the ribs, and place on a serving platter or baking sheet and garnish with extra Peanut Sauce along with the cilantro, lime wedges, sesame seeds and green onion, if desired.
ENJOY!
https://www.nestofposies-blog.com/2017/08/slower-cooker-thai-style-pork-spare-ribs/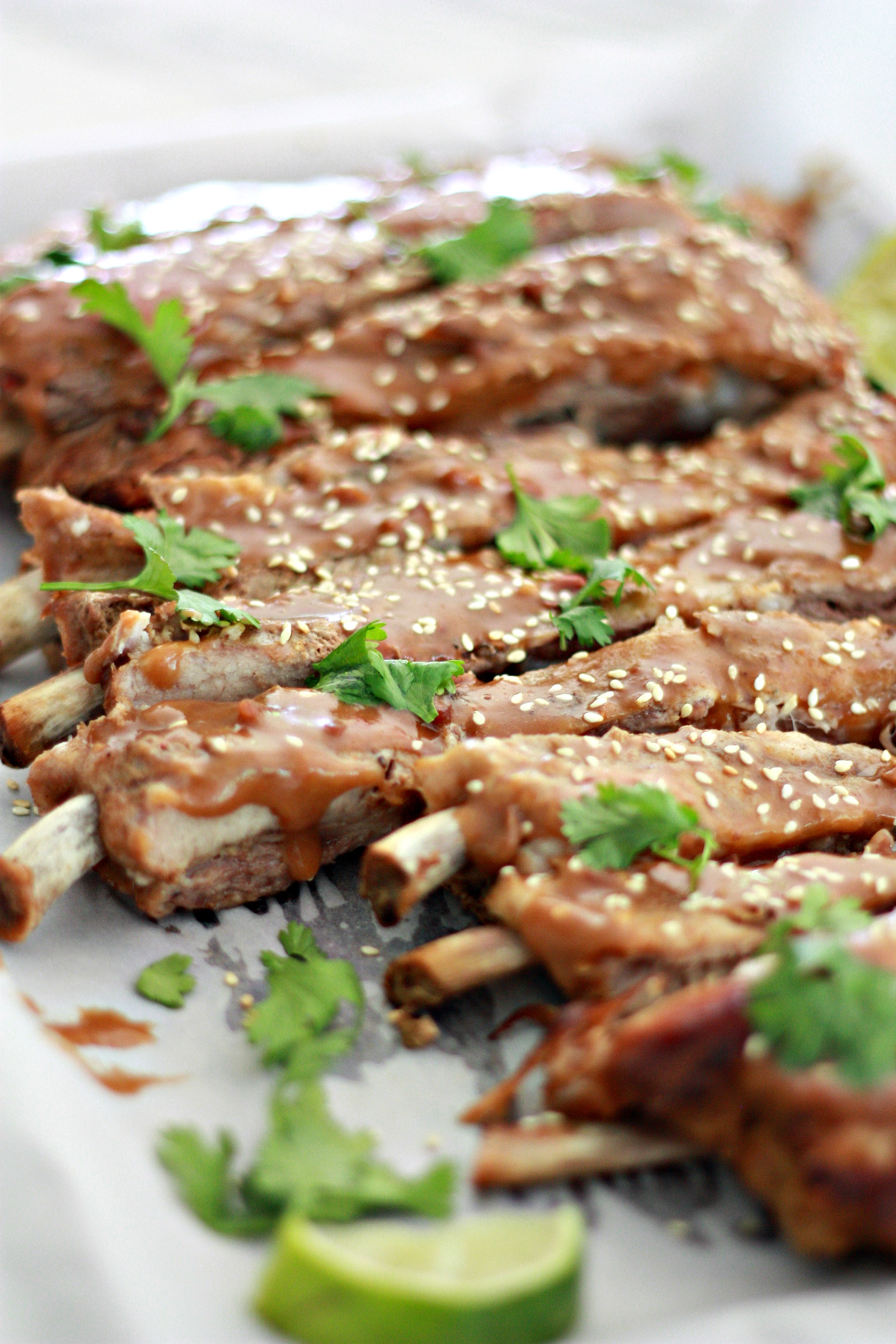 Some of my friends over the Summer asked me where I buy some of our seasoning for Asian style dinners and the truth is, our 2 favorites are from Target & Costco!  Our favorite
Peanut Sauce is from Archer Farms
– which you can find at Target.  My kids absolutely love that stuff as do I!  We also love the Ginger dressing at Costco.  Obviously, it comes in a large bottle but we do use it for salad dressing, but also for marinating steaks, chicken or in this case slow cooker Thai style pork spare ribs!  The rest of the ingredients, you probably have on hand but those are our family's favorite Asian style sauces that we use most often.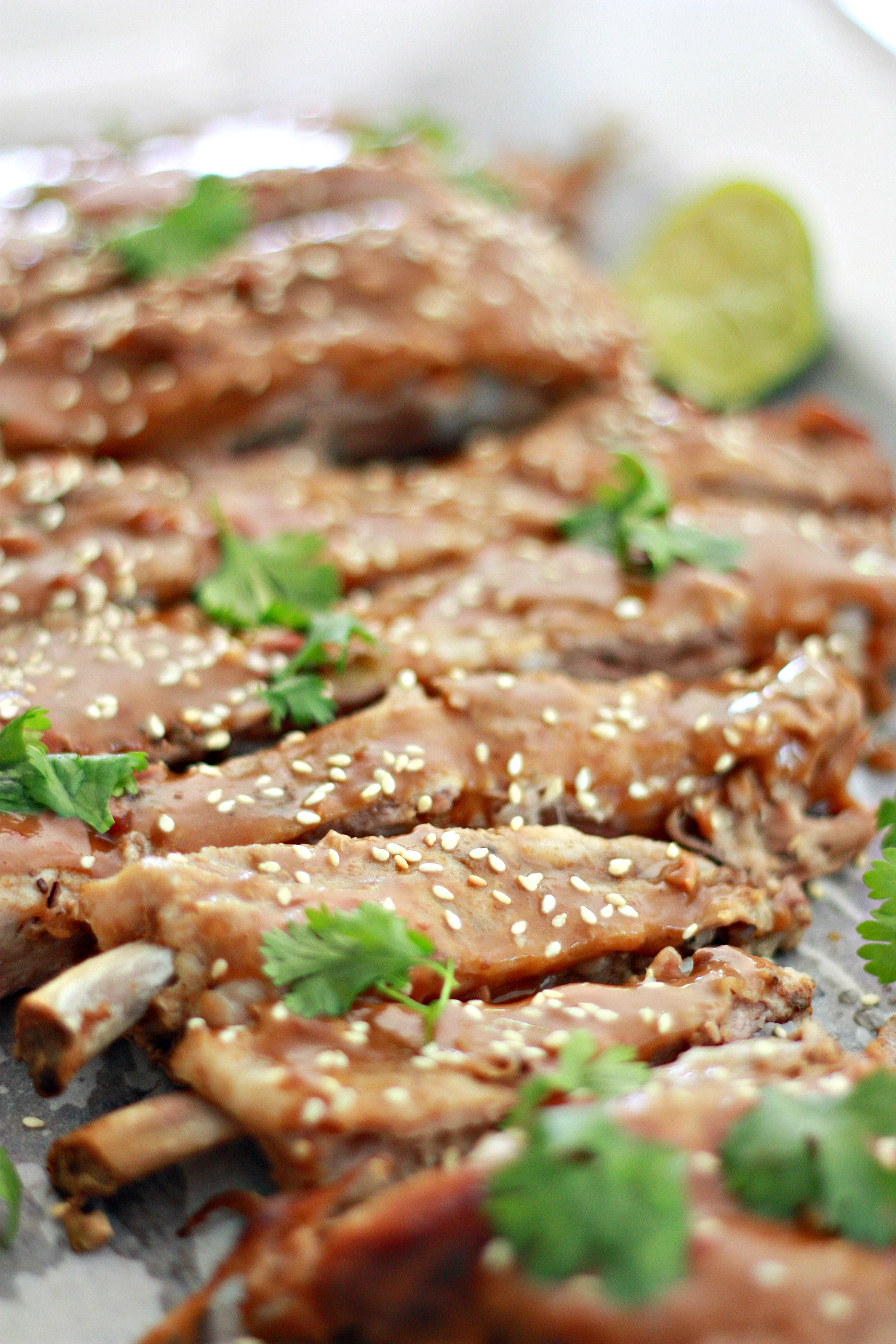 Neither one of those sauces mentioned above are hot or too spicy.  In our opinion, they're just right and full of flavor.  They may have just a little heat, but they go perfectly with meats of all sorts.  They're also great to have on hand for a quick and delicious stir fry meal.

This meal is so perfect for busy week nights, or for game day!  Your entire family (and guests) will love them.