Things move fast in blogland & the retail world.  If you're a reader of blogs, than you know I'm terribly late to the Fall decorating game!  My decorating game started off pretty strong.  I made a Fall wreath for my front door.  I also starting decorating my kitchen for Fall.  But then life happened and a big storm happened to come into our hood known as IRMA, and suddenly we found ourselves knee deep in clean up.  All of that to say, is that I finally finished our Let's Stay Home Fall Mantel and today is the day for the big reveal.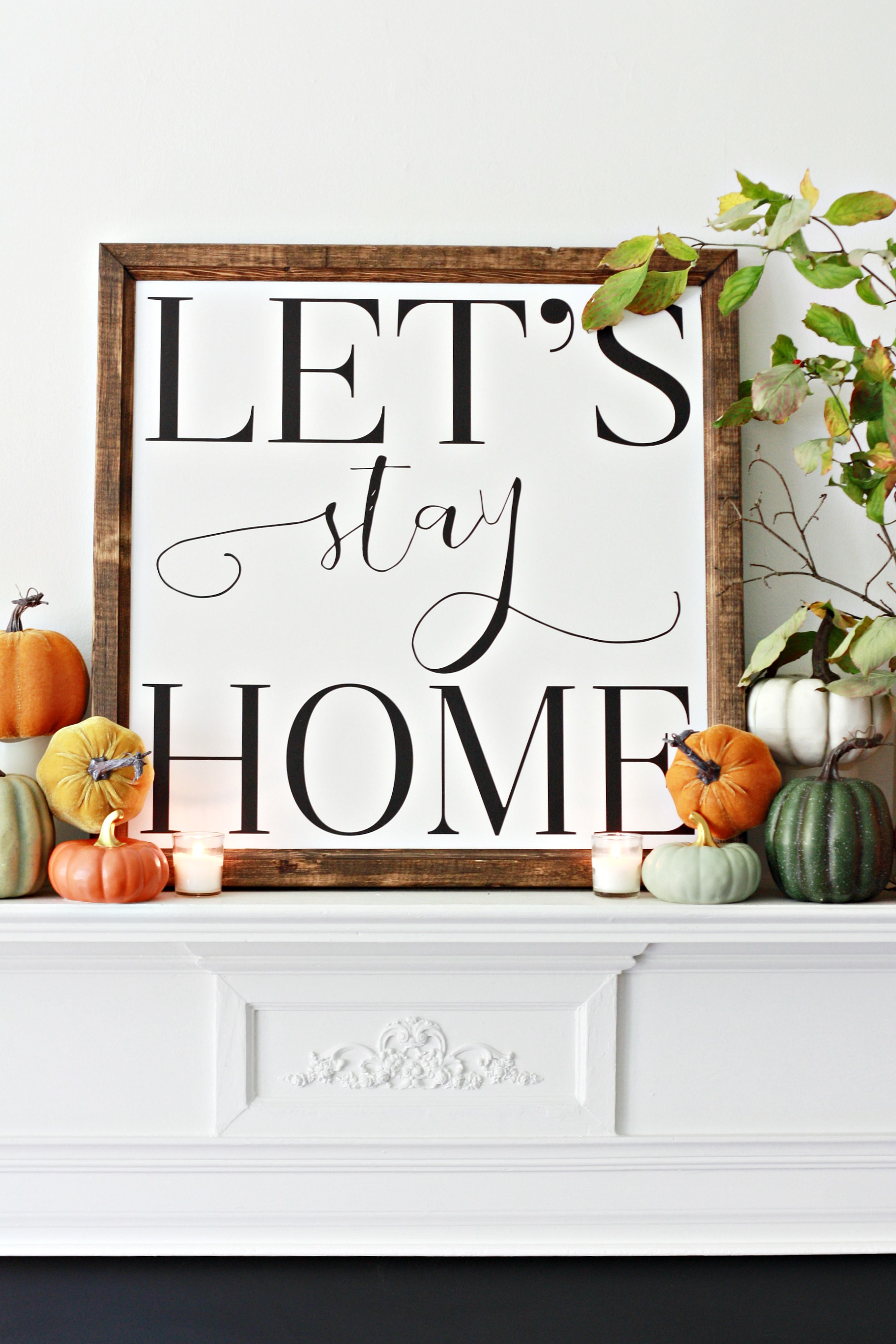 I should probably clarify, we only received the wild storm side of IRMA.  When she arrived in Tennessee, she wasn't listed as a hurricane.  But she did enough to our small town, that over 30 streets were closed because of down trees.  Thankfully no one was hurt!  We only had minor damage, but enough to create a big mess.  I decided I wanted a break from all the leaf clean up and finish our let's stay home Fall mantel.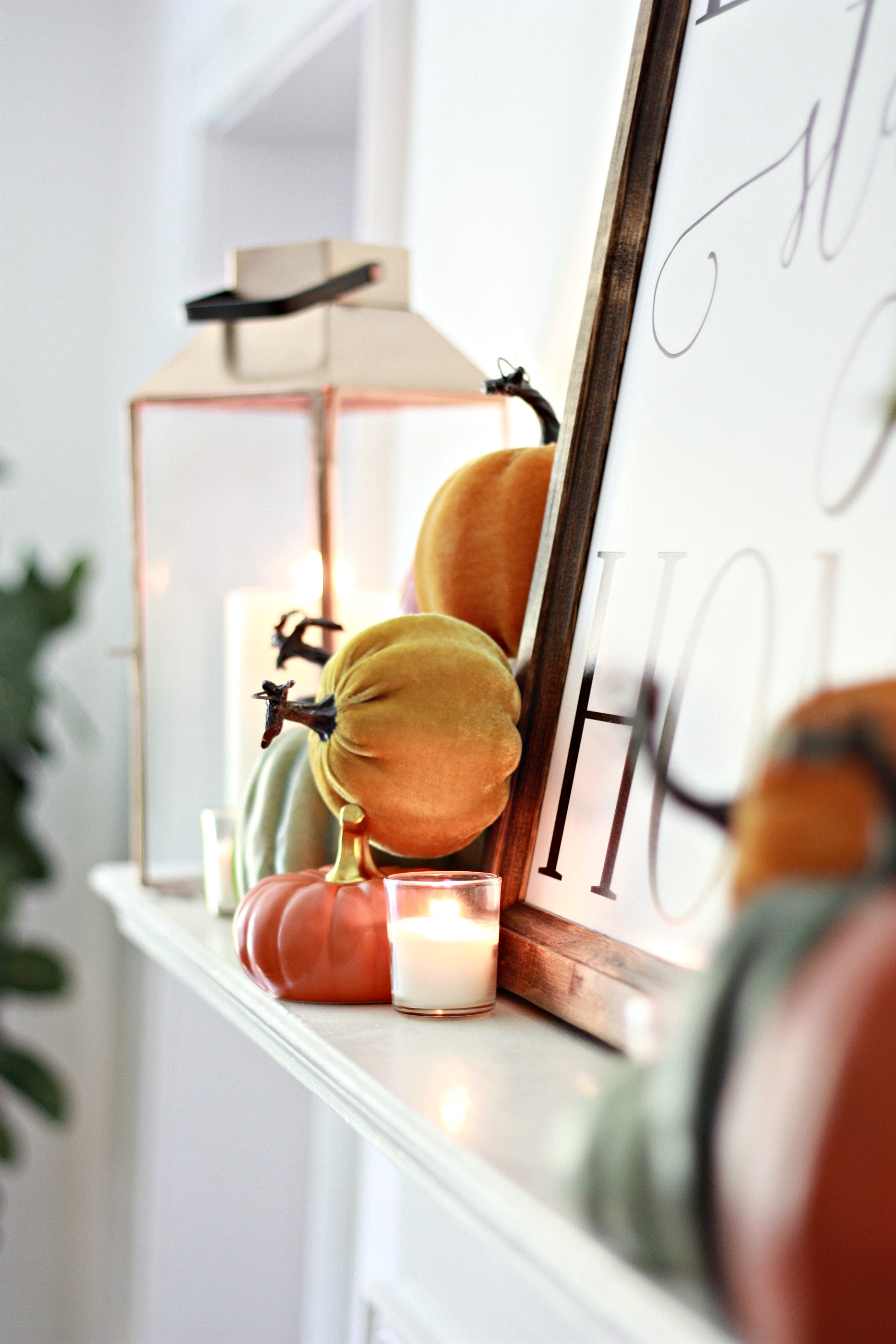 Decorating always makes me feel good, and it also makes me think I'm getting things done, and the house will be clean once I finish.  Uh, wrong on all of those thoughts.  It's almost like "Kellie the Hurricane" came through our house, because there's always a huge clean up when I'm switching out seasonal decor.  But in the end, there's nothing like that feeling of fresh seasonal decor and a clean home to relax and come home to.  It's almost like that feeling when you step inside Disney.  You're so excited to see everything, that all those feels come back and you're grinning ear to ear.  Maybe not everyone feels like I do, but I truly love Fall & Christmas decor, and I sure do love Disney as well.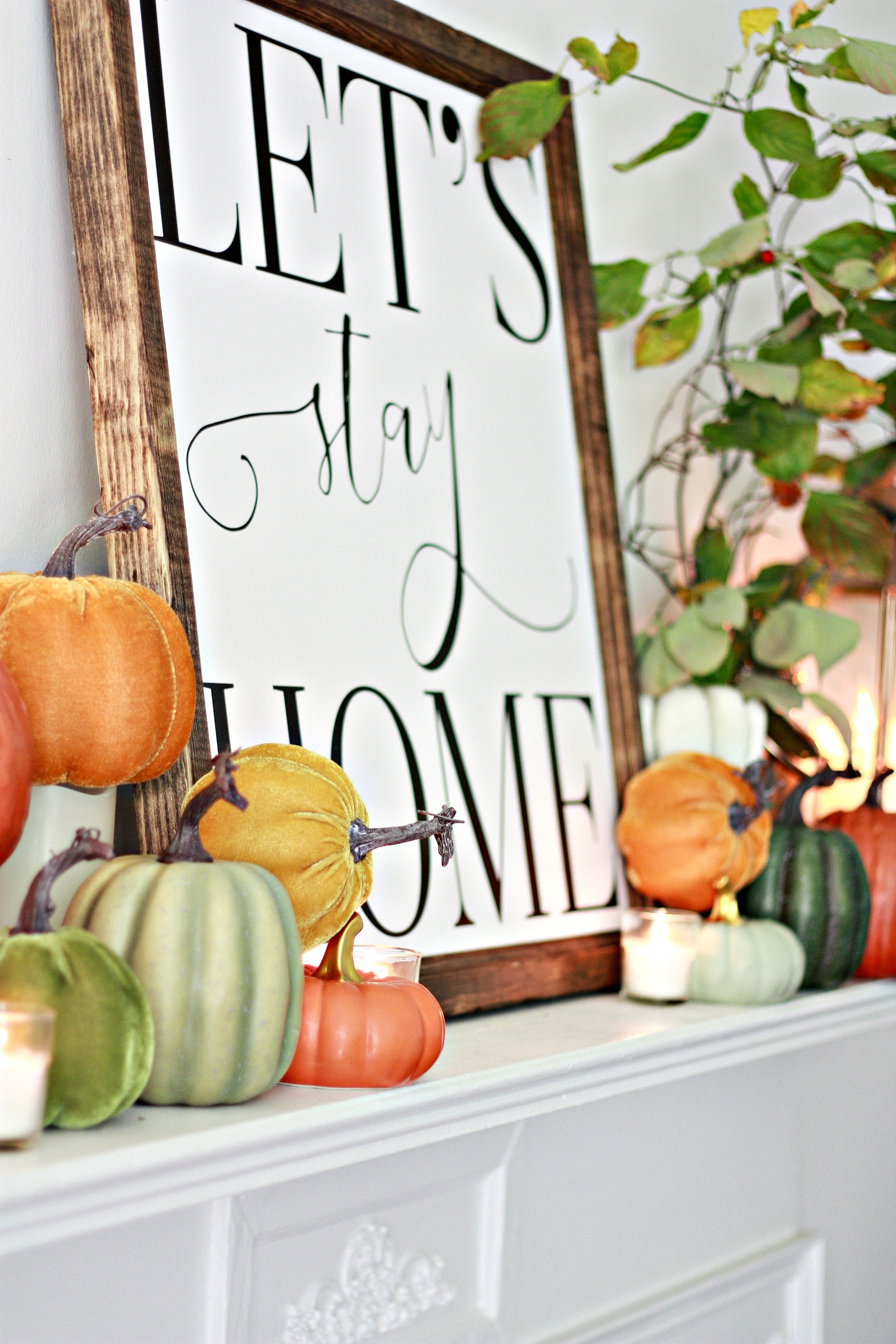 I got my
"Let's Stay Home" sign
earlier in the year, and all those different pumpkin you see are from either Target or Michaels.  I love how they all look clustered together.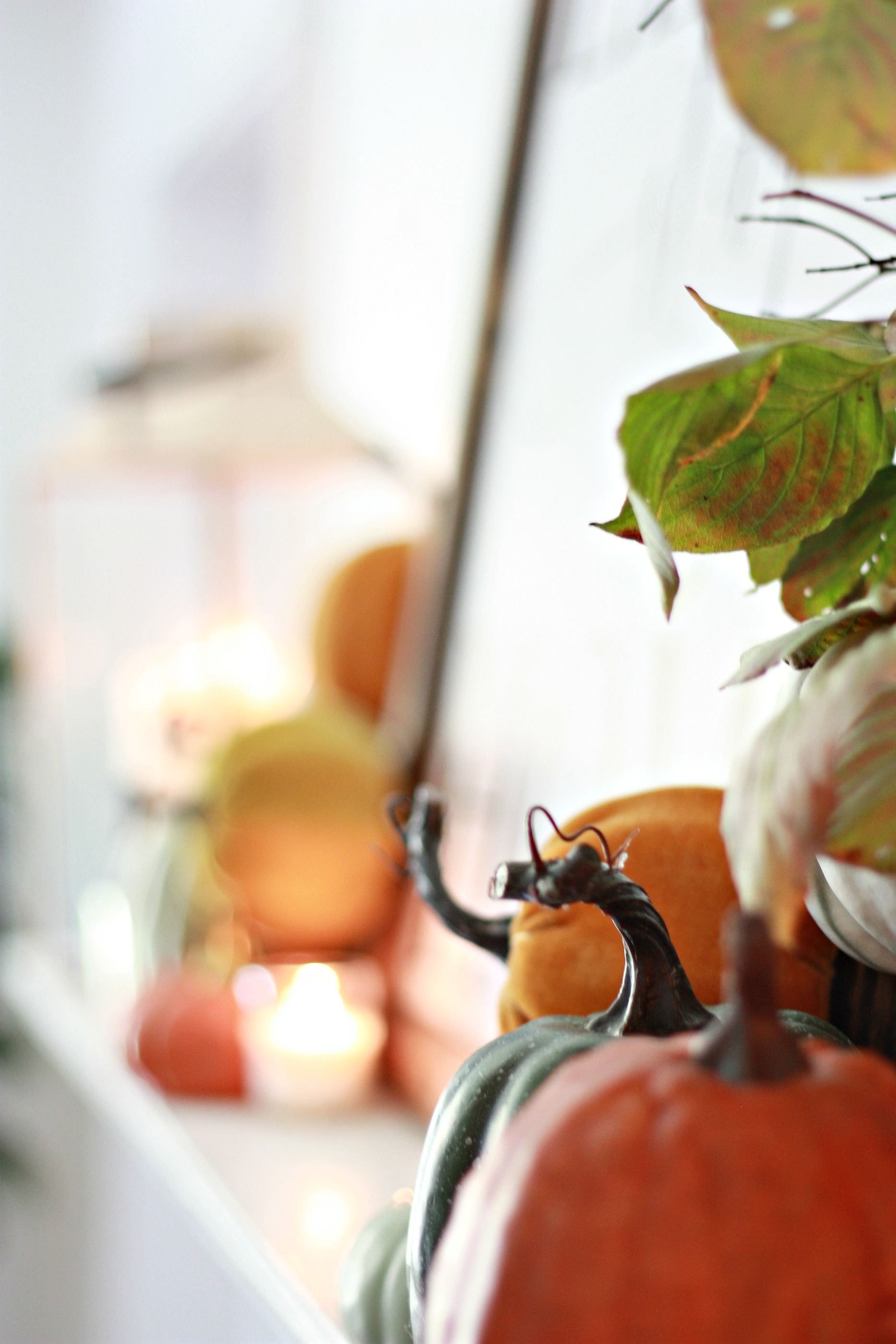 I used little votive candles, and my

big bronze lanterns

to anchor my mantel.  I am always a fan of adding different size candles to any tabletop decor.  The glow & light from the candle becomes a perfect bokeh effect at night, and is in all different layers and heights.  Adding candles of different sizes, is probably one of my favorite things to do when decorating for Fall & Winter.  I think it definitely adds to the overall statement of our Let's Stay Home Fall Mantel.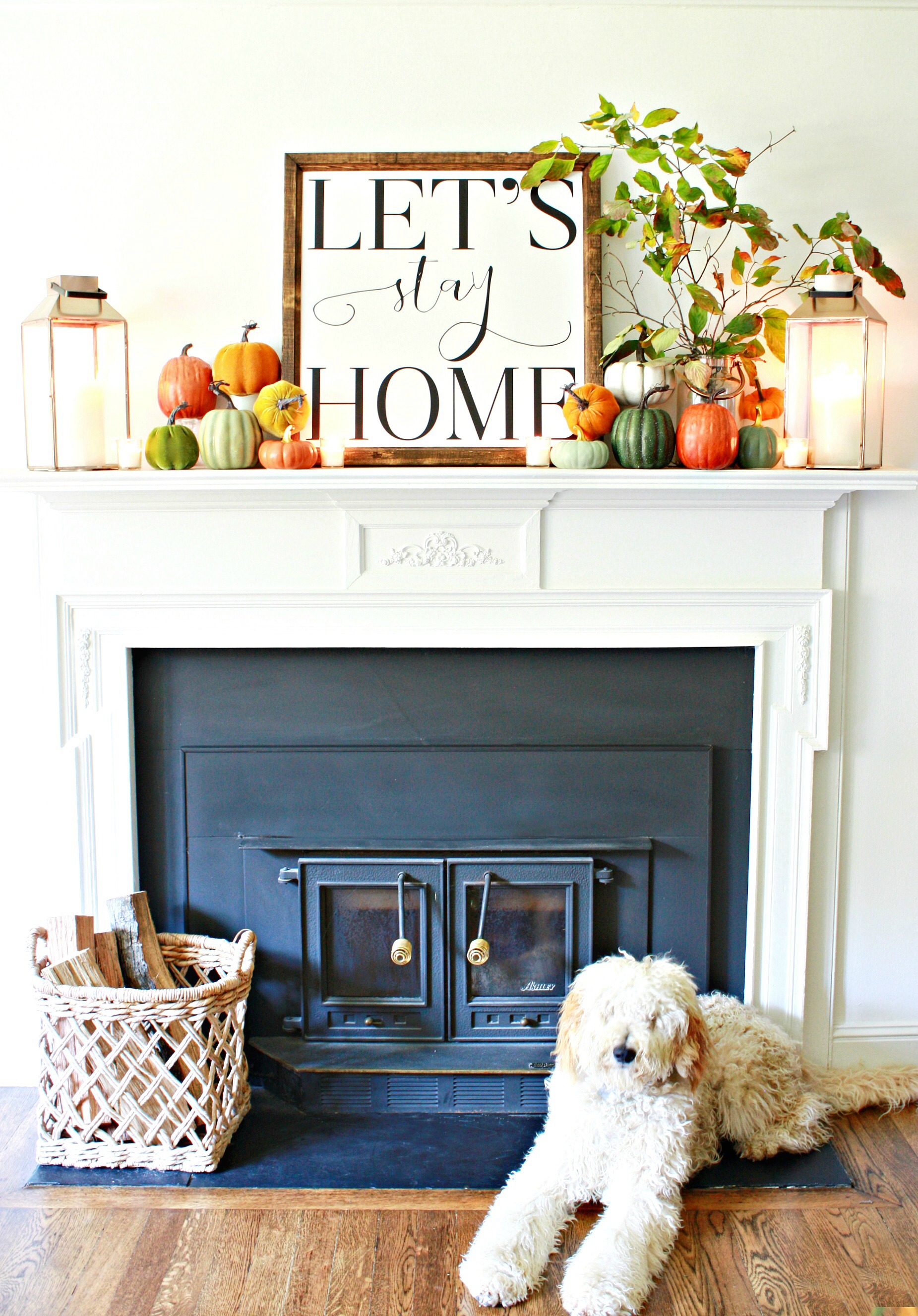 For us, we love a cozy, comfortable home.  We want all the Fall feels + all the sights of comfort.  We truly live in all our spaces, and 90% of the time this sign says exactly how we feel.

Save
Save
SaveSave
SaveSave
SaveSaveSaveSave
SaveSave
SaveSave
SaveSave
SaveSaveSaveSave
SaveSave
SaveSave