If it has Avocado in it, I'm there.  If it has bacon in it, I'm definitely there.  But most importantly, if it's a dip, I will devour it.  I love a good dip.   In fact chips and dips are my favorite food group.  So there's no surprise that this Avocado Bacon and Corn Dip is one of my favorite "go-to" recipes when bringing something to a party, luncheon or a gathering.  It's so delicious.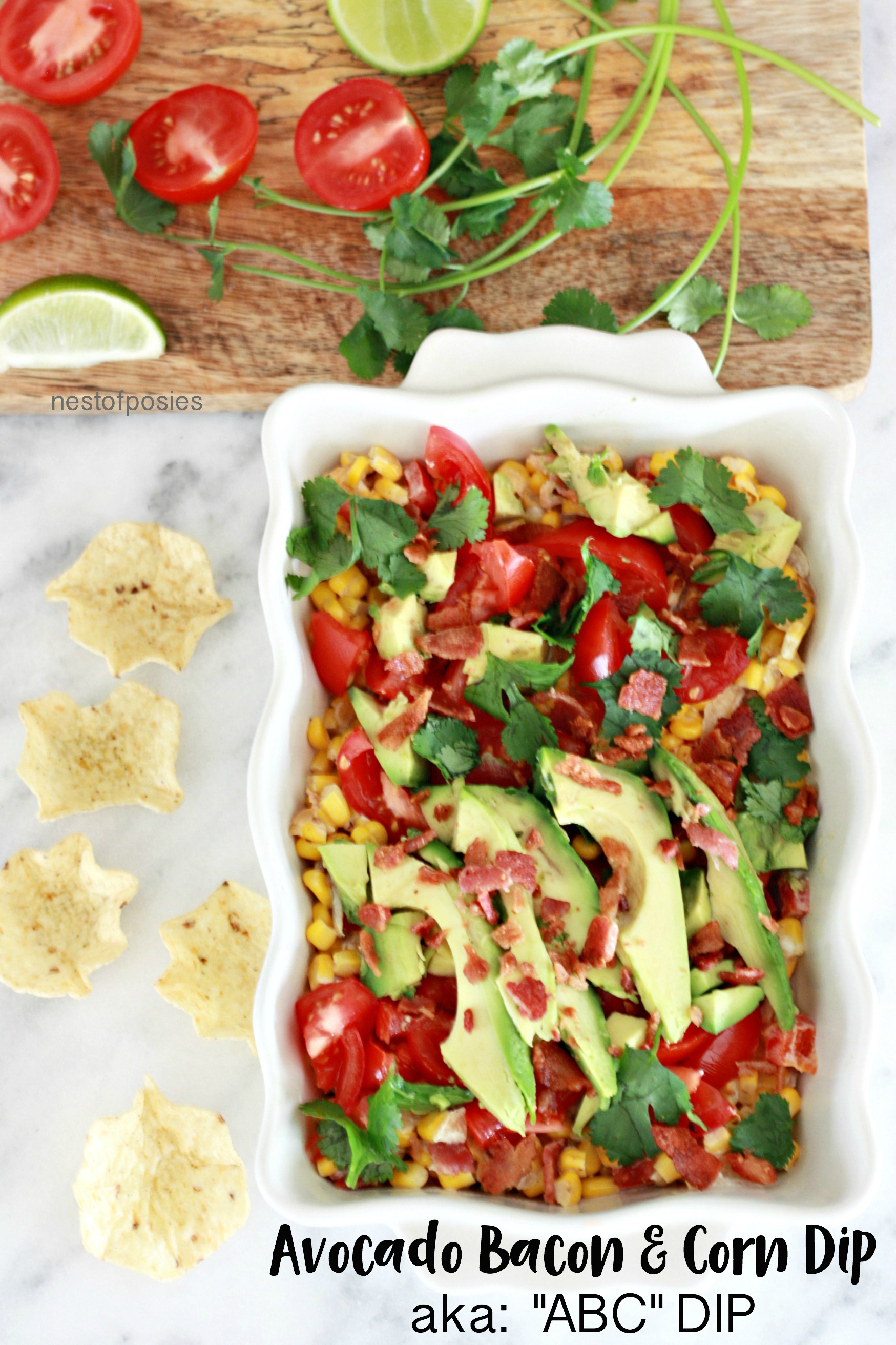 Another thing that I love about this Avocado Bacon and Corn Dip is that it's delicious anytime of year.  I recently brought it to a party (in January) and it was gone within minutes.  We have a new neighbor, who happens to love throwing parties.  (
my kind of neighbor!
) So needless to say, I'm having to step up my "A game" when bringing foods to the fabulous parties.  Because I never like to arrive empty handed to any occasion.  I'm sure it drives my husband crazy, because I'm the person who will come to your house with my hands full of goodies.  It takes work…and money to throw a party or a gathering!  And I always want to help anyway I can.
The thing that makes this dip so good is that people gravitate towards it's "freshness" especially in the Winter.  But it's also just as good, during the hot Summer months.  I mean, I make it my entire meal.  Just ask my husband.  I'll hog a dip like it's my business.  😉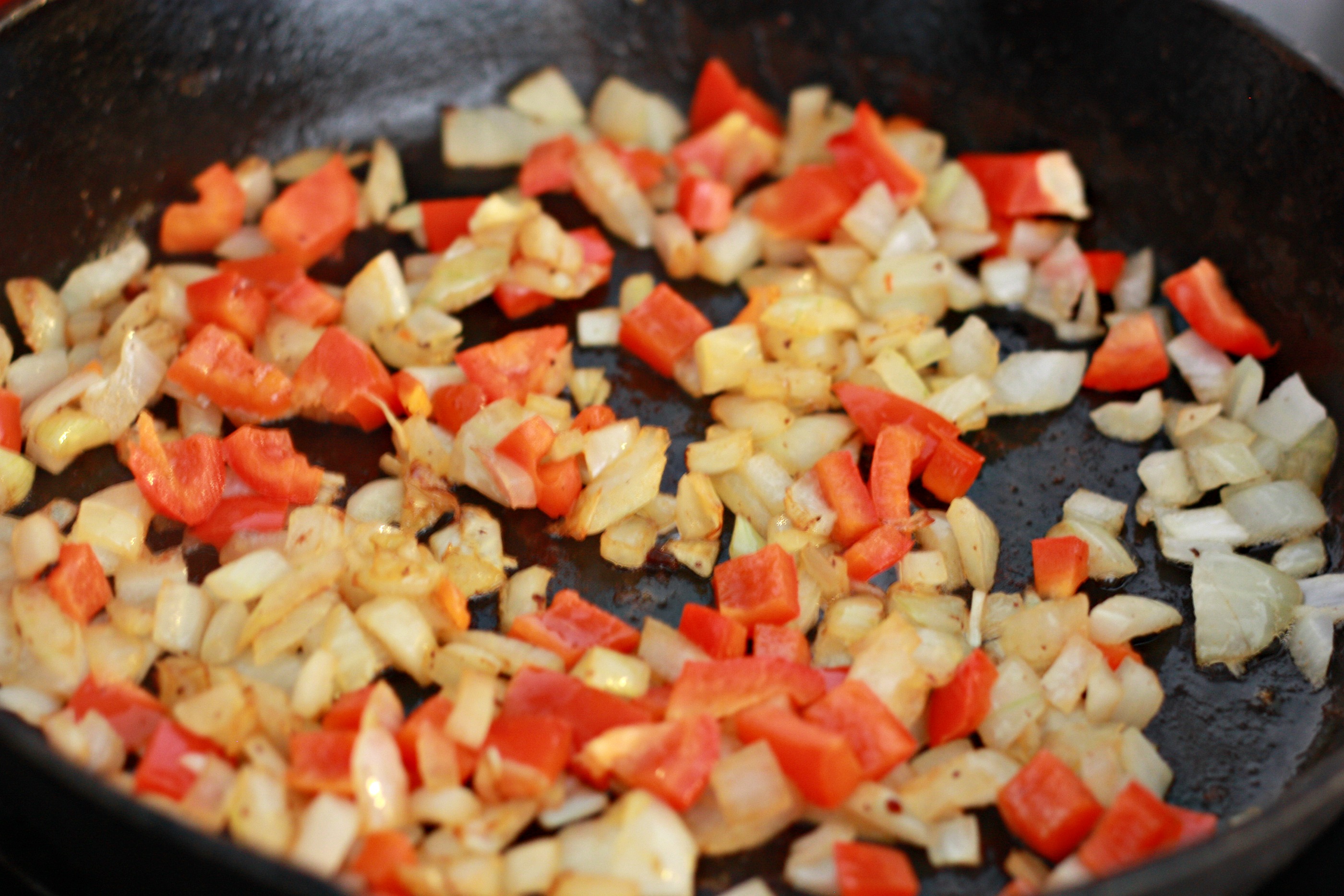 You'll start the recipe off by sautéing the onions, red peppers and jalapeño (*if desired) in a skillet, and then you mix in a creamy goodness that binds it altogether. Then all the fresh ingredients will get added to the top.  It comes together very quickly and I promise it will not disappoint.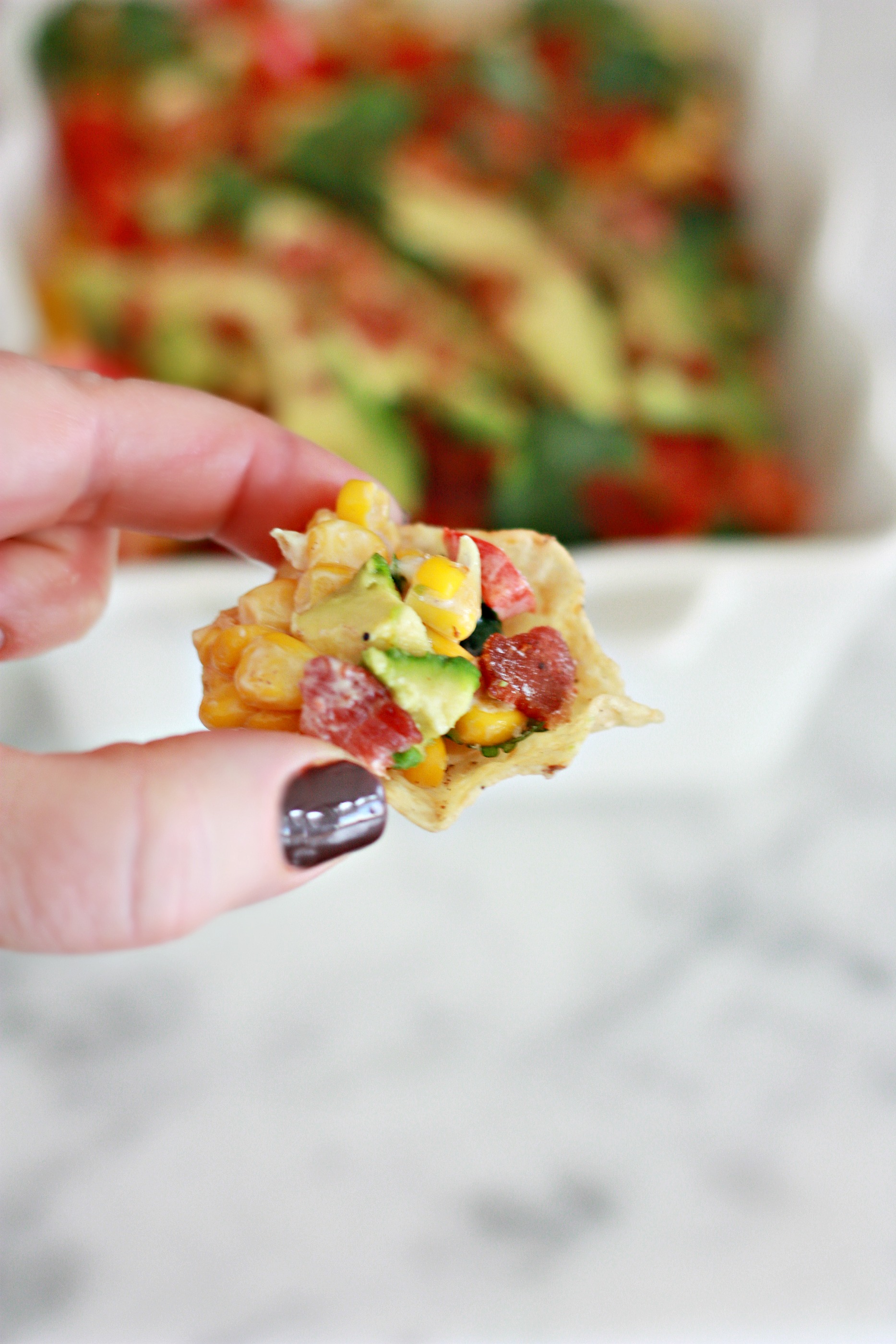 Here's what you'll need to make this delicious avocado bacon and corn dip:
INGREDIENTS:
4 slices bacon, diced
3 cups corn kernels, frozen, canned or roasted
1/2 cup diced onion
1/4 cup diced red bell pepper
1 jalapeño, seeded and diced, *optional*
4 ounces cream cheese, cubed
2 tablespoons milk, or more, to taste
2 green onions, thinly sliced
1 medium tomato chopped
1 Avocado cubed
1/4 cup of cilantro
juice of a lime
1 teaspoon sugar, or more, to taste
Kosher salt and freshly ground black pepper, to taste
DIRECTIONS:
Heat a large skillet over medium high heat. Cook bacon until crispy.  Transfer to a paper towel-lined plate. Drain excess fat, reserving 1 tablespoon.
Add corn, onion, bell pepper and jalapeño to the skillet. Cook, stirring occasionally, until tender, about 4-5 minutes. Stir in cream cheese and milk until well combined, about 2-3 minutes. If the mixture is too thick, add more milk as needed until desired consistency is reached.
Stir in green onions and sugar; season with salt and pepper, to taste.
Place your ingredients in a serving dish or small casserole dish
Top with chopped tomatoes, cubed avocados, cilantro
Drizzle juice from the lime over all the mixture
Add your remaining bacon for topping*
Serve immediately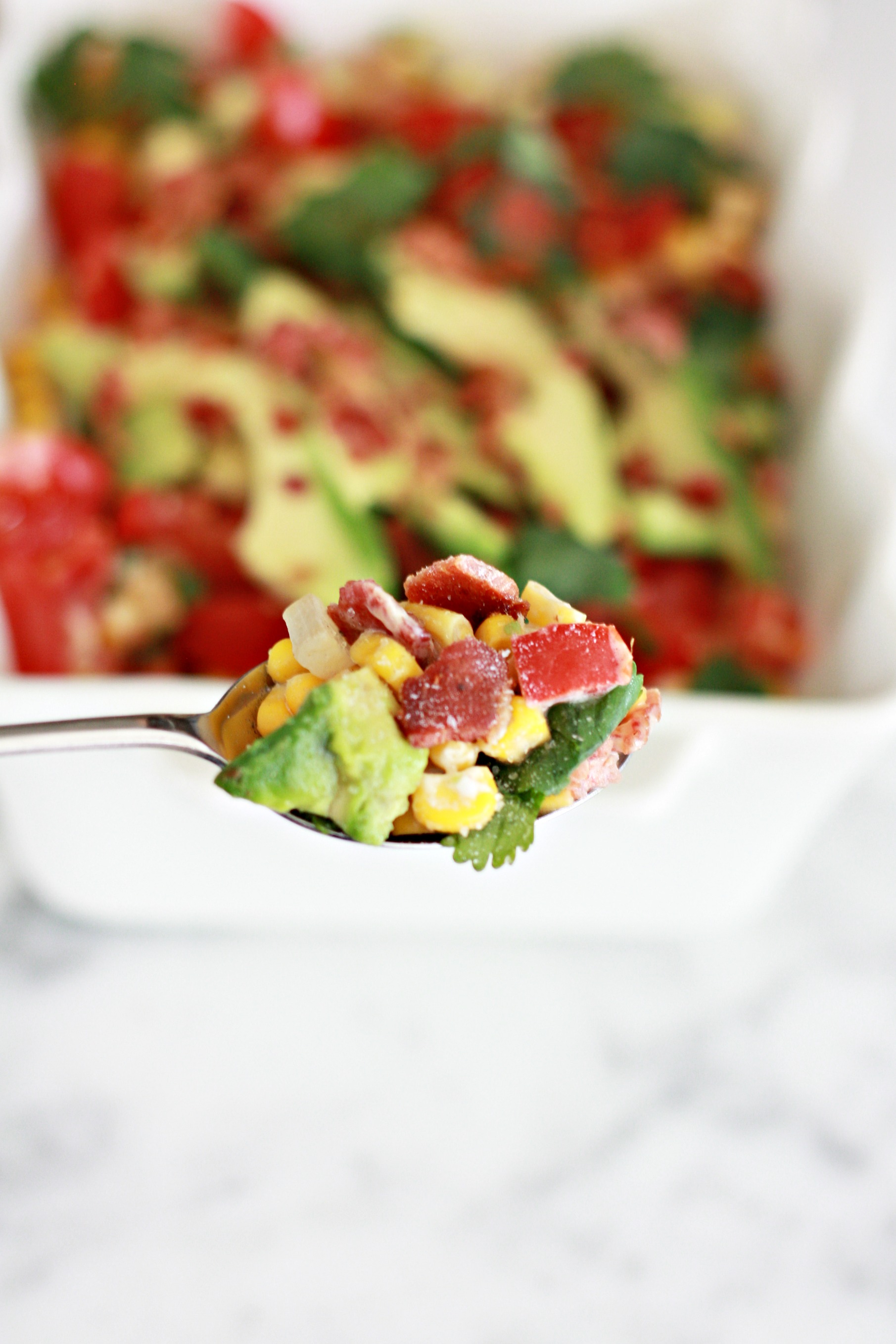 I realize there are some crazy people in this world who do not care for cilantro.  I will pray for y'all.  😉  But you can omit the cilantro if that's not your thing.  I was originally inspired by
Damn Delicious' recipe
, but after making her recipe a couple of times, I started adding the avocado, cilantro, lime and fresh tomatoes to the top of mine.  Not that anything was wrong with her recipe, it's quite delicious.  But I'm one who is all about the avocados…and lime…and cilantro.