I tend to get a little giddy when I see that Fall is fast approaching on the calendar.
I immediately start craving texture, comfort food (well, I always crave that!), rich colors, layers of  leopard + stripes + chevron + chambray (denim shirts), football, patchwork quilts, bolder lipstick colors, Fall festivals and yes, even some glamour thrown in for good measure.  Fall…it's my favorite season of all!
My favorite way to kick off any season is to make a wreath, but I'll be honest…my favorite wreath(s) of the year (yes, I might make another Fall wreath) is always this wonderful, glorious season of Fall.  I love to mix my favorite trends or play on patterns and turn them into a wreath.
So this year I made a Chevron and Posie Fall Wreath or aka:  all my favorite trends wrapped into one wreath.  😉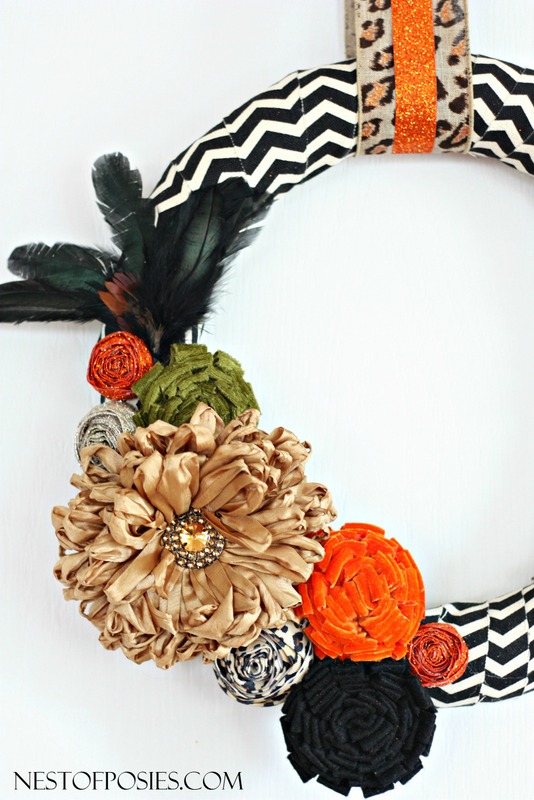 But I also thought it would be fun to have this post dedicated to not just one Fall wreath but many Fall wreaths!
Myself, along with 6 other bloggers have teamed up together to bring you a Fall Wreath Blog Hop!


Be sure to click on each link below to get all the tips from each blogger!
From left to right:


Wheat and Burlap Fall Wreath

via Clean and Scentsible


Chevron and Posie Fall Wreath

via Nest of Posies


Fall Hedgehog Wreath

via Bombshell Bling
F

all Bittersweet Wreath

via The Lily Pad Cottage


Fall Burlap and Plaid Wreath

via A Glimpse Inside


Easy Fall Hydrangea Wreath

via A Night Owl Blog


Burlap Flower Cone

via Sweet C's Designs
To get to the fun details of my wreath, I strolled through the rows of ribbon & trim in the craft stores, and I was immediately drawn to the Suede Fringe Trim made by Simplicity.  I knew it had to be part of my Fall wreath along with all sorts of delicious texture & pattern ribbon.  If you ever feel uninspired, one of the many places I go to look for inspiration for a project is in the trim & ribbon aisles.  I tend to break every "rule" of mixing and matching, because I don't believe in "rules" when it comes to that.  If you like it, and it goes with your personality & your decor I say = GO FOR IT!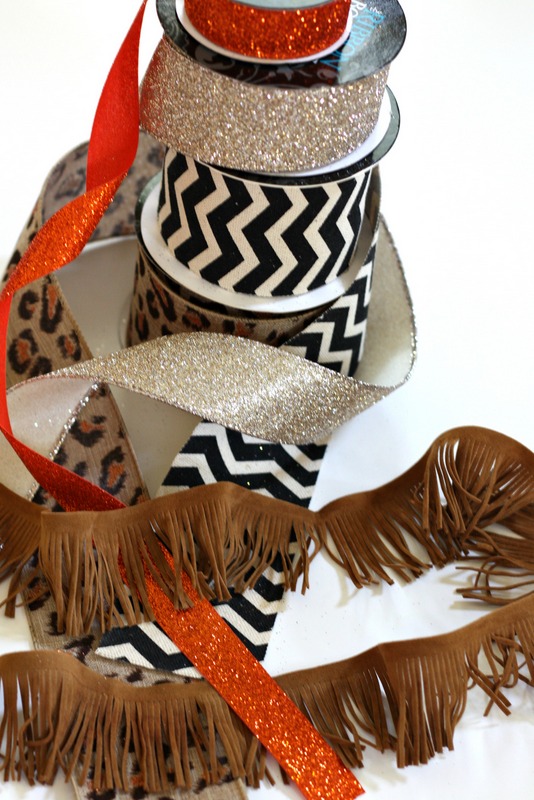 I purchased a wreath form and used one dot of hot glue at the beginning and started wrapping the chevron ribbon around the form.  I decided with all the different textures I was using that a black should be my base for the wreath.  Which happens to be what I do for my outfit planning as well!  😉
Black is always my signature color.
Then I'll add pops of color from there.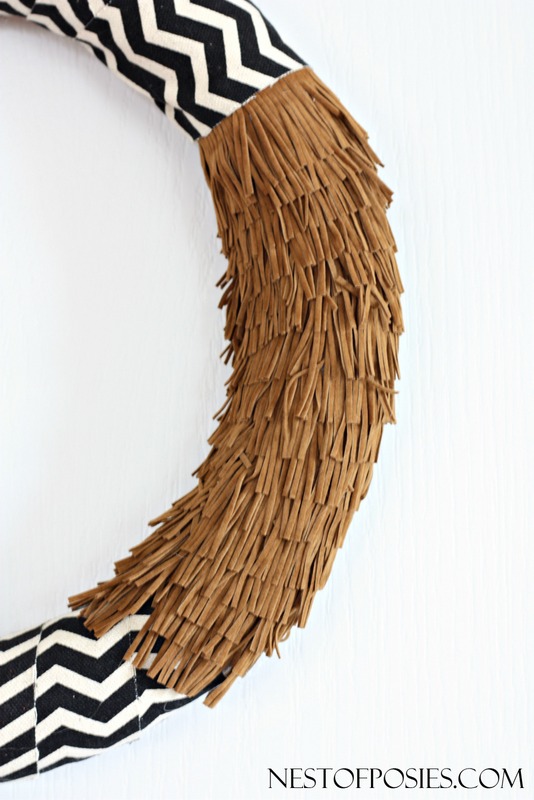 I didn't want to cover up the suede with anything – so I just added 2 yards of it on the right side of the wreath – again with a dot of hot glue here & there.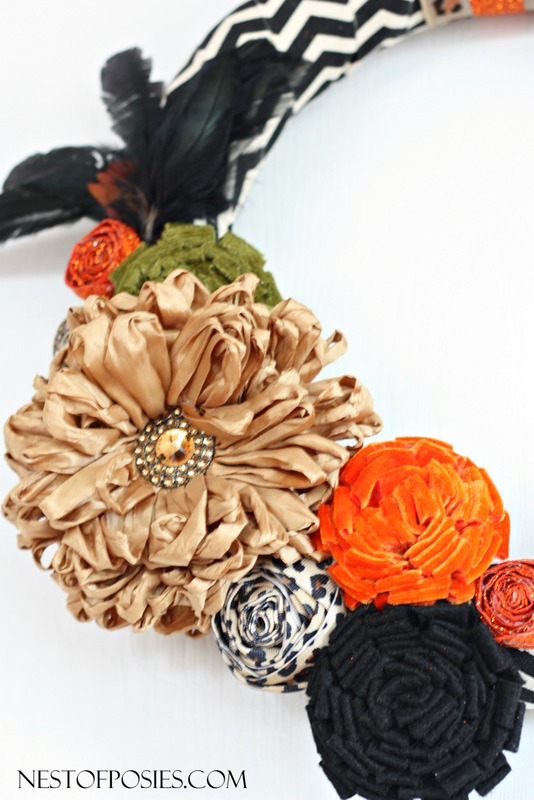 I did however, totally "bling" out the left side of the wreath with my posies and rosettes.  I wrote an entire post on how I made them – you can get the full step by step tutorial here.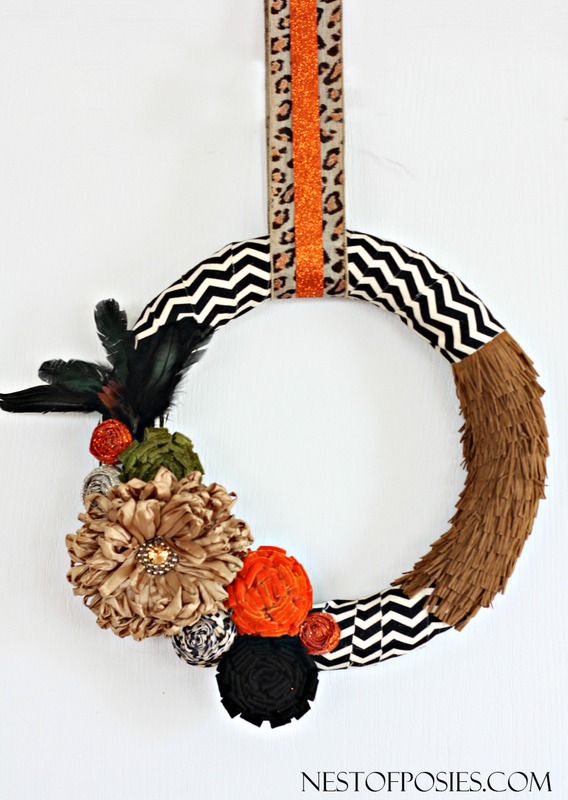 Once my posies and rosettes were made I just layered them into the wreath with some black feathers using dots of hot glue.  I know I say this every year, but this wreath is probably my most favorite of all!
In my previous life, I used to work in fashion retail, cosmetics & clothing.   I have done it all.  Clean toilets, dust mopped floors, set up huge window displays, store fronts, given makeovers, set up new stores and helped dress clients from head to toe for the most important events in their life.  So I always feel like my seasonal wreaths are my way of welcoming a new season, my visual prop so to speak to help set the tone and "feel" for the coming season in my home (like a retail store) and focus on styling my home & myself around it.  It may sound funny to you all, but I love a good theme for a season or a party – don't you?
So by the looks of things…I'm in store for a season full of texture, color & pattern for my home + me!!!
I can't wait!!!!
Let's pin together!  Do you like to pin crafty stuff, yummy recipes, seasonal decor, kids stuff & home decor?  Me too!