We've been really lucky the last couple of days enjoying cool mornings and beautiful early Fall-like days.  With cooler temps it always makes me (and even my husband) want to start making all the Fall things that we love.  I was invited by dear friend, Kristen from Ella Claire her new Holiday Recipe Series.  It's a blog tour, of our favorite recipes.  The links and bloggers are listed below.  Make sure to visit all of the bloggers, because I know their recipes, suggestions and tips will be well worth your time.  This particular series is all about APPLES!   I knew immediately what I was going to share for this post, because it happens to be one of my husband's favorites.  It's an Apple Fritter Skillet Bake.  Is it a dessert, yes.  Is it something you can bake for breakfast, yes!  It's something you could make while camping, yes!  We absolutely love this recipe and especially love things baked in a cast iron skillet.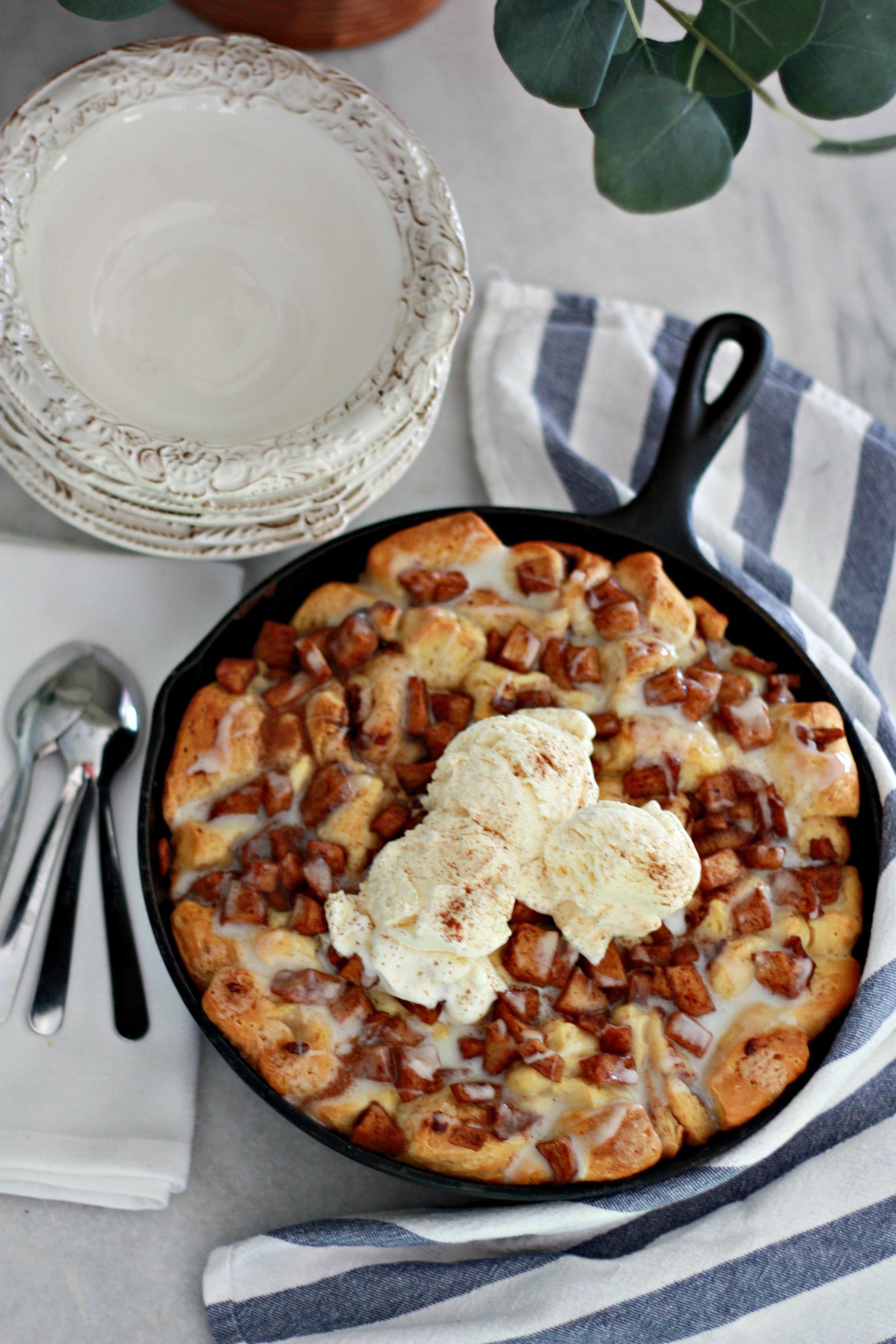 I know many recipes posts, start off by saying – this recipe is so easy.  But this one really is.  The only true prep work is that you have to peel & chop 2-3 apples and cook them on medium heat until they are cooked through and soft.
But let me stop right here and say…
This is almost the best part.
Because your house will smell like beautiful, glorious Fall when you cook these apples and make this Apple Fritter Skillet Bake.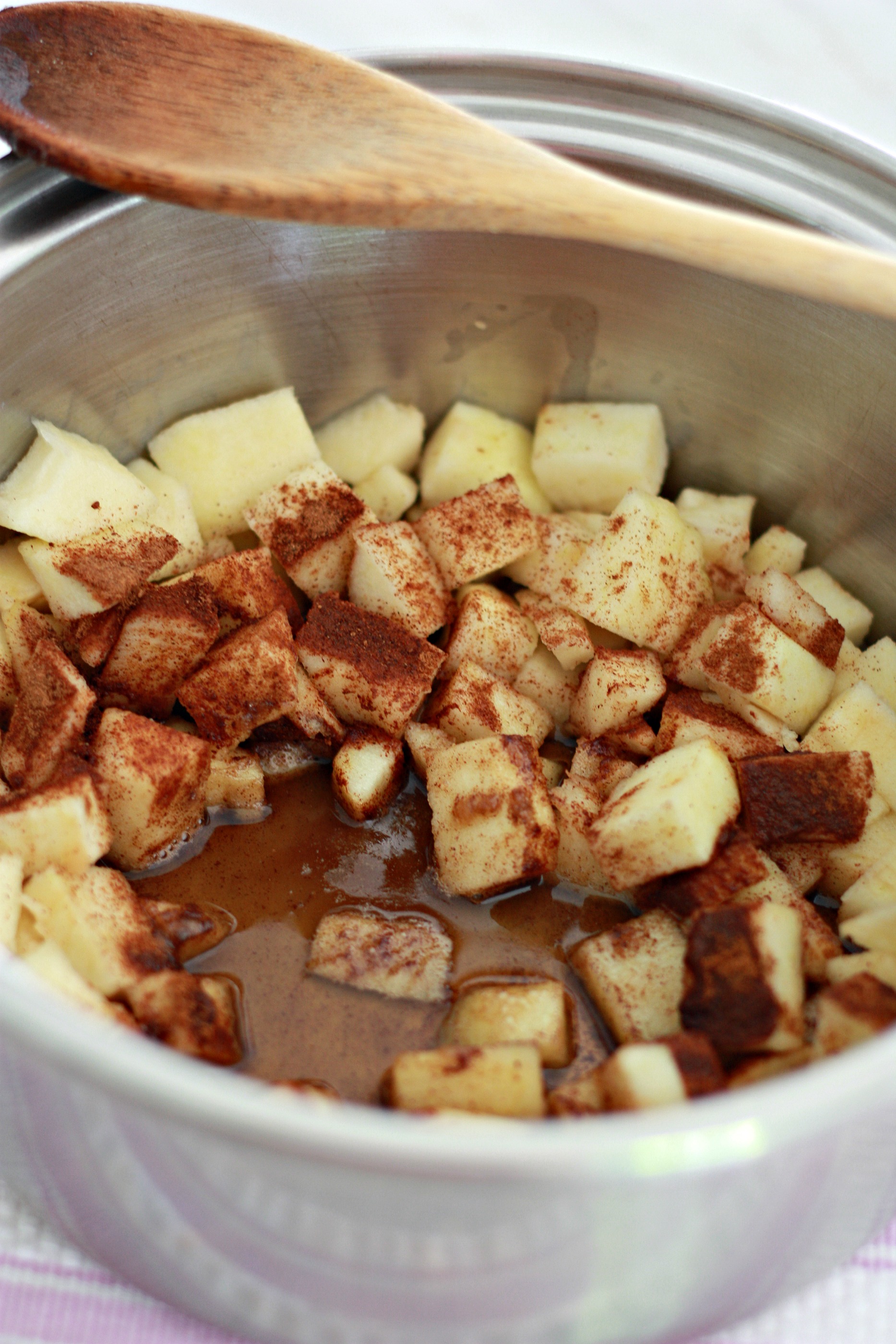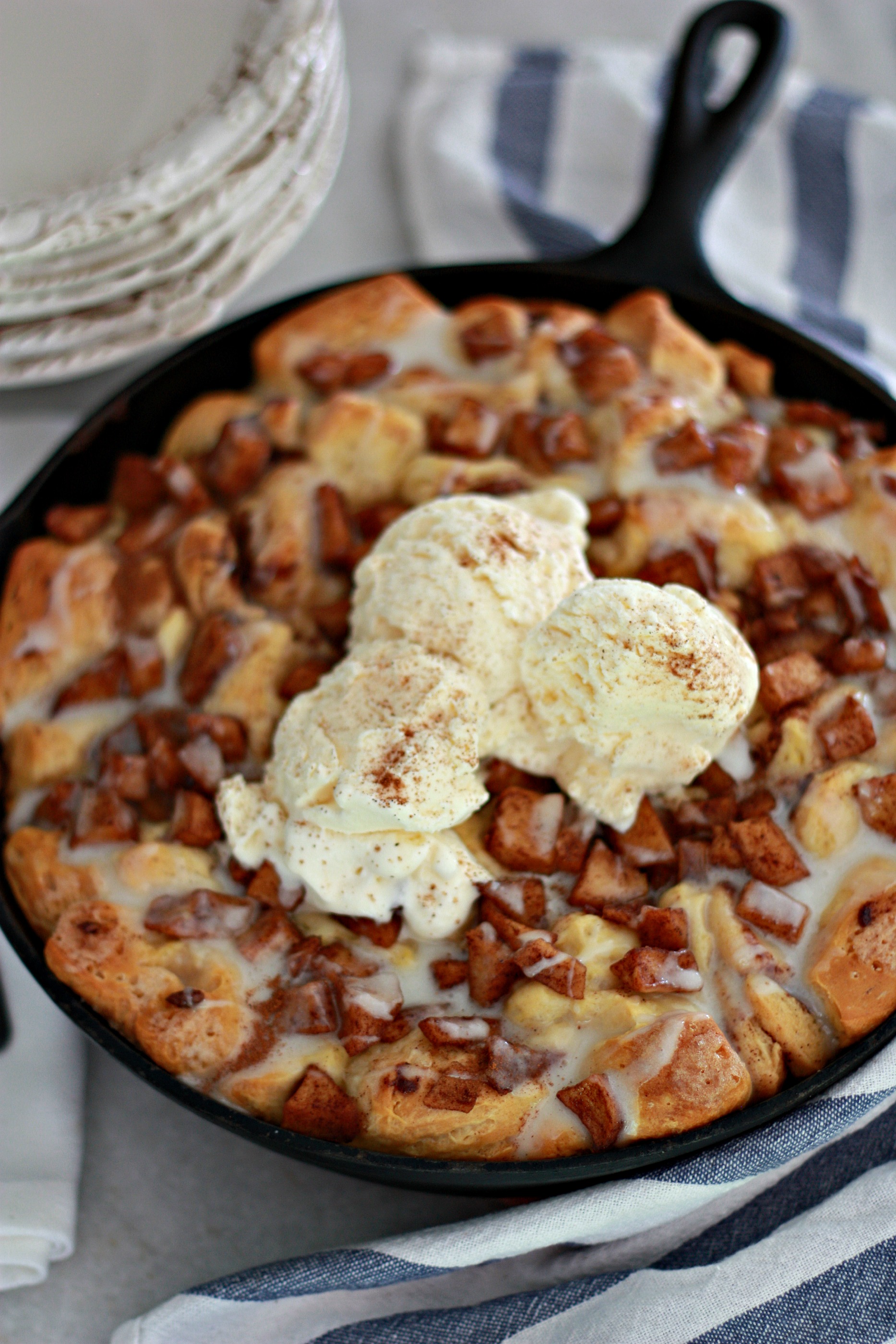 Apple Fritter Skillet Bake
Ingredients
2 cans of Pillsbury Cinnamon Rolls
2-3 apples peeled and chopped
2 Tablespoons of butter
2 teaspoons of apple pie spice
1 teaspoon of cinnamon
1 teaspoon of vanilla
1/2 cup of melted butter
1/3 cup of brown sugar
vanilla ice cream - totally optional but highly recommend
Instructions
Preheat your oven to 350*
Spray your skillet with butter spray and set aside
Peel and chop your apples and place in a medium sauce pan with your butter, apple pie spice and cinnamon.
Cook over medium heat and stir frequently until the apples are soft and cooked. Approx 10 minutes
Open your 2 can of cinnamon rolls and cut the rolls apart with scissors.
Perfection is not requited - just cut randomly, place and spread in your skillet.
Once your apples are cooked, spread and place on top of your cut rolls
Melt your butter and brown sugar together in microwave for approx 25 seconds.
Spread melted mixture on top of your rolls and apples.
Bake for 25-28 minutes
Serve immediately or can be set aside for a few hours.
Serve alone or with ice cream.
https://www.nestofposies-blog.com/2017/08/apple-fritter-skillet-bake/
Of course we serve this with vanilla ice cream, because it simply tastes so good together.  But you can serve it alone, with caramel sauce or maybe even extra butter.  We love it fresh from the oven, and allow the ice cream to melt over the warm apples.  Heaven.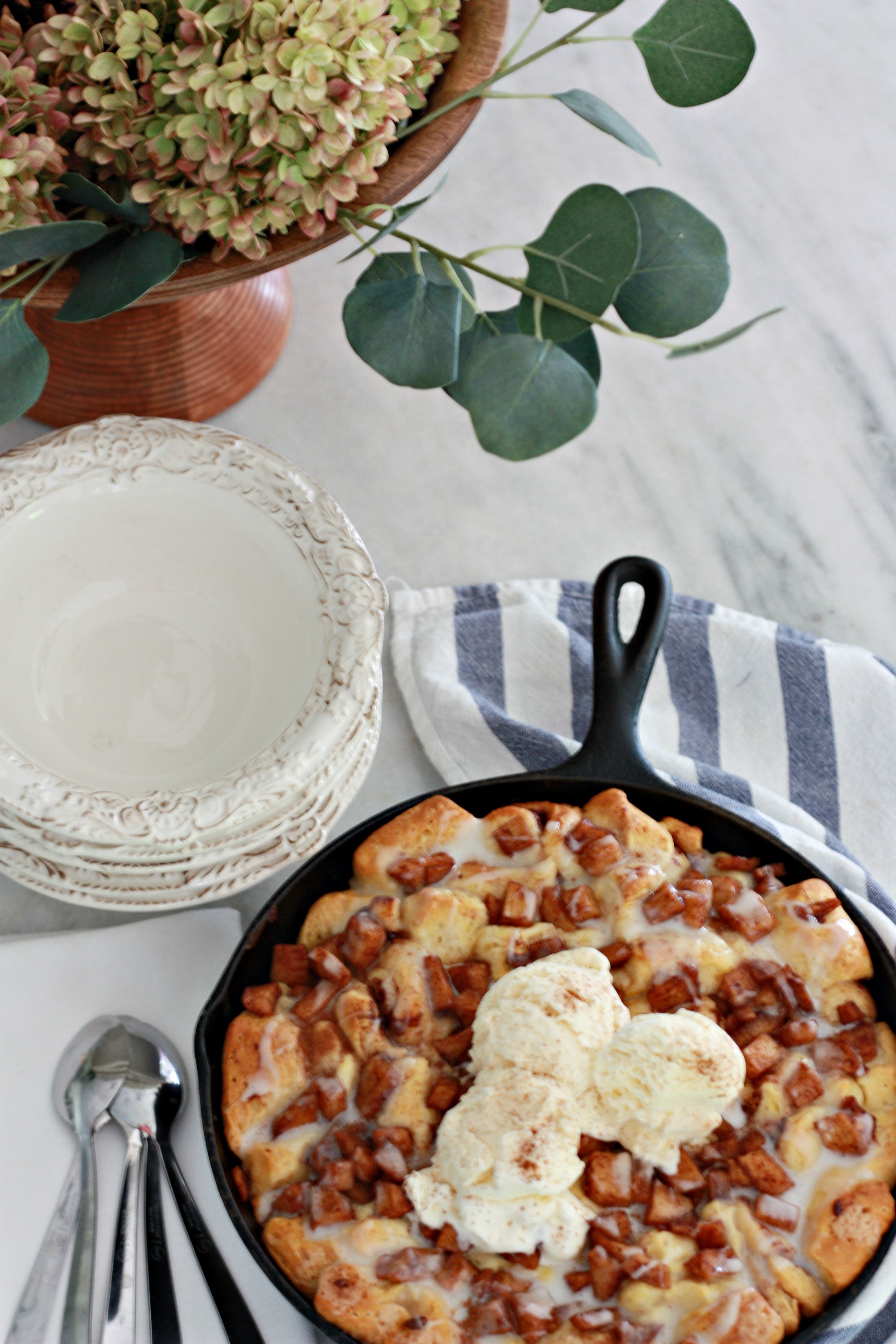 It's amazing how the beginning of a new season or a change in weather makes me more productive.  I even got my Fall storage bins out, and decided it was time to switch up my open shelves in our kitchen.  I love the mix of blues, copper and the wood altogether on the shelves.  I also added a few faux pumpkins and gourds to the mix as well.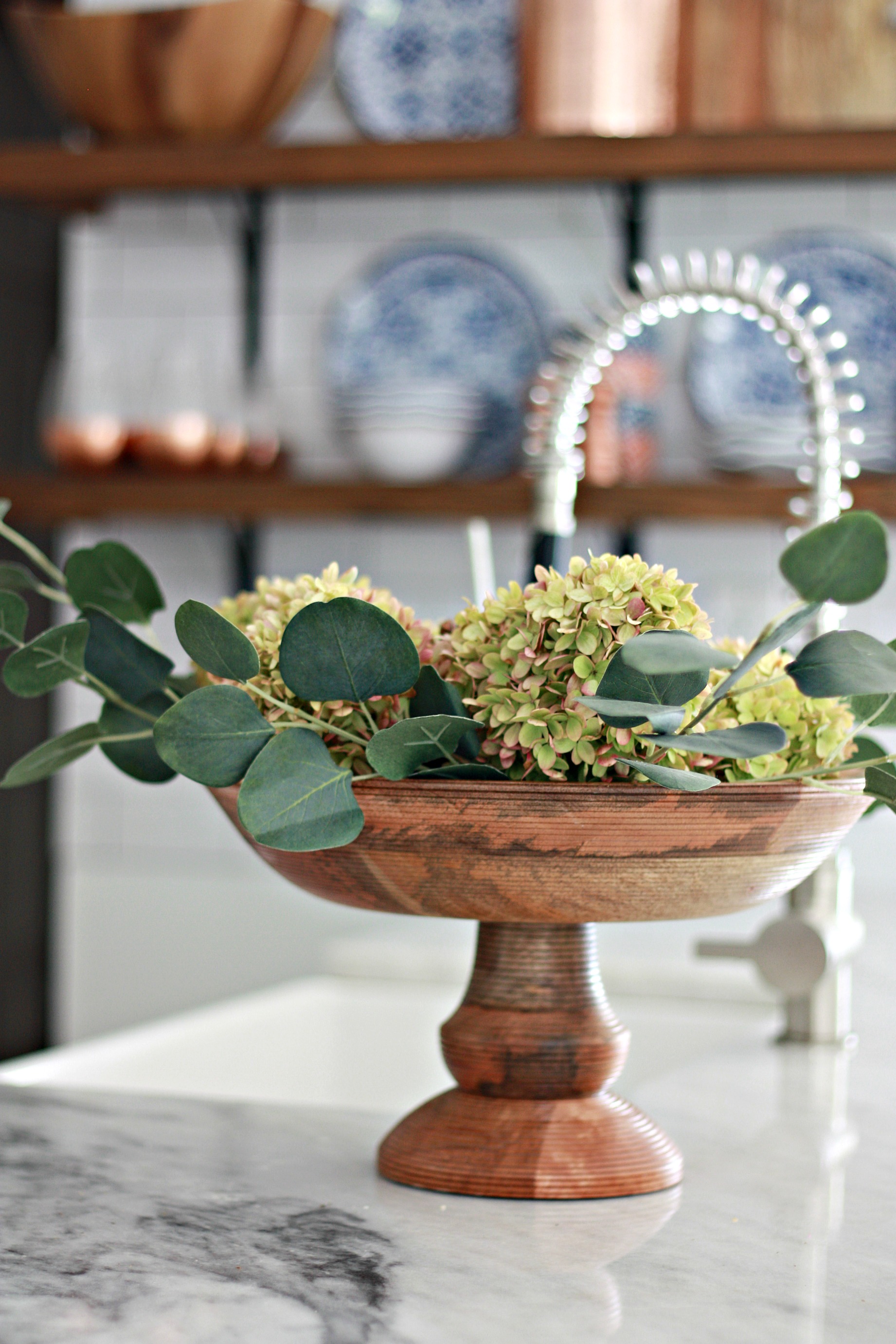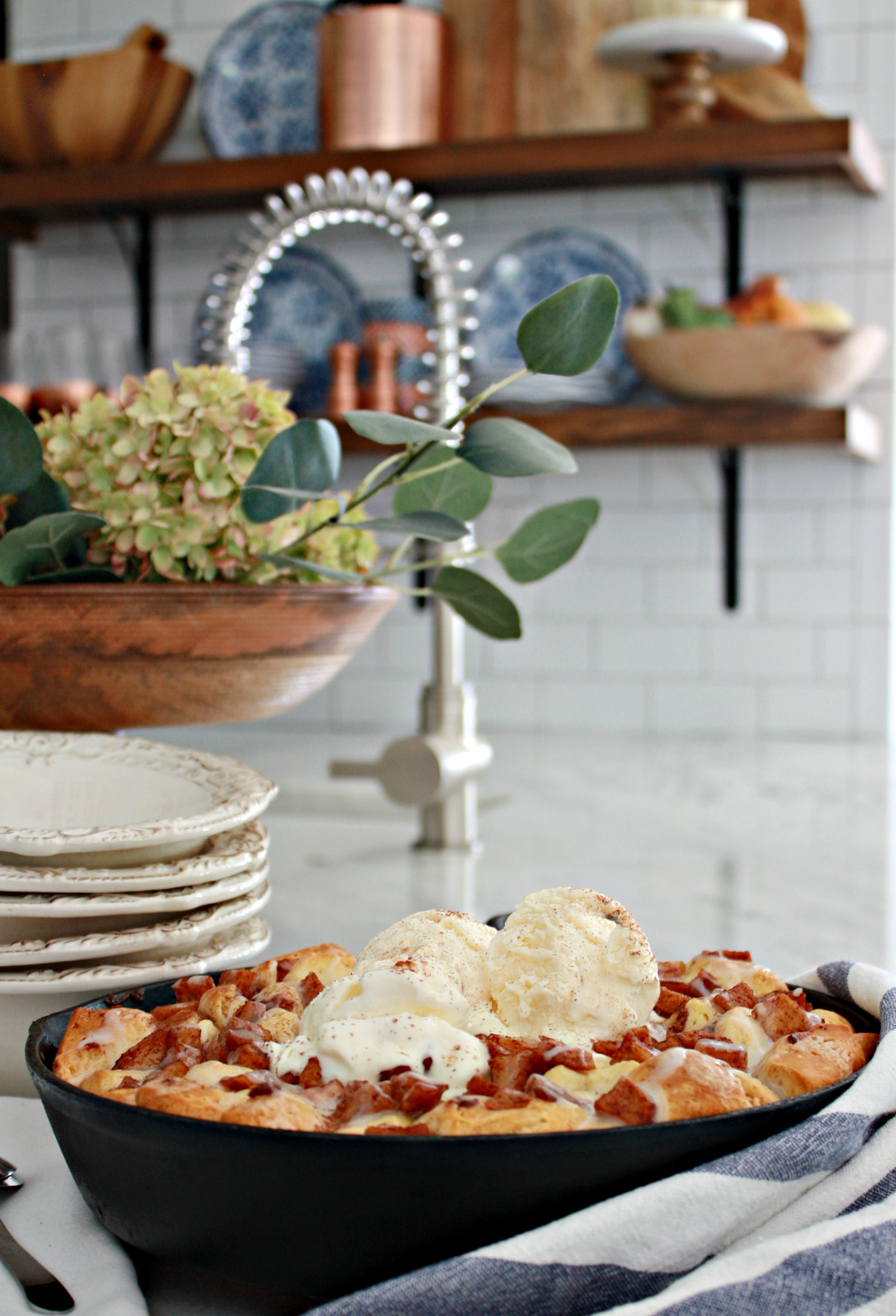 Below, you'll find all the bloggers who are contributing to this amazing Holiday Recipe Series.  Please visit and pin, if you'd like.  I know their recipes will be incredible.
Apple Pie Cinnamon Rolls by Ella Claire | Rustic Apple Cranberry Pie by Anderson and Grant |
Apple Cranberry Slab Pie by Inspired by Charm | Apple Donuts by A Burst of Beautiful |
Caramel Apple Tart by Julie Blanner
Easy Apple Dumplings by Craftberry Bush | Apple Crisp by House 214 Design |
Apple Cider Scones by Everyday Occasions | Apple Fritter Skillet Bake by Nest of Posies |
Rustic Apple Tarte Tatin by Maison de Pax
Paleo Gluten Free Apple Crisp by Nesting with Grace | Crock Pot Applesauce by My Sweet Savannah
Gluten Free Apple Crisp by City Farmhouse |
Baked Breakfast Apples with Oatmeal by French Country Cottage |
Apple Blossom with Salted Caramel Sauce by Nina Hendrick Design
No Churn Apple Pie Ice Cream by Boxwood Avenue | Bird's Nest Apple Pie by Zevy Joy |
Apple Upside Down Spice Cake by Love Grows Wild