You all are going to love this recipe for Pumpkin Chocolate Chip Cream Cheese Bread!  If you knew me personally, you'd know that I'm known as the pumpkin chocolate chip muffin girl, according to my friends.  I have been known to kick off September and the first day of Fall with several dozen of pumpkin chocolate chip muffins in a delivery basket.  So it's only fitting that I try out a new recipe for something with pumpkin and chocolate.  Thanks to a recent trip I made that had me inspired to try this amazing Pumpkin Chocolate Chip Cream Cheese Bread!
Y'all, it is so delicious!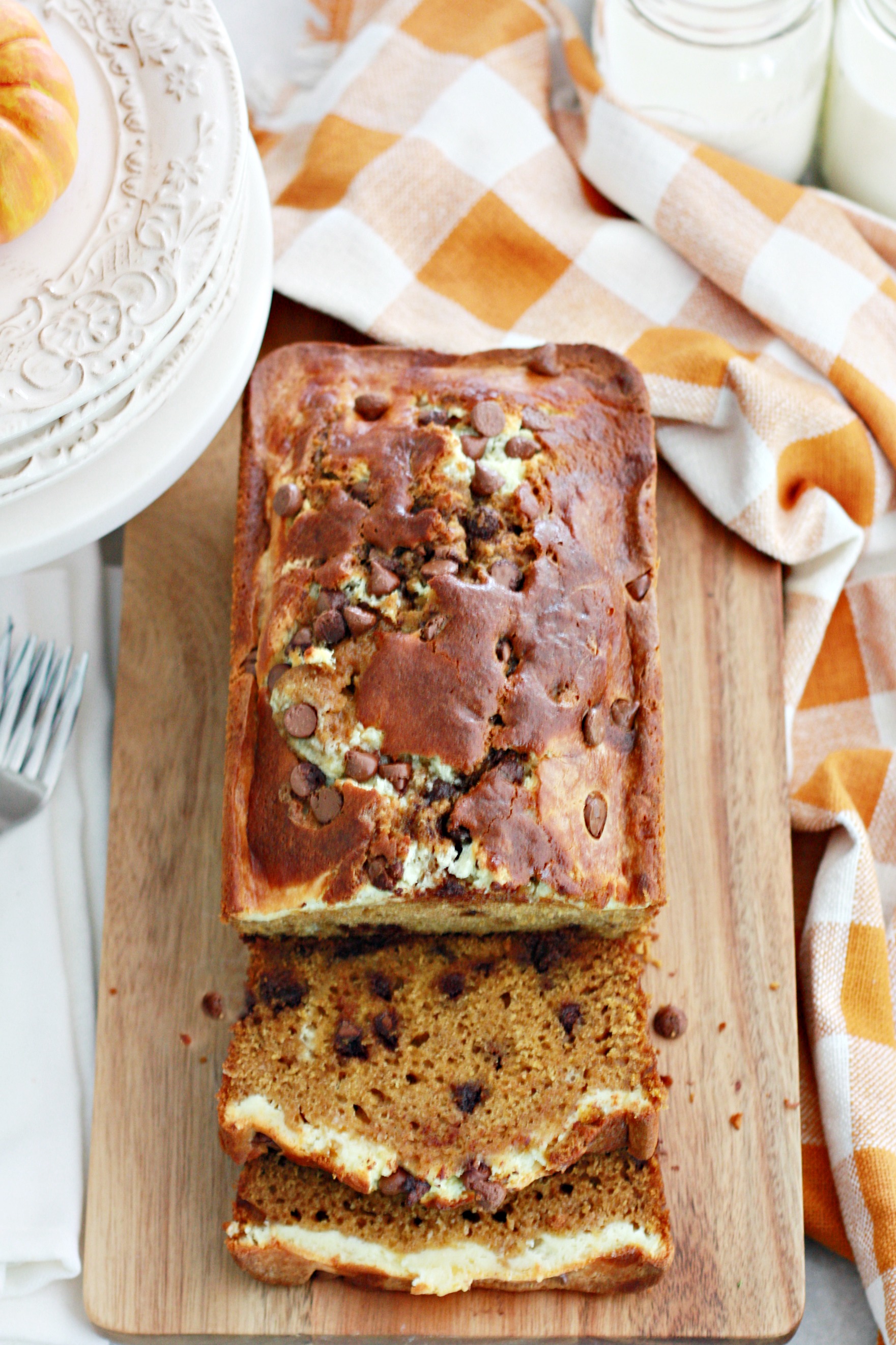 I'm also excited that this post is part of
#thetastesoftheseason

blog tour that my sweet friend Kristen has put together.  2 weeks ago, our  blog tour was all about APPLE RECIPES!  Today it's all about PUMPKIN!  You'll be amazed when you see all the beautiful recipes linked further down in this post.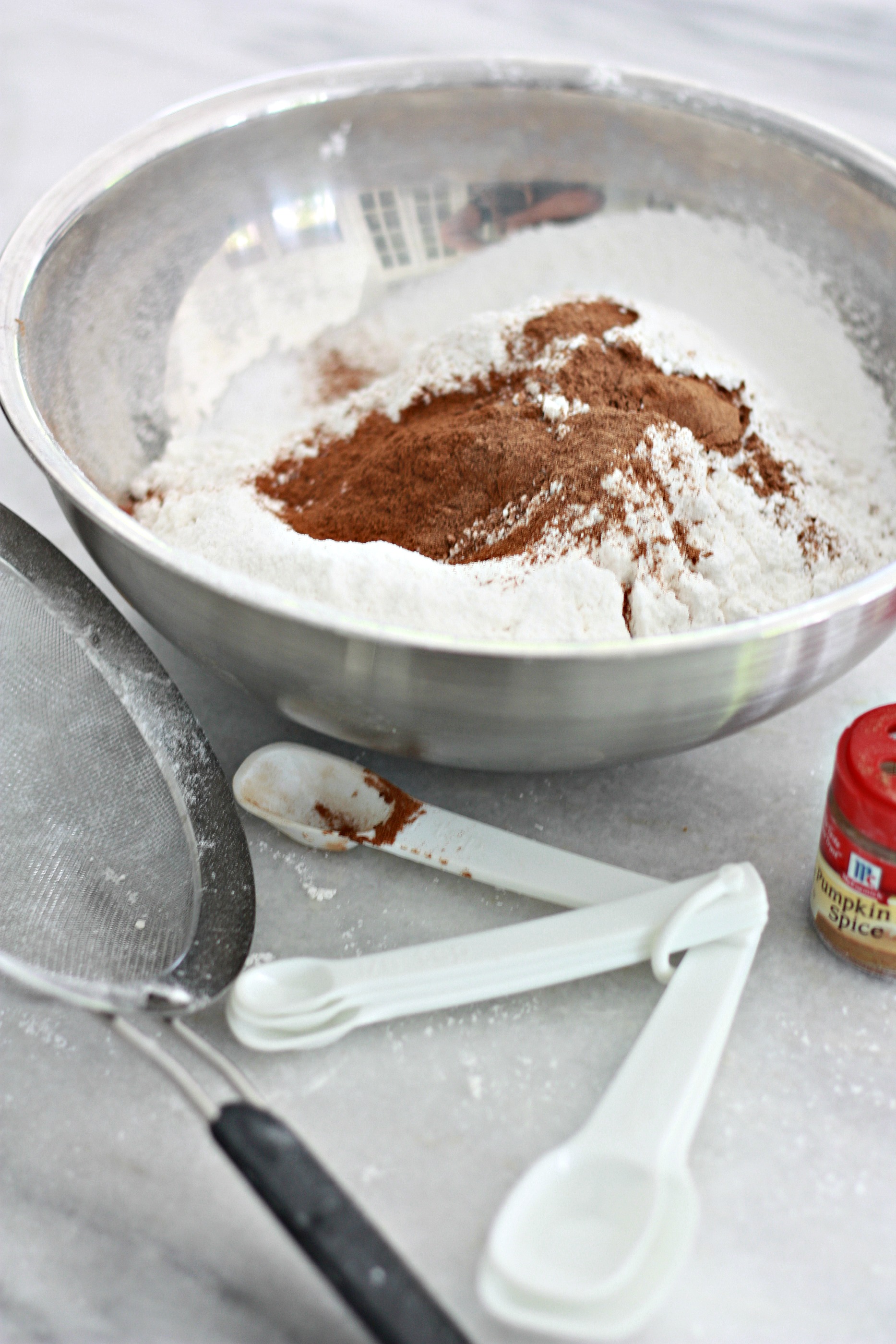 One of the many reasons why I love this recipe is that it uses a whole can of pumpkin AND it makes 2 loaves!  You cannot go wrong!  It's perfect anytime of day, and I just love when a recipe uses a whole can of pumpkin.
Pumpkin Chocolate Chip Cream Cheese Bread
Ingredients
Pumpkin Bread:
1 can (15 oz) pumpkin puree
4 eggs
1/2 cup vegetable oil
1/2 cup applesauce
2/3 cup milk
2 tsp. vanilla extract
11/2 cup sugar
1/2 cup of brown sugar
3 1/2 cup flour
2 tsp. baking soda
1 1/2 tsp. salt
2 tsp. cinnamon
2 tsp. of pumpkin pie spice
1 1/2 cup mini chocolate chips or whatever you have on hand
FILLING
16 oz. cream cheese, room temperature
1/4 cup sugar
1 egg room temperature
Instructions
Preheat oven to 350 degrees and grease loaf pans - set aside
In a large bowl, combine pumpkin, eggs, vegetable oil, applesauce, milk, vanilla extract and both sugars.
In a separate bowl, sift flour, baking soda, salt, cinnamon and pumpkin pie spice
Mix the two bowls together, stirring gently but mix throughly
Stir in chocolate chips.
For the filling - Just beat everything together. Your cream cheese, sugar & egg
Fill your 2 loaf pans in layers. Start with your pumpkin mixture, then add half of your cream cheese filling & top with more pumpkin mixture. Do exactly the same for your other loaf pan. Your loaf pans should be filled around 3/4 full.
Bake for 60-70 minutes - remember ovens vary. Just make sure the center is baked through.
Allow time to cool, approx 10=15 minutes.
Carefully remove from your loaf pans and allow the bread to cool on a wire rack.
https://www.nestofposies-blog.com/2017/09/pumpkin-chocolate-chip-cream-cheese-bread/
The bread will turn out so delicious.  We love it in the morning, or my kids even love it for their dessert or after-school snack.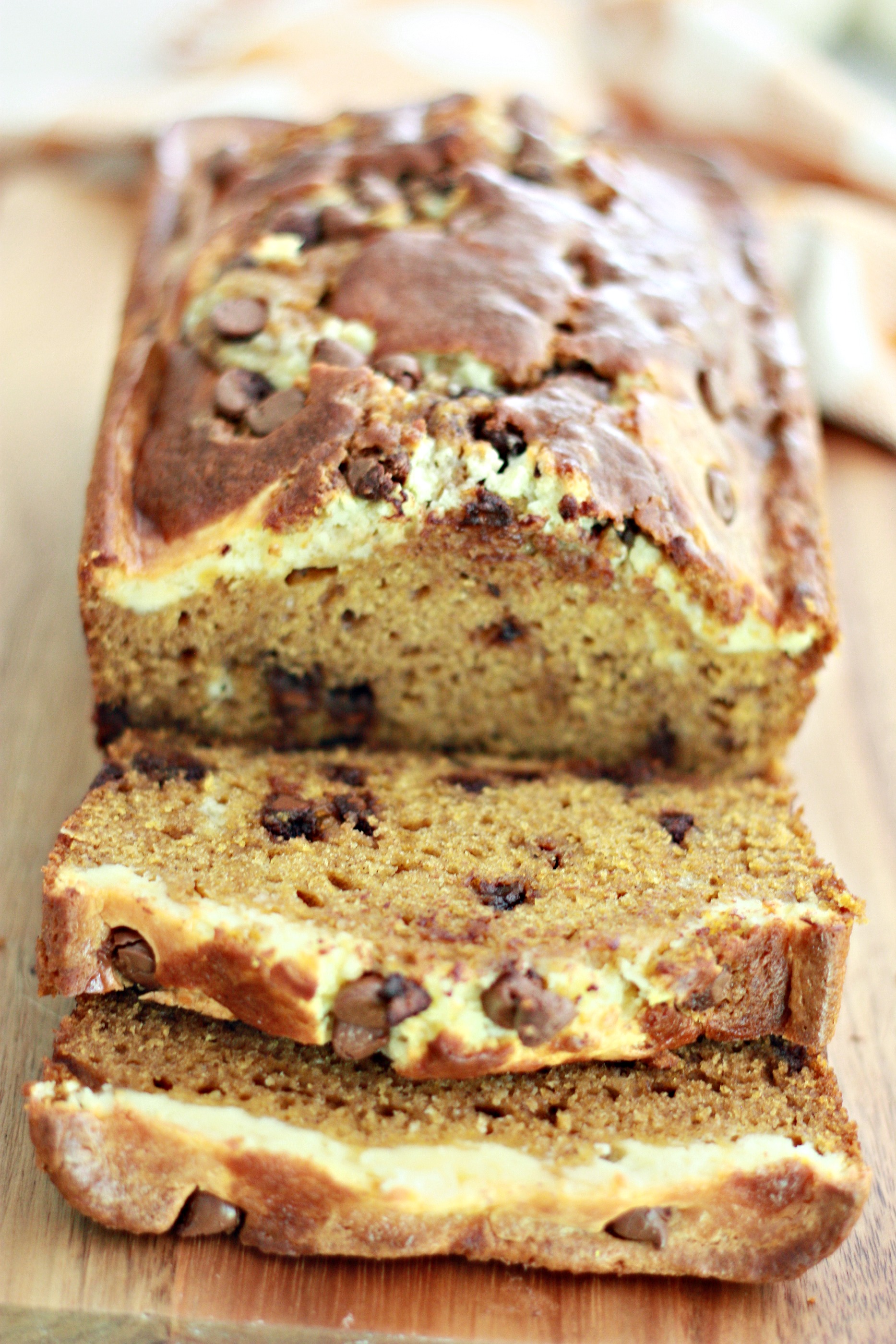 You can also freeze the second loaf or give it to a neighbor.  But in my house, this recipe for pumpkin chocolate chip cream cheese bread did not last very long!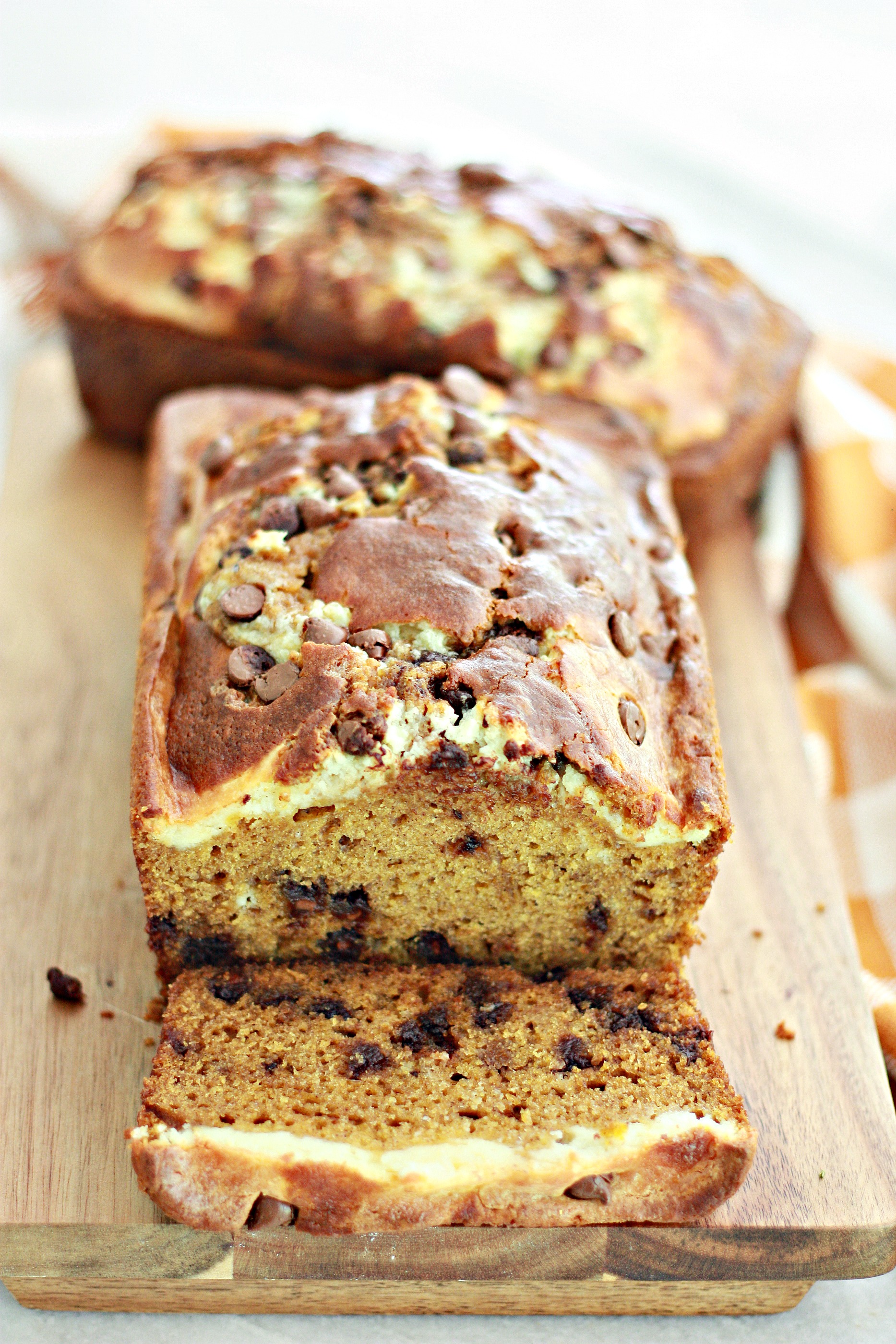 It's perfect to have with milk, coffee or tea.  It's so comforting and perfect to make for the Fall.  The smell alone while it's baking will make you weak in the knees.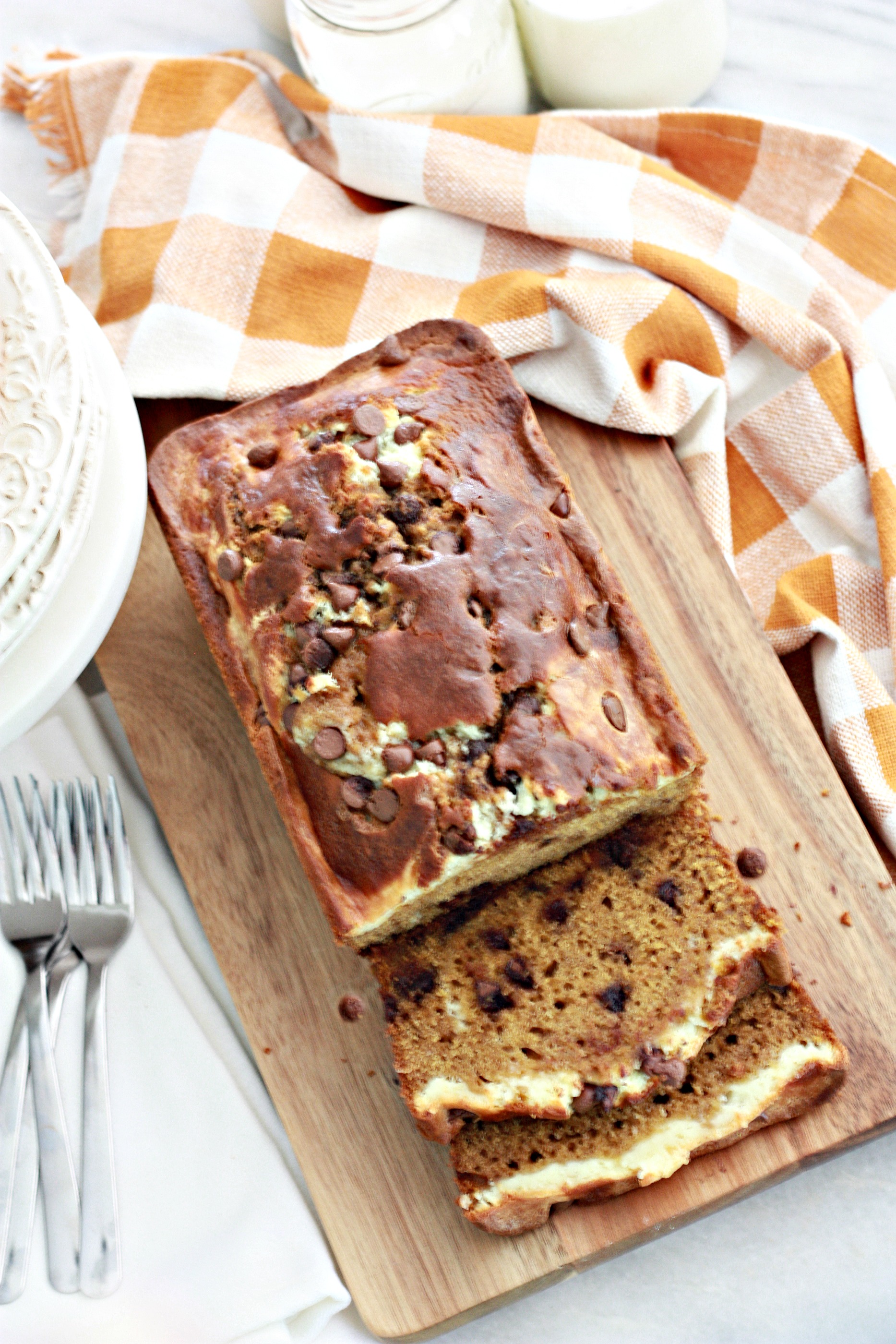 Below are all the beautiful PUMPKIN recipes.  Don't they look amazing?  I'm sure you'll find something for breakfast, lunch or dinner listed below.  Make sure you visit each one, and enjoy glimpses into the kitchens of all these amazing bloggers.
Pumpkin Custard Pie with Gingersnap Crust by Ella Claire | Pumpkin Chocolate Chip Cream Cheese Bread by Nest of Posies | Pumpkin Creme Brûlée by Maison de Pax | Pumpkin Cake with Creme Cheese Frosting by Dear Lillie | Pumpkin Tomato and Bacon Soup by Craftberry Bush
Spiced Pumpkin Pancakes by Boxwood Avenue | Paleo Pumpkin Chili by Nesting with Grace | Pumpkin Ginger Molasses Cookies by anderson + grant | Pumpkin Baked Brie en Croute by French Country Cotage | Nina Hendrick Design Co.
Pumpkin Pecan Chocolate Chip Cookies by A Burst of Beautiful | Maple Glazed Pumpkin Hand Pies by Love Grows Wild | Pumpkin Patch Muffins by House 214 | Pumpkin Maple Pancakes by Finding Home Farms | Miniature Pumpkin Tarts by Zevy Joy
Oatmeal Pumpkin Chocolate Chip Cookies by Miss Mustard Seed | Pumpkin Toffee Cupcakes with Salted Caramel Frosting by My Sweet Savannah | Pumpkin Pan Pie by Inspired by Charm