I started having the Mommy guilts.
I'm sure you've had them from time to time as well, right?
You know that inner Mommy voice inside of you?
Telling you to do something or follow your gut?  And you know darn well, if you ignore that inner Mommy voice you're going to be in trouble because it has NEVER failed you??!!
Well, about 2 weeks ago I had my inner Mommy voice telling me that I need to prepare more meals with veggies in them.  We do not get enough vegetables in our diet.  It's the honest truth.  When we go out to eat, who orders vegetables?
No one!
I mean, seriously???
Sure, I will order a salad almost 90% of the time, but my kids don't.
They order the carbohydrate platter and never get any vegetables.  
We have all come to love the One Pan meals.  Not only for the taste but for ease and convenience.  They have become a game changer during the weekdays and homework hours.  But I had to ask myself,
"Where's the vegetables????"
So I have been working with a few recipes and variations of our favorite One Pan meals, and this is one of the few that we absolutely love that's FULL of veggies!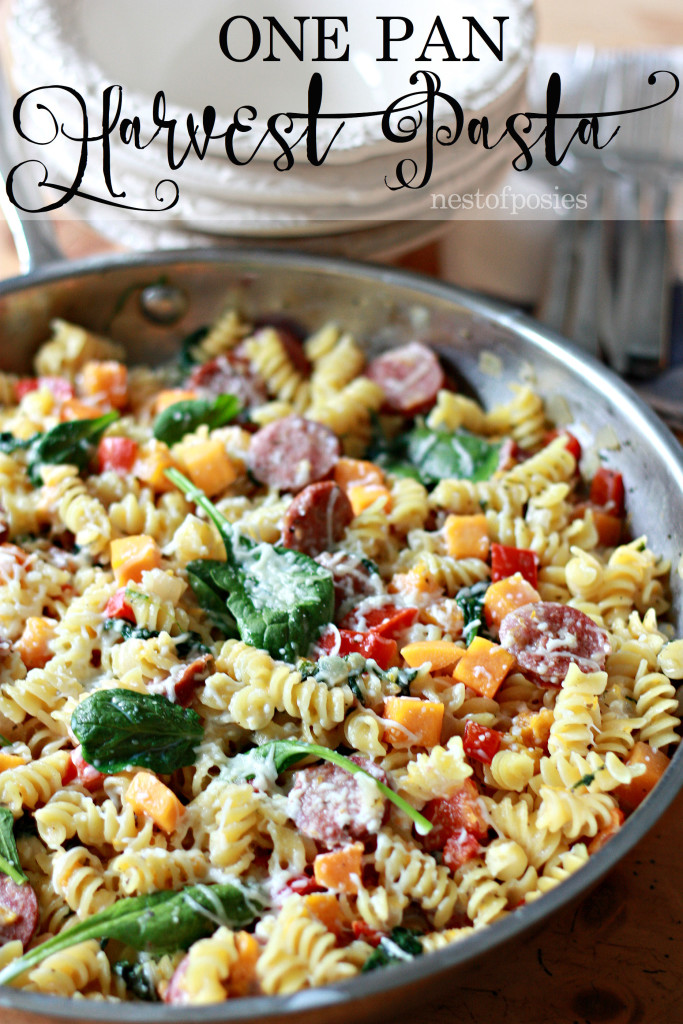 Introducing our One Pan Harvest Pasta which happens to be full of veggies, and dare I say this can be made in about 35-40 minutes??!!  I won't claim that it's a 30 minute meal, but it's very close to it.  I love a dinner where I can stop & start to assist with homework, and that is actually what this is.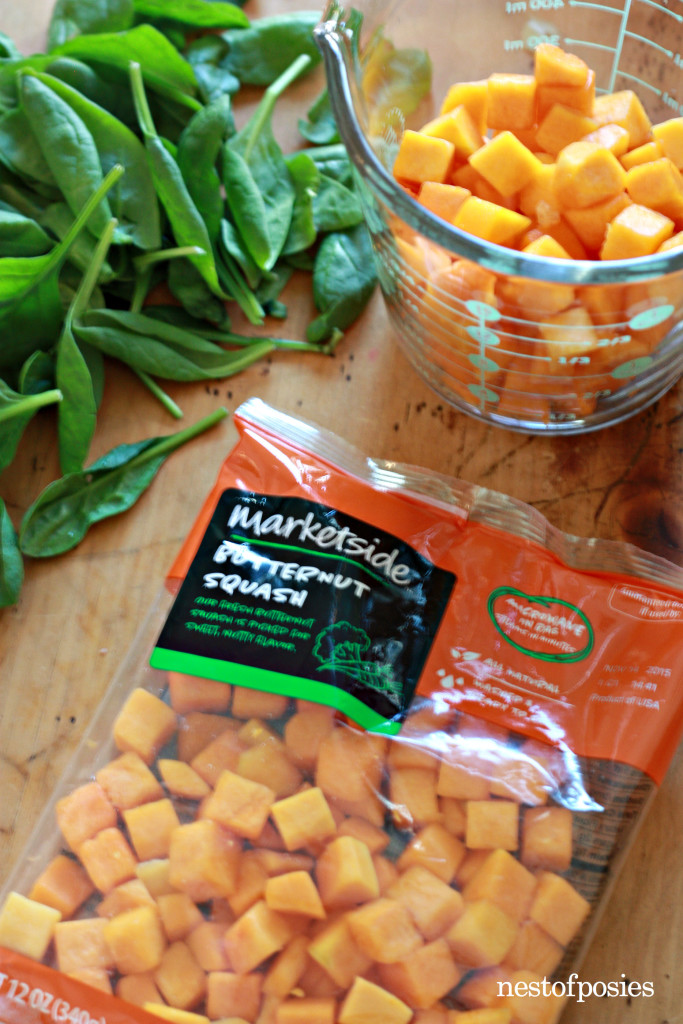 Above is my secret weapon of choice especially in the Fall & Winter months.  Fresh baby spinach and already chopped Butternut Squash in a bag at Walmart!!!  I've been buying these bags for years.  I also use this bag to make our Butternut Squash Salad.  It is so convenient!
Anyways, it's perfect for meals like this or for a quick roast in the oven with some brown sugar splenda sprinkled on top!
Ingredients
1 tablespoon of EVOO
1 medium sweet onion chopped
1/4 teaspoon of minced (or fresh) garlic
1 red bell pepper chopped
1 to 1 1/2 cup of butternut squash cubed
1 lb of Smoked Sausage sliced thinly
2 cups of fresh baby spinach
1 lb of Rotini pasta (or bow tie - whatever you have on hand)
1 tablespoon of Italian spice mix
salt and pepper to taste
chopped fresh parsley* optional
1 cup of chicken stock
2 cups of milk
2 cups of grated Italian cheeses (parmesan, mozzarella, etc)
Instructions
*In a very large skillet on medium heat, pour your tablespoon of EVOO in the skillet along with your chopped onions and garlic, cook for about 3 minutes. Then add your Smoked Sausage, red bell pepper and butternut squash cooking on medium-high heat for about 5-8 minutes.
*Add salt and pepper, Italian seasoning and fresh spinach and stir around.
*Add your liquids of chicken stock and milk, and stir.
*Add 1 cup of your grated cheese blend, stir.
*Pour the entire 1 lb box of pasta in your large skillet, and mix together.
*Cover your skillet and cook on medium heat for about 12- 15 minutes.

IT IS IMPORTANT

that you come back to your skillet from time to time to stir. Milk and cheese can stick to a pan, so add more liquid (milk or chicken stock if needed)
*Once your pasta is cooked throughly add the remaining cup of cheese for topping.
*Serve immediately or keep covered until ready.
https://www.nestofposies-blog.com/2015/11/one-pan-harvest-pasta/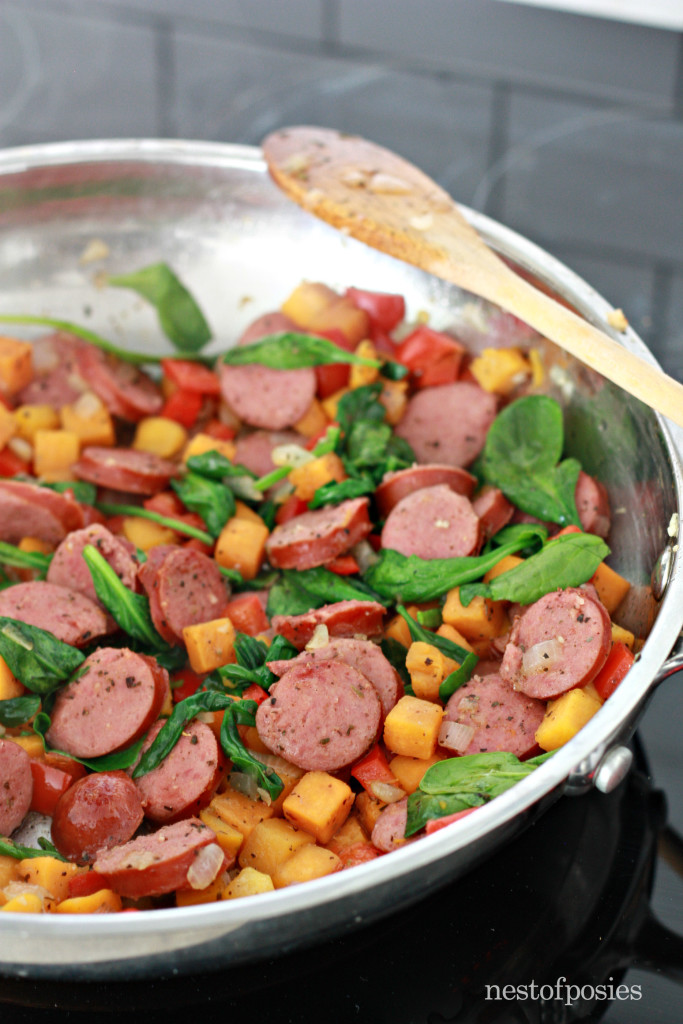 When I mentioned above that One Pan meals have truly become a game changer, I really mean it.  M -F from the moment the kids come home from school we start homework.  I love a good crock pot meal, but I also love these One Pan meals that allow you to make dinner, stop & start again while helping with homework, laundry or whatever else you have going on.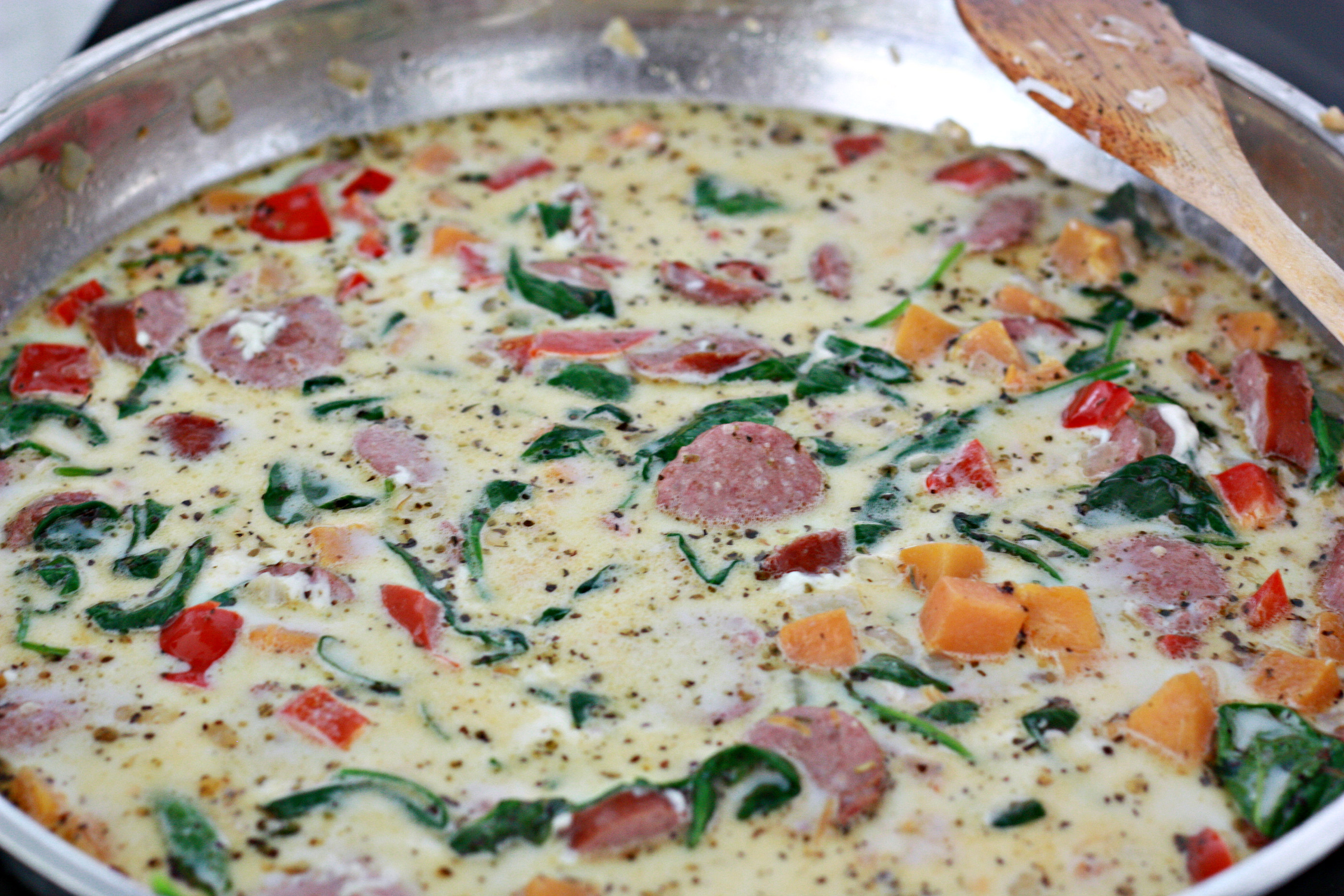 You just have to chopped a few veggies, simmer, add your Smoked Sausage (or chicken) add your liquids and then your pasta.  It truly is that easy.
My only words of warning:
go back & stir once in a while since milk and cheese sometimes sticks to a pan.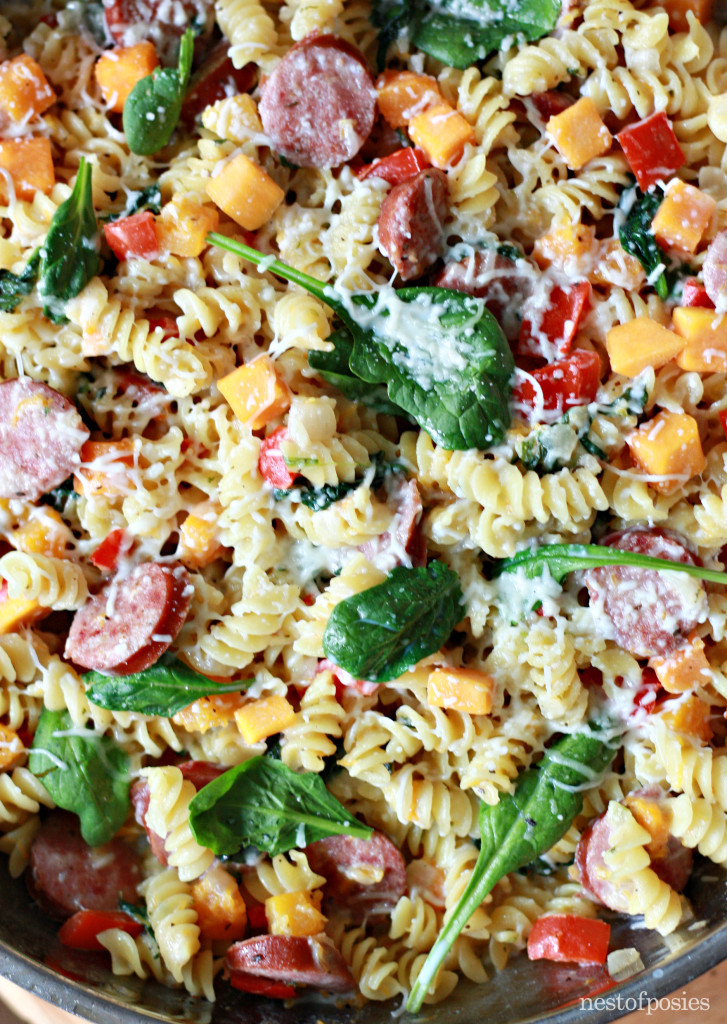 I also added a sprinkle or two of some nutmeg (which is totally optional) because of the Butternut Squash.  I love Butternut Squash mixed with a nutty seasoning.  But that's me, you all may not like it that way.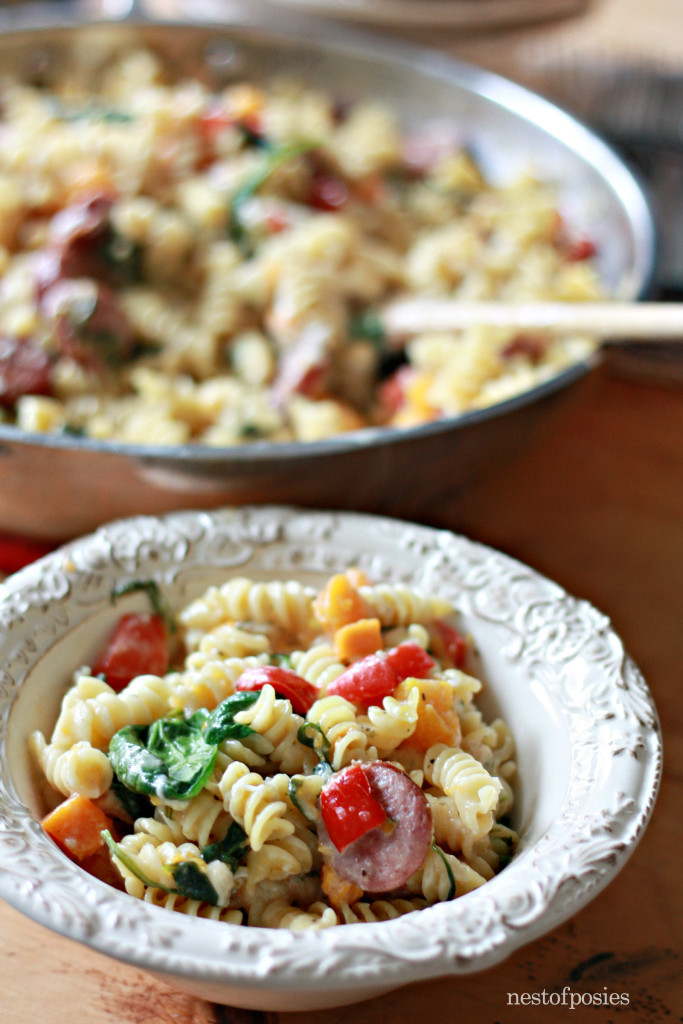 You may substitute whatever you like in this meal, chicken instead of the sausage, add some bacon, or add completely different veggies.  It's a great "base" recipe to add or subtract.

you may also like: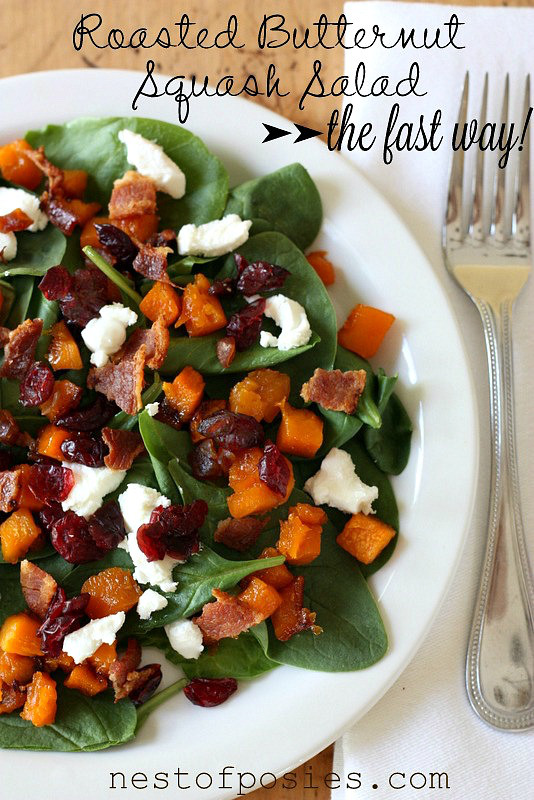 Butternut Squash Salad – my favorite salad of all time!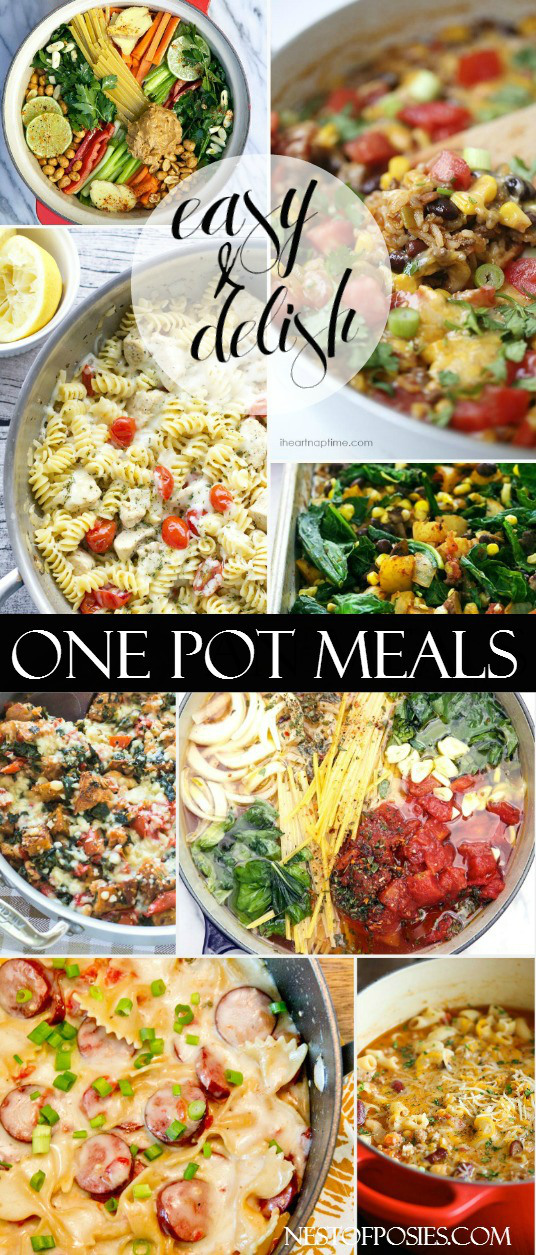 A collection of One Pot Meals from around the web.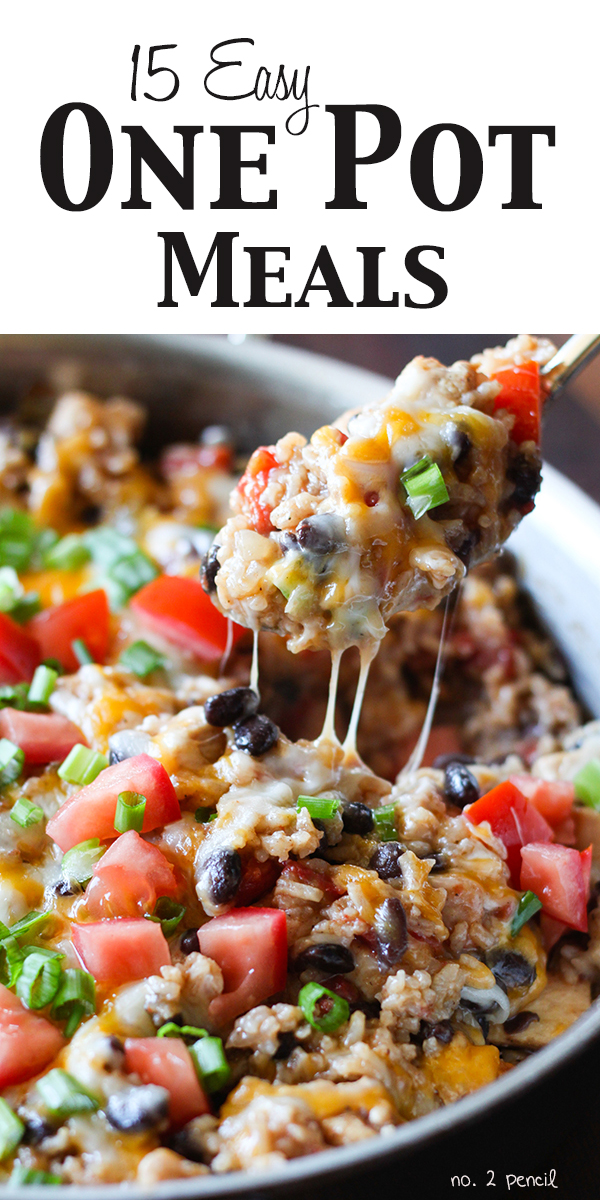 Also check out my friend Melissa from No 2 Pencil Blog.  She is the queen of One Pot Meals!