Hello friends!  I'm so excited to be teaming up with Balsam Hill and their 12 bloggers of Christmas.  It's less than a week before Thanksgiving, and we have put our Mountain Woodland Christmas Tree up.  I'm so excited to give you a detailed tour of it and our front room.  As some of you know, we truly live on a mountain in Tennessee.  It's not uncommon to see deer walking down our neighborhood, of course we see owls, woodpeckers, and all sorts of beautiful birds.  Our backyard is directly next to the woods, and I absolutely love it.  When I saw the Woodland Ornament Collection from Balsam Hill, I knew immediately that they belonged on our new narrow Fraser Fir tree.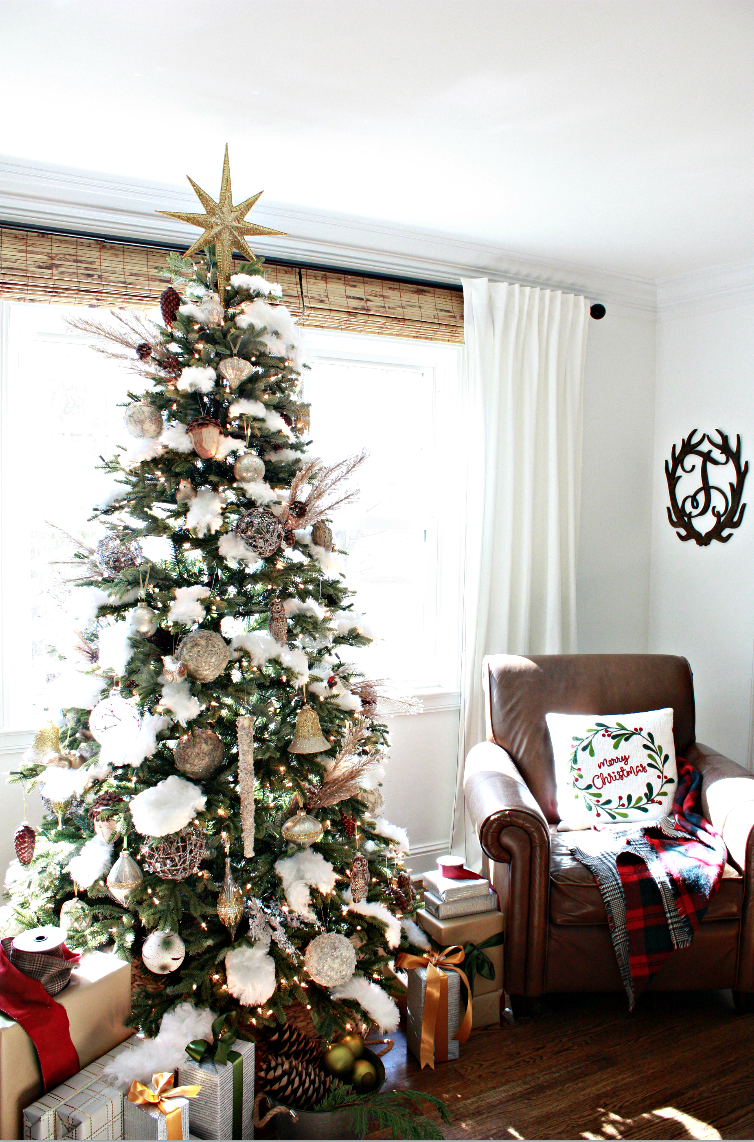 It's a collection of ornaments and picks inspired by nature, like birch wood, grapevine ball ornaments and
Jute Pinecone Picks
.  The neutral colored ornaments, paired with snow dusting glitter and the
Iced Glitter Picks
are just beautiful.  Ever since we moved to our mountain, I have been hoping for a tree decorated just like this.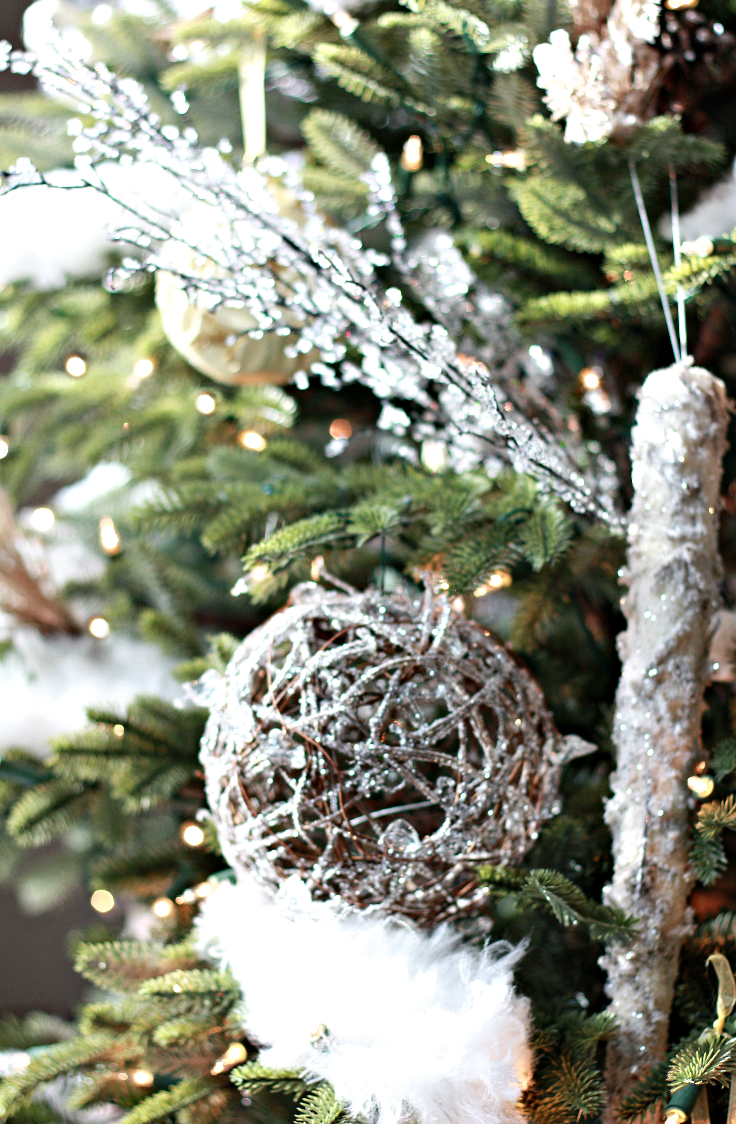 I love colorful Christmas trees, don't get me wrong.  I've always had them.  But I've noticed the last few years, I've been craving a tree that's a little more calming for our front room.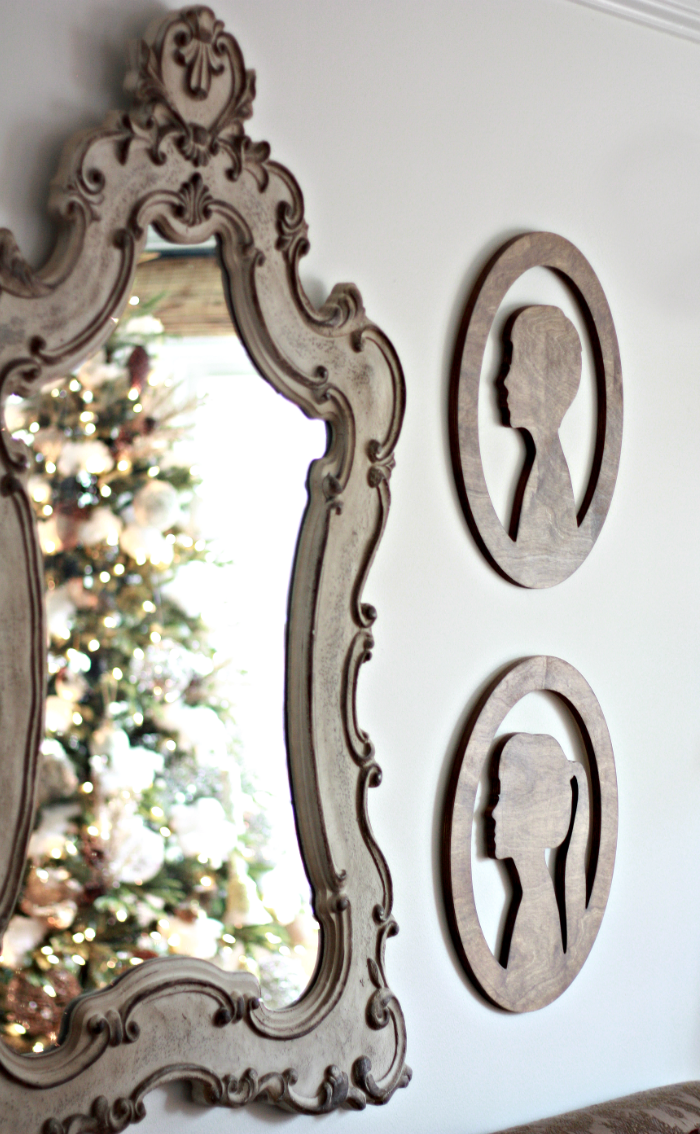 Neutrals with some sparkle and of course all the beautiful lights that create that wonderful bokeh.  Because that's what we all love day or night – it doesn't matter, we all crave those wonderful lights this time of year.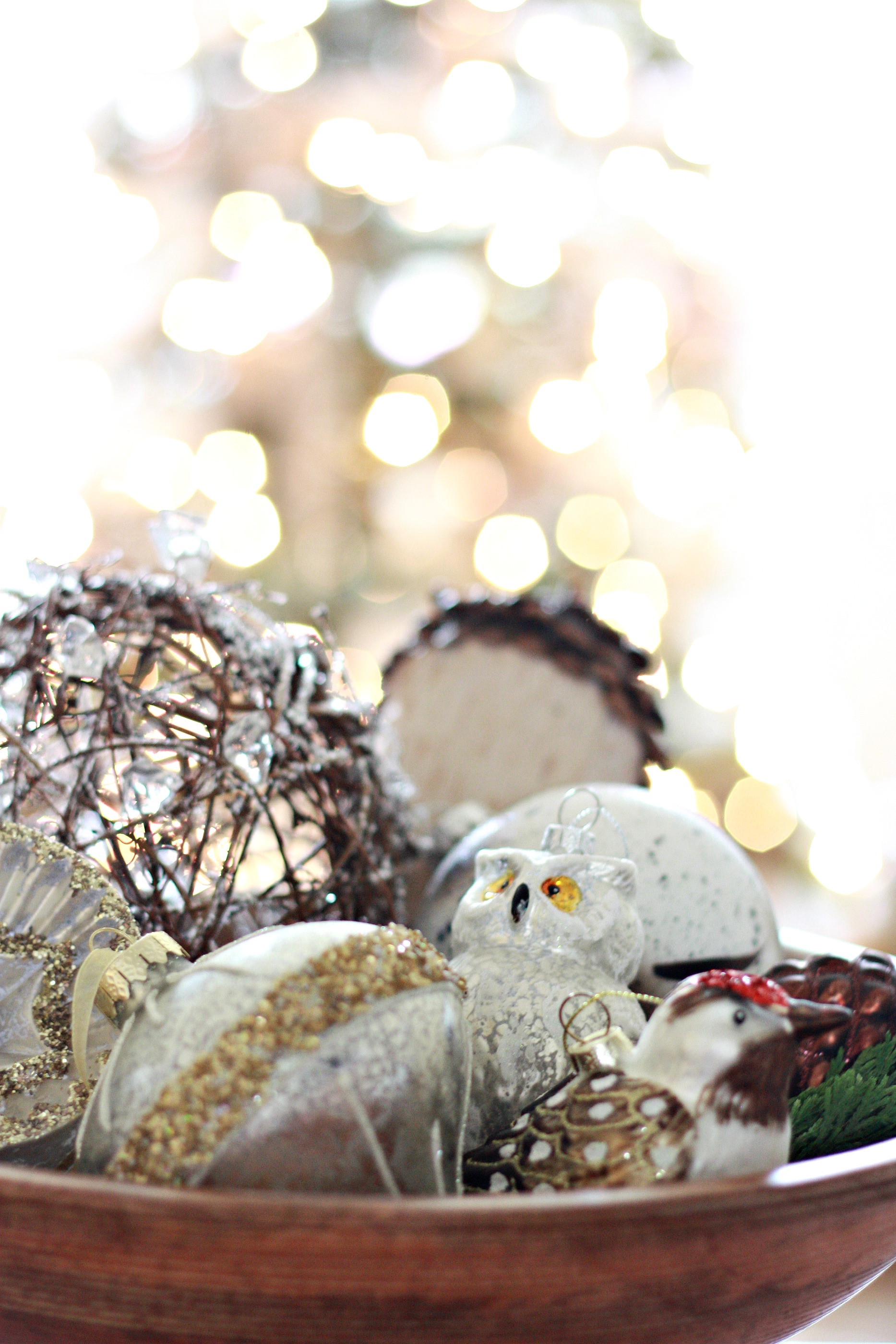 Even if I didn't have any other decorations, I would always have a Christmas tree.  For this tree I was able to mix the Woodland ornaments along with their
Silver and Gold glass ornaments
.  The combination of the two are just gorgeous to me.  Whenever I see a tree in a home, or driving by I always feel comforted by the sight of a glowing tree.   They are filled with magic, memories and pure wonderment to me.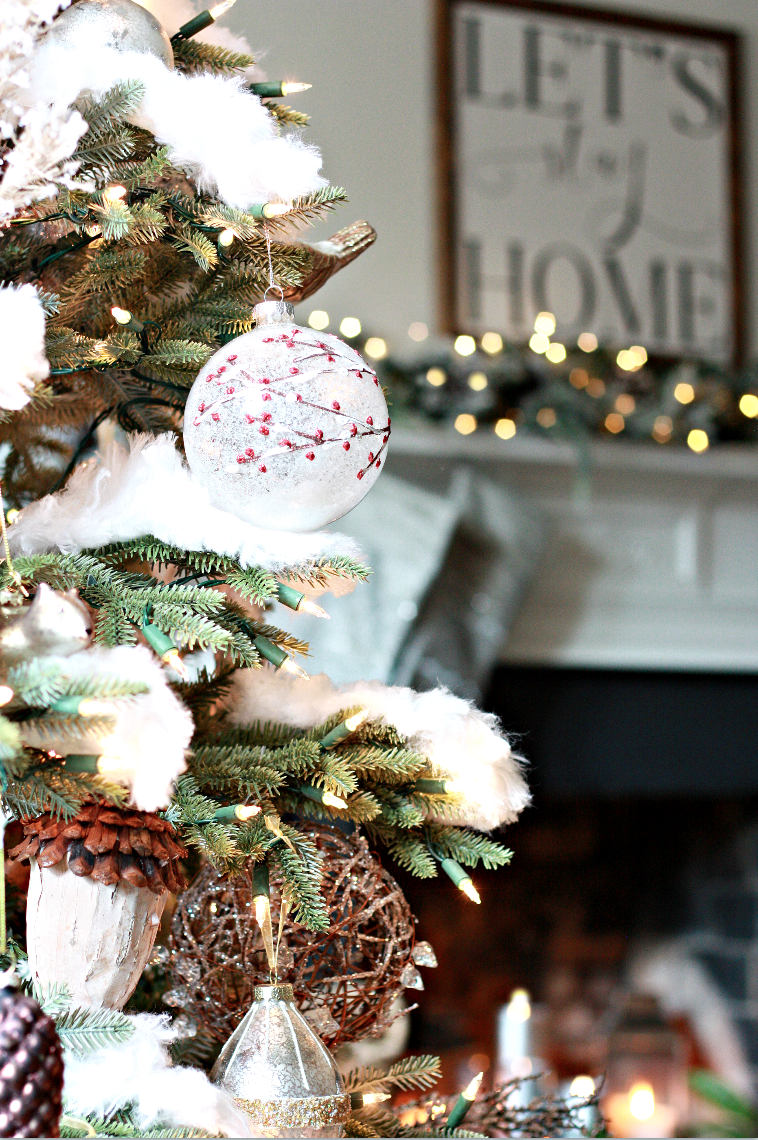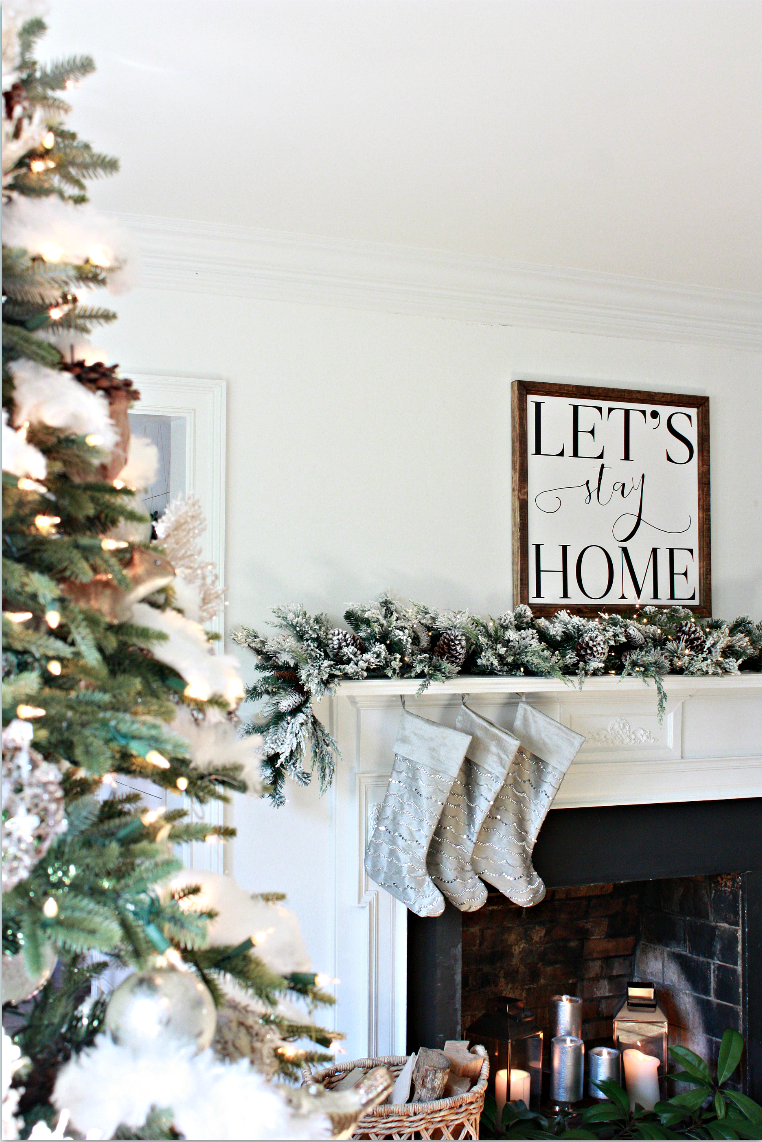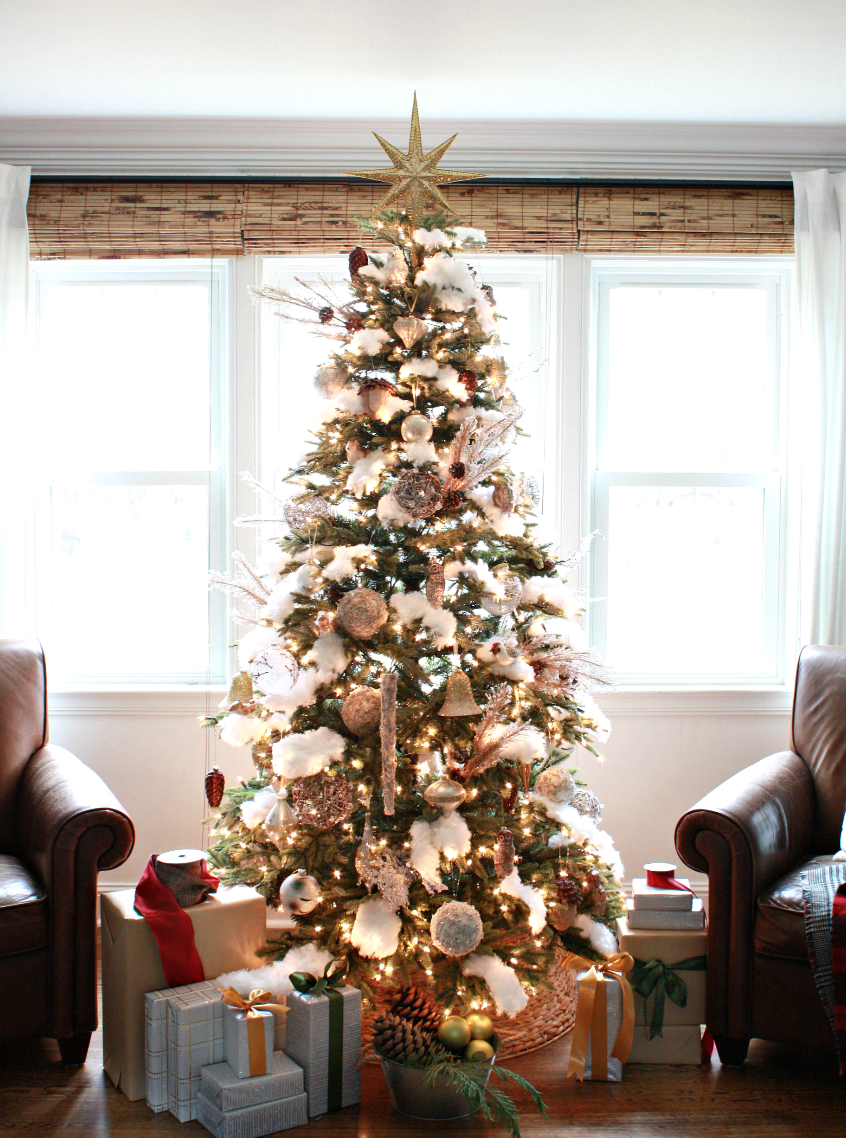 Our front living room is probably the coziest room in our entire home.  It's a box, a true square of a room, that branches off from our front foyer and our dining room.  So having our Mountain Woodland Christmas tree is the perfect solution to blend into several rooms' decor.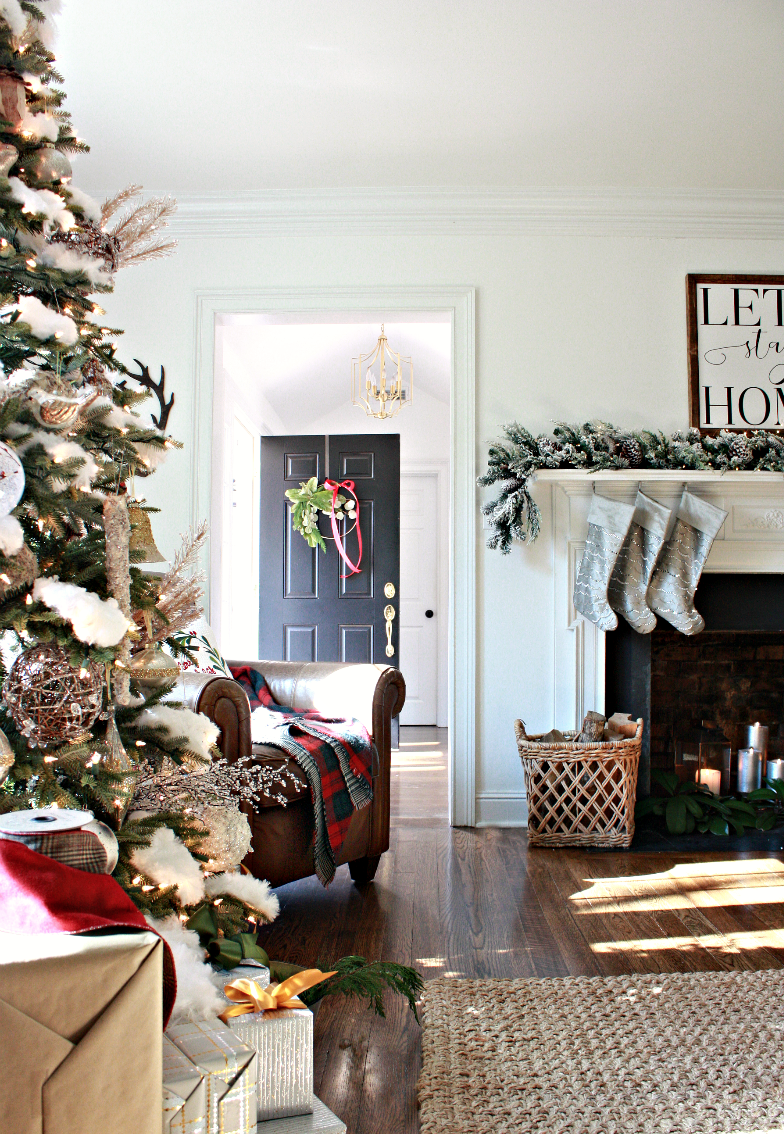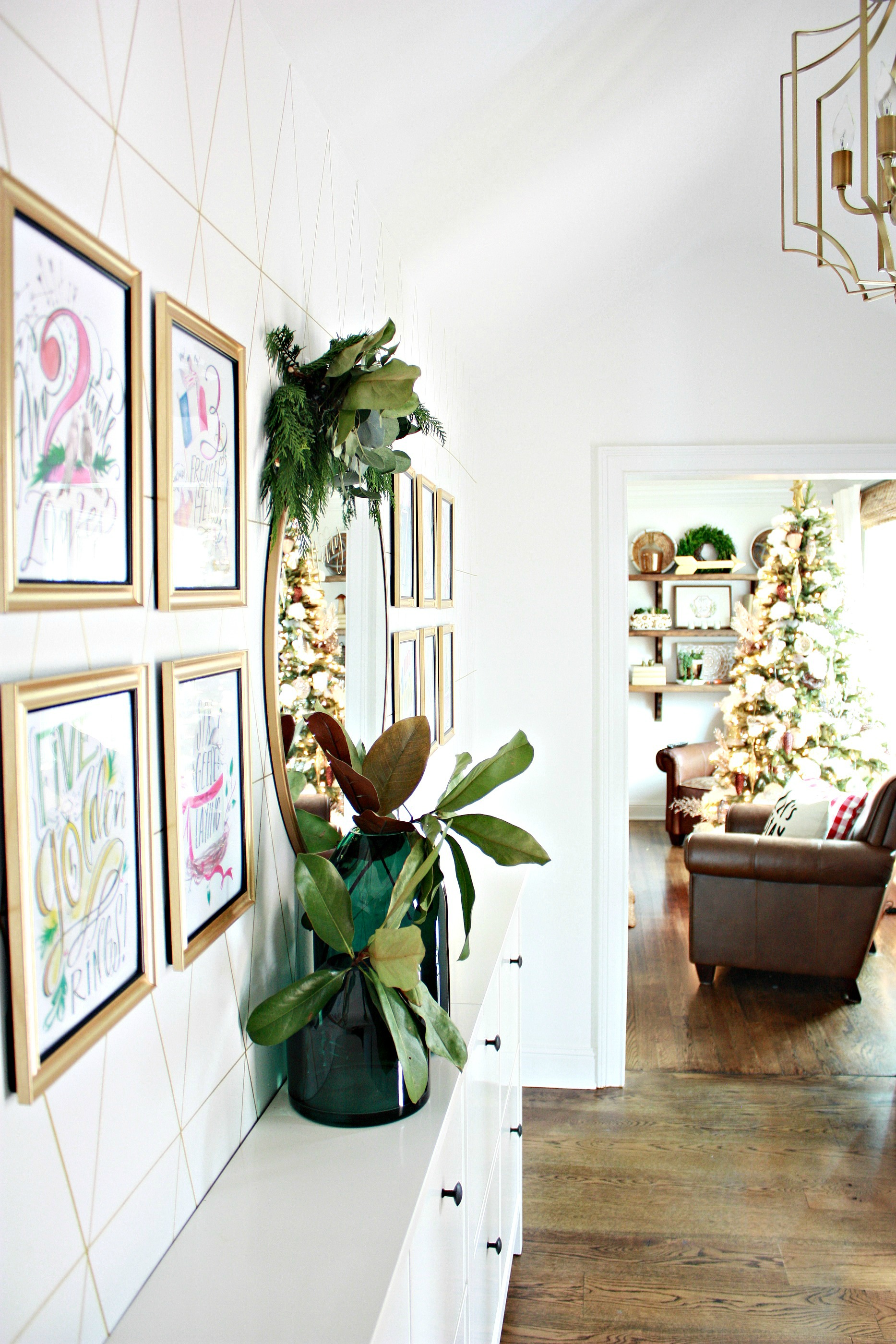 Even our dog Brie, knows a good spot when she sees it.  This is her very favorite place to take a nap or look out the window.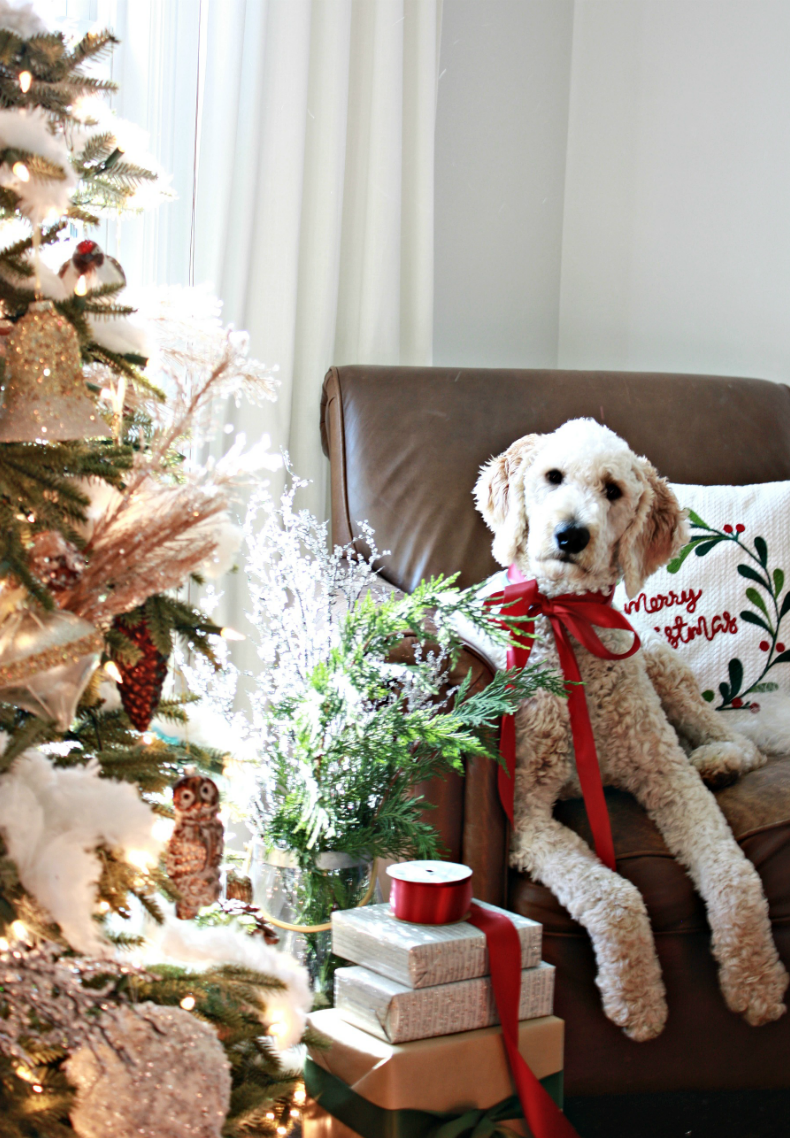 From the base, which is also called a
tree collar
– (who knew???)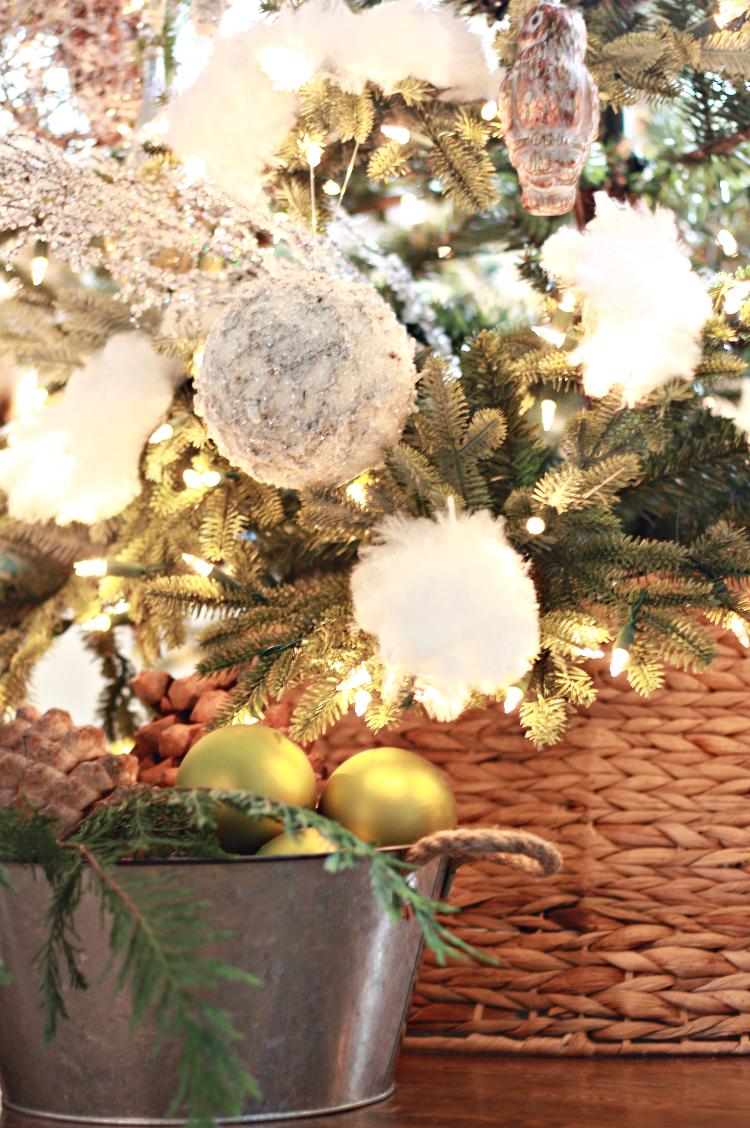 To the very top of the
Bethlehem star
– I absolutely love it all.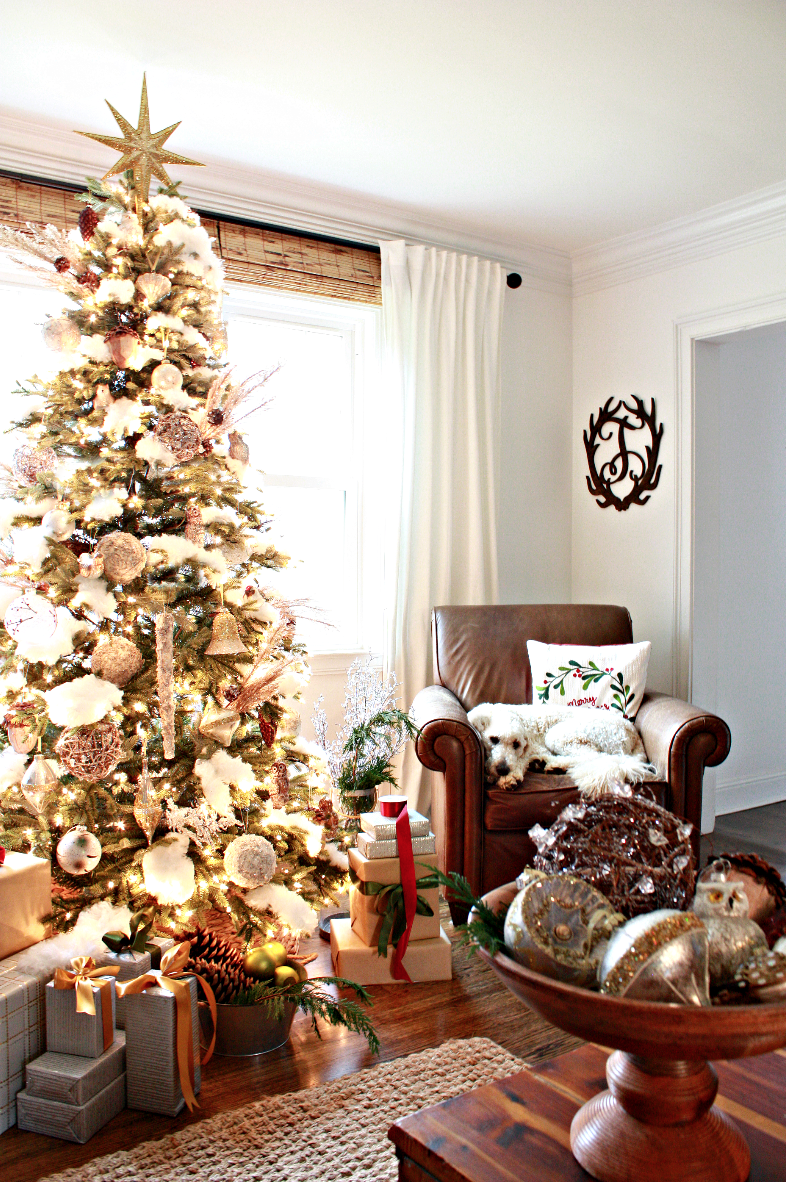 Here's some fun news, Balsam Hill is offering a GIVEAWAY.
Visit Balsam Hill's Facebook page to enter and get all the details.

Would you like to see some more brand new, freshly styled Christmas trees?  You are in for a big treat!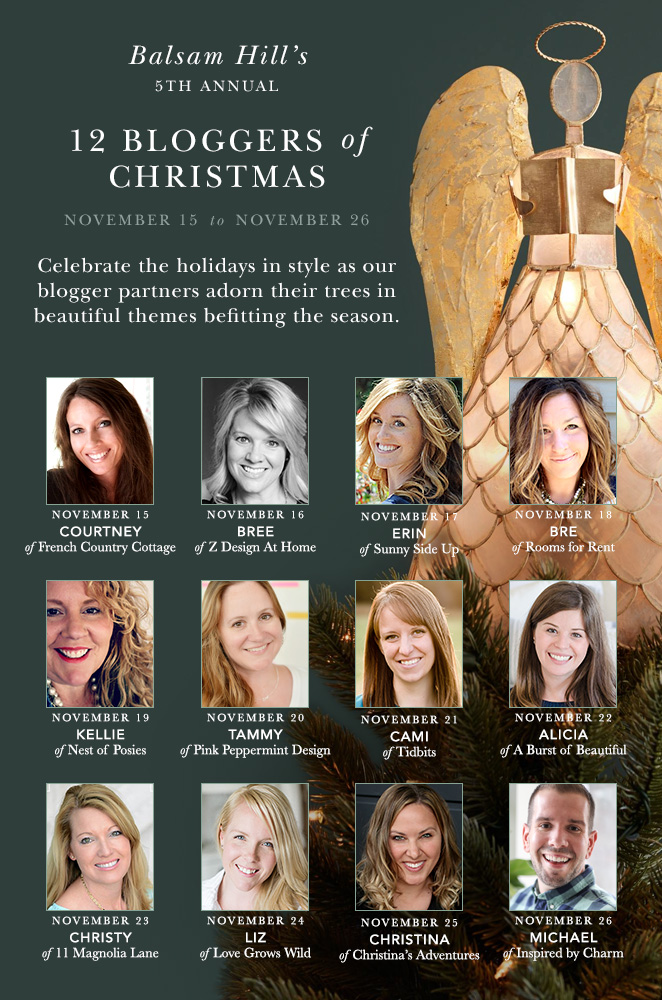 Below are the links to visit each day this week.  There's one a day until it ends.  I know you'll be inspired by each one of these amazing bloggers.
Nest of Posies
Pink Peppermint Designs
Tidbits
Burst of Beautiful
11 Magnolia Lane
Love Grows Wild
Christinas Adventures
Inspired by Charm

Many thanks to Balsam Hill for allowing me to be a part of their 12 Bloggers of Christmas campaign.
SaveSave
SaveSave
SaveSaveSaveSave
SaveSaveSaveSave
SaveSave
SaveSave
SaveSaveSaveSave
SaveSave