With our latest exterior update (our porch!) completed, I could not wait to decorate it for Christmas this year.  I was questioning myself on how I should title this post.  Perhaps I should have said something like, "A lazy girl's guide to decorating".  Or maybe something like, "The cheapest way to decorate your exterior for Christmas" but I settled on, "How to Decorate Christmas Window Boxes and Outdoor Garland". Because I thought that would sound, well, uh more correct or flow better as a blog post title.  But one of my most important goals in decorating our exterior this year, was to do it the most inexpensive way possible.  We've spent the money this year on our brick walkway and porch, and money is tight, and I've learned that when you have to be more resourceful, typically the outcome is SO much better!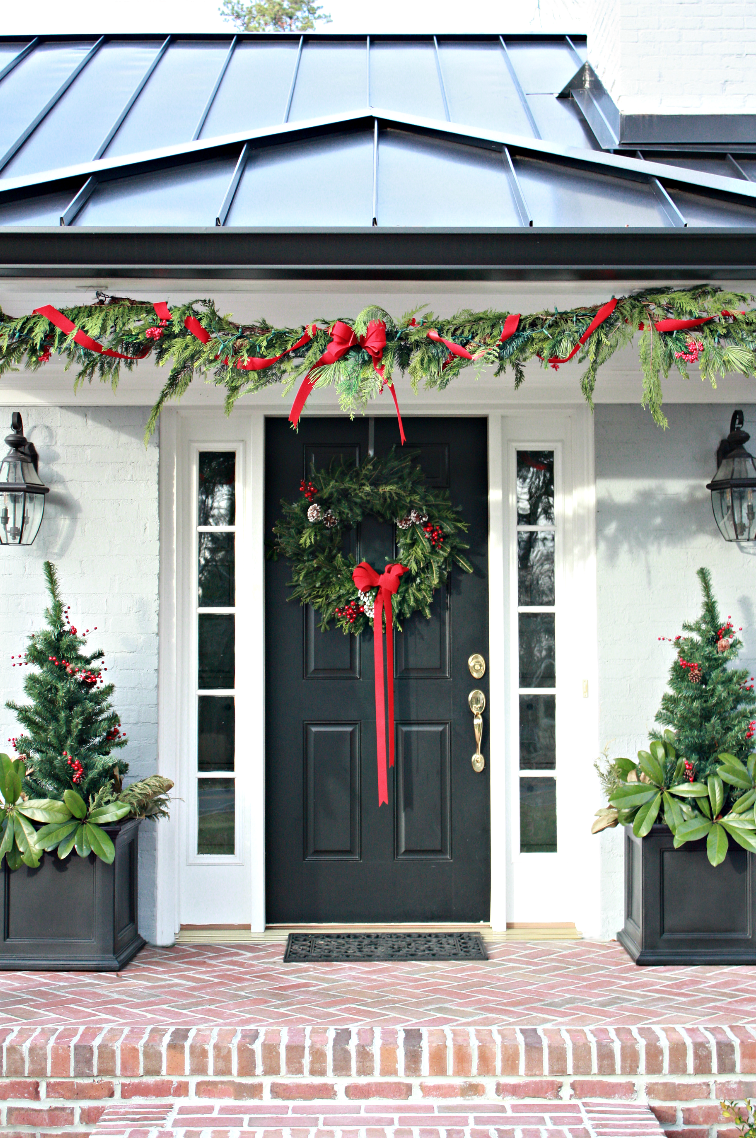 But really & truly, I hope to save some money for you as well with this post, and share some deals and tips on how I decorated the exterior of our home, and new front porch with the best quality I could find that was also the most economical way for me.
First, let's begin with my favorite.  Our window boxes.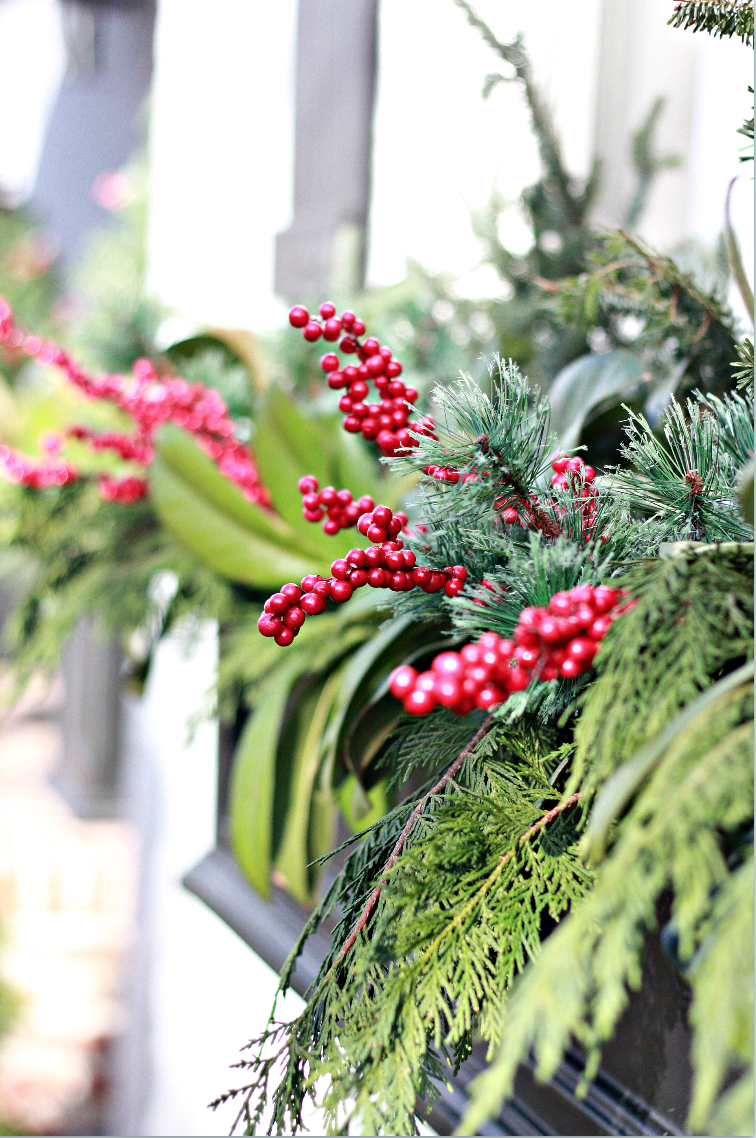 After all (5) window boxes were decorated and full as can be with greenery, I spent a grand total of $5 for each window box.
Everything in my window boxes are real fresh clippings from Christmas tree clippings, Magnolia clippings & Cedar tree clippings from our yard.  The only faux items I used were 2 faux picks with the red berries from Hobby Lobby for $2.49 each.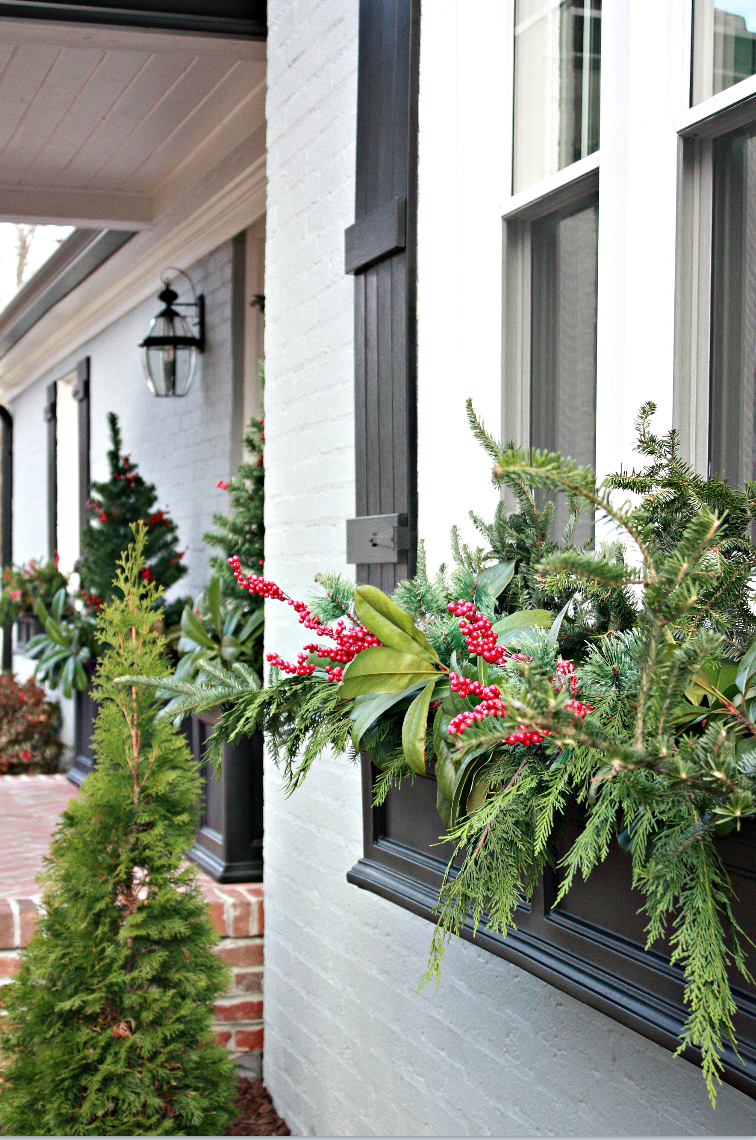 I soaked the dirt in my window boxes with water, and layered in all the fresh clippings.  This is probably the number #1 tip you should do for your window boxes.  Soak the dirt!  Our local Christmas tree farm didn't charge me for the clippings, so I layered those in first and towards the back of the boxes.  They're a little awkward in their form for a recantangle window box, but I appreciate the fullness they bring to each box.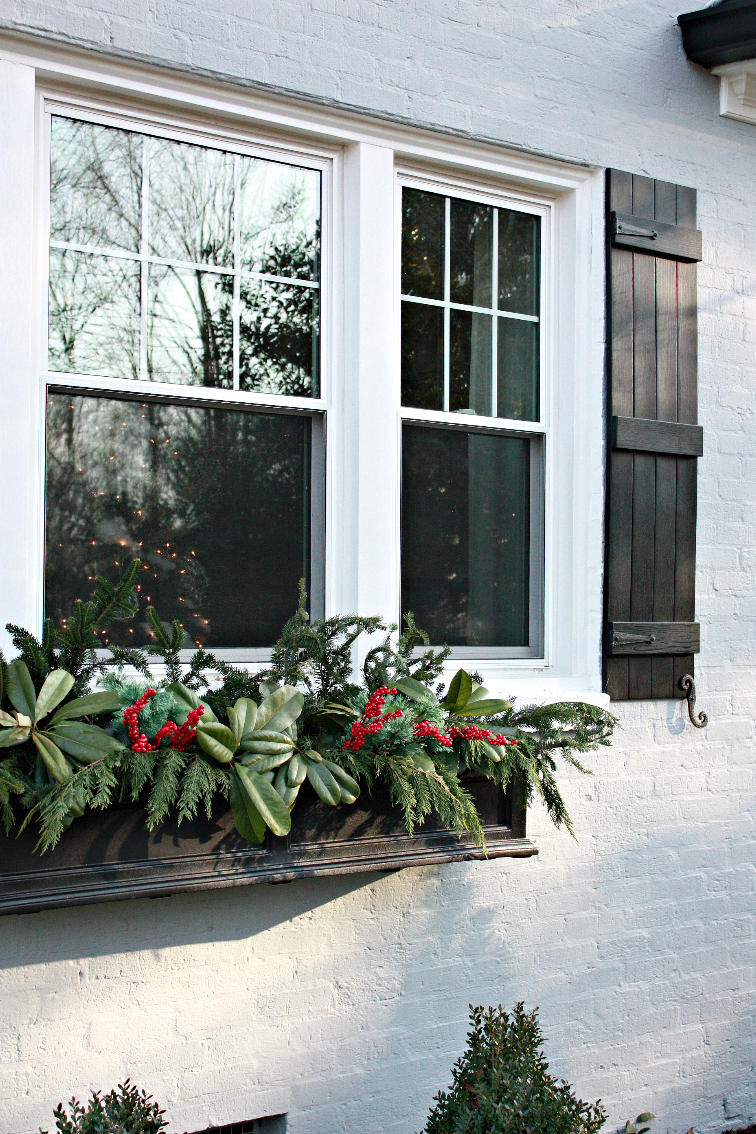 Next, I layered towards the front the Magnolia clippings, and then scattered the Cedar tree clippings in between the Magnolia leaves.  The 2 faux picks with berries I placed towards the front.  And presto, in a matter of a few minutes they were all done.  One of the other major things about this arrangement, is that they can last all Winter.  I doubt I'll even take out the red berries after Christmas.  I didn't attach any bow or ribbon (but you could totally do that) or pinecones.  I just wanted a simple design that would carry me through the Winter.  Just call me lazy.
My key takeaway on how to decorate Christmas window boxes and outdoor garland is be resourceful!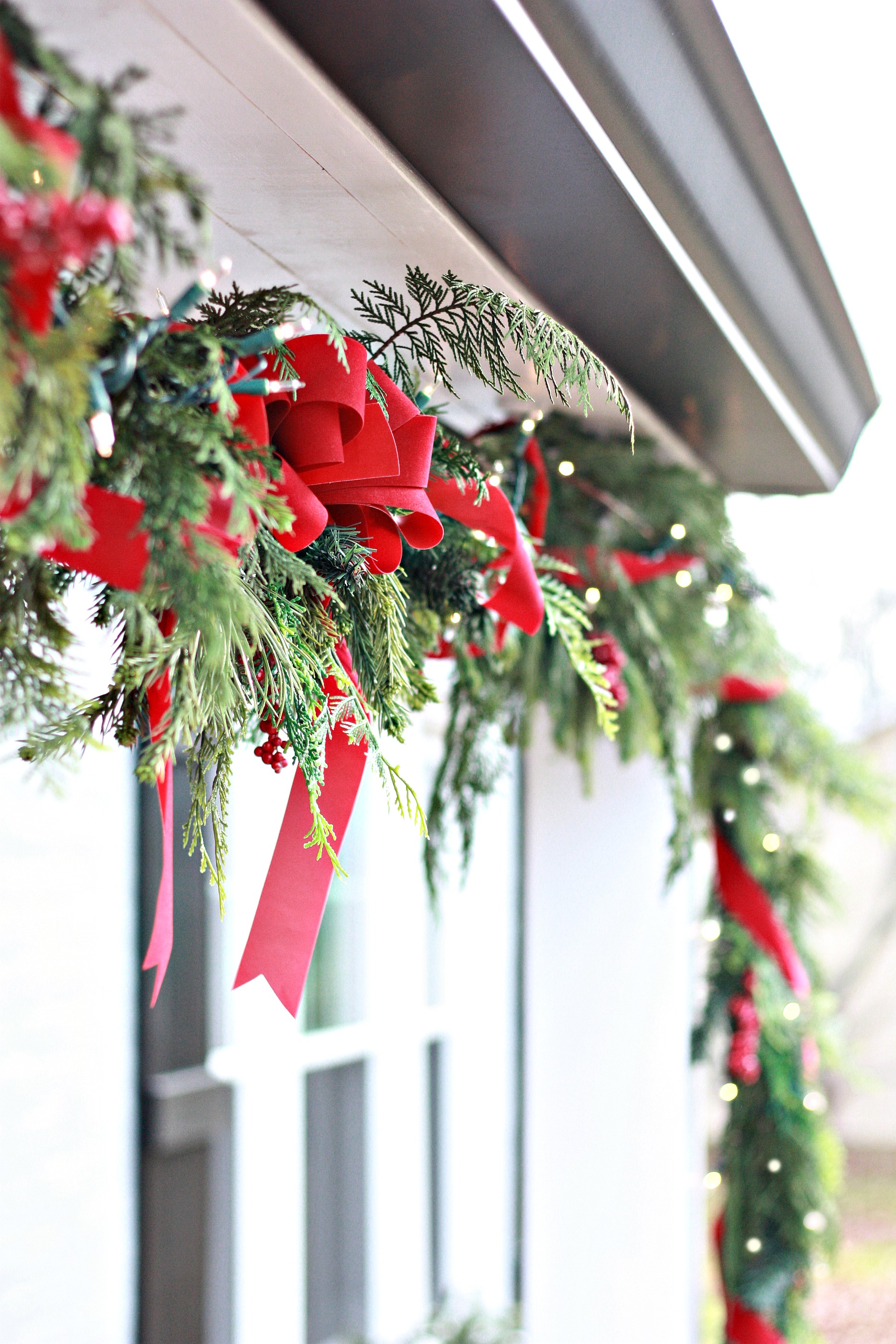 Now some may argue, that my garland was expensive.  However, having built a brand new porch this past year, I was in the market for faux garland that would last for years to come.  I believe I found it.  I purchased 3 strands of
this Christmas garland
 and added real cedar tree clippings to make it look more full.  I decided to also add our own lights to the garland, and I used my own ribbon.  The outcome of our extra 15 minutes of work turned out far prettier than I imagined.
My husband  and I added the Cedar clippings with floral wire, and we will remove the clippings when it's time to take it down.  I loosely wrapped it with red velvet ribbon, and made & attached the bow with floral wire.  With little effort we added in layers that are simple, festive, and the best part for me, is that I really think this garland looks real!  An important note to mention, that Veterans' Day Sales are perfect is you're wanting to save money, but get something new – before the Christmas season.  The garland was 50% and with a 20% Veterans' Day coupon made the price tag even better!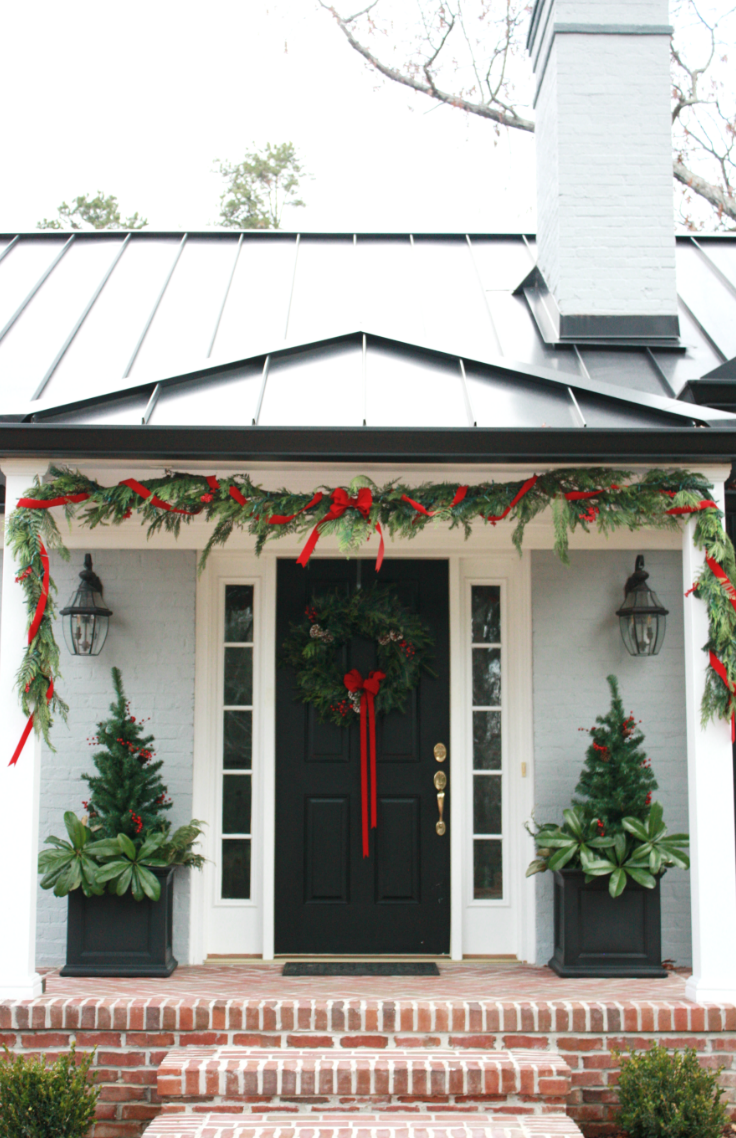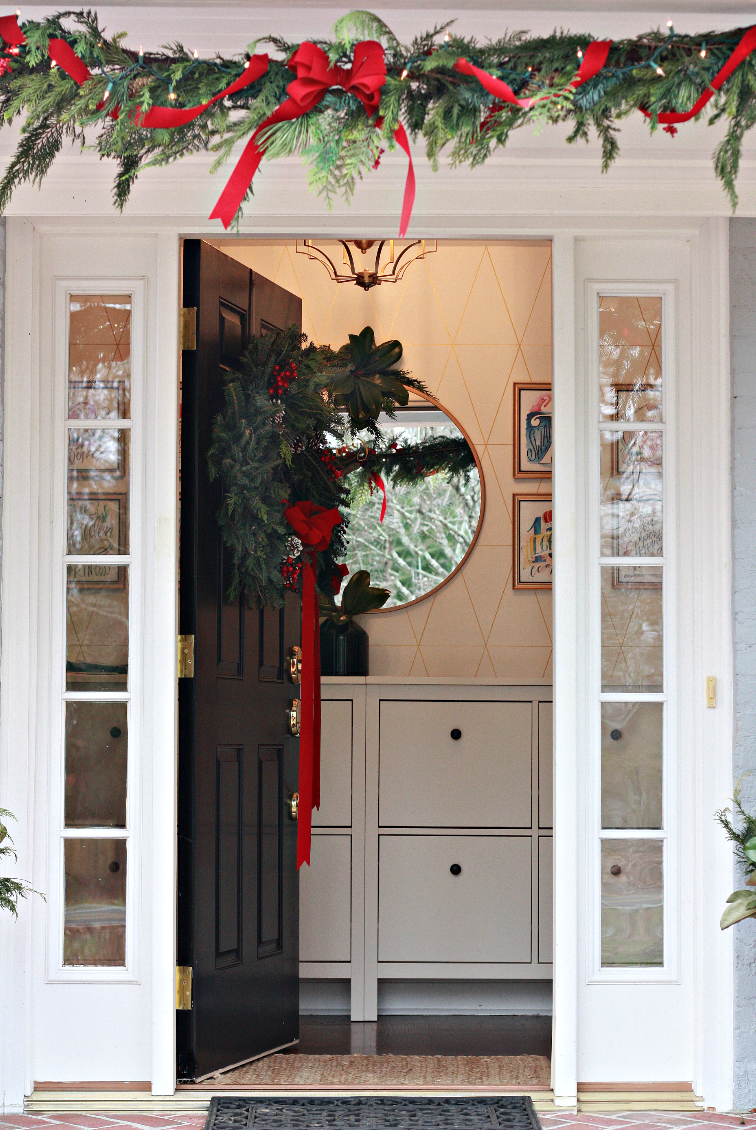 The garland is so beautiful at night.  We added a strand of 100 clear lights, and it looks so pretty against our new foyer entry way all decorated for Christmas.  You can see our
Christmas Foyer
in this post from just a couple of weeks ago.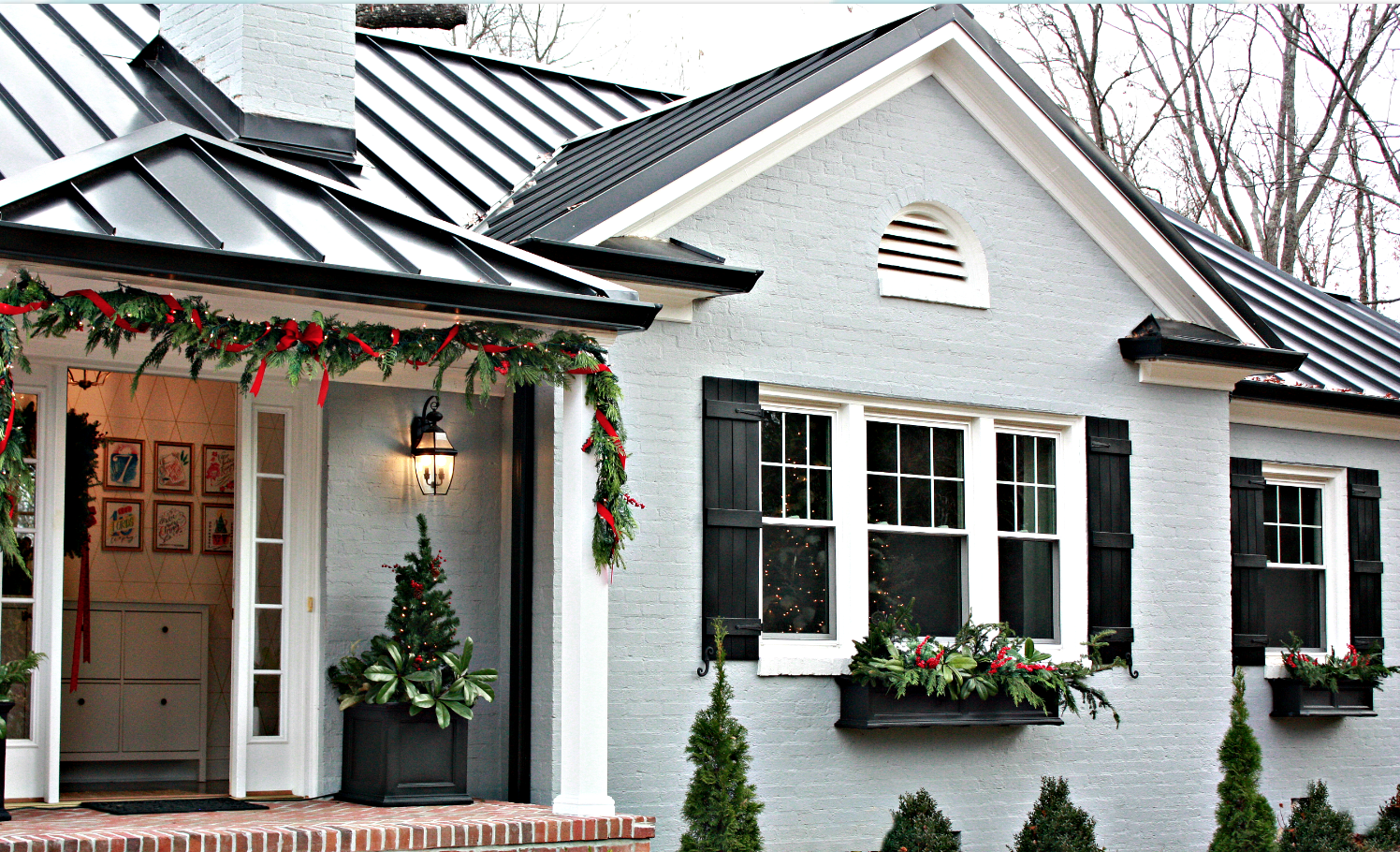 For old time sake, because what fun is it, if you can't look back & see the true "before" – right?  This is how our front door looked when we bought our foreclosure as you can see in
this post
.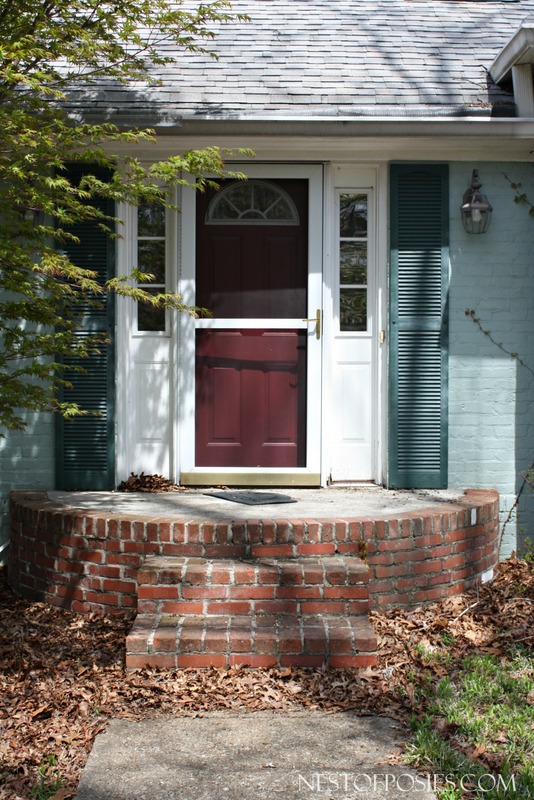 Crazy, right???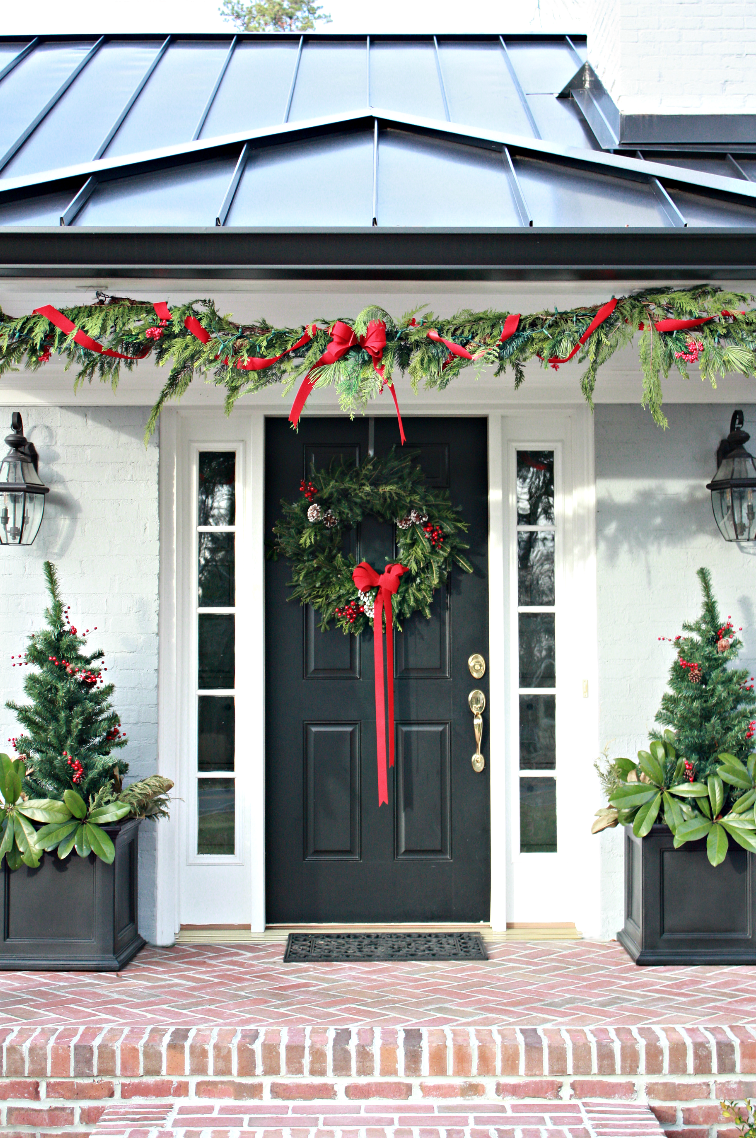 As I have said
many many
times before…God is so good to us.
We feel truly blessed, and well, if I'm going to be completely honest – a little tired because it has been a lot of work as well.
But we are very very thankful.

I wanted to also say "thank you" to all of you who have been along with us on this journey for the past 4 years.  All your kind words, encouragement, and of course social shares truly bless us, and especially me.  I don't ever want to paint a picture that we don't struggle and things are easy around here.  Because they are not.  We are grateful for each step we can take that moves us forward and we try to embrace the delays as well.  I probably will have 1-2 more posts to share for 2017, and then I'll be taking some time off for Christmas.  I'll still be around on social media, but I know you all understand.  I wish you all a wonderful holiday season with those you love most, and hopefully some much needed time to rest, relax and rejoice in our Saviour's birth.
Click the images below, to shop or just browse for some of the items I have used in this post.  I absolutely swear by the porch planter boxes & of course the window boxes.  They all have a water reservoir in the bottom, so I don't have to water my plants during the Summer too often.
these links are *affiliate* links.
SaveSave
SaveSave
SaveSave
SaveSave
SaveSave
SaveSave
SaveSave
SaveSave
SaveSave
SaveSave
SaveSave
SaveSave
SaveSave
SaveSave
SaveSave
SaveSave
SaveSave
SaveSave