If there was ever a salad that represented Fall, Thanksgiving and even Christmas, I truly believe it's this Avocado Bacon Butternut Salad with Pumpkin Vinaigrette. It's truly a burst of holiday flavors in an amazing healthy salad that you can serve with any meal, or for a meal itself.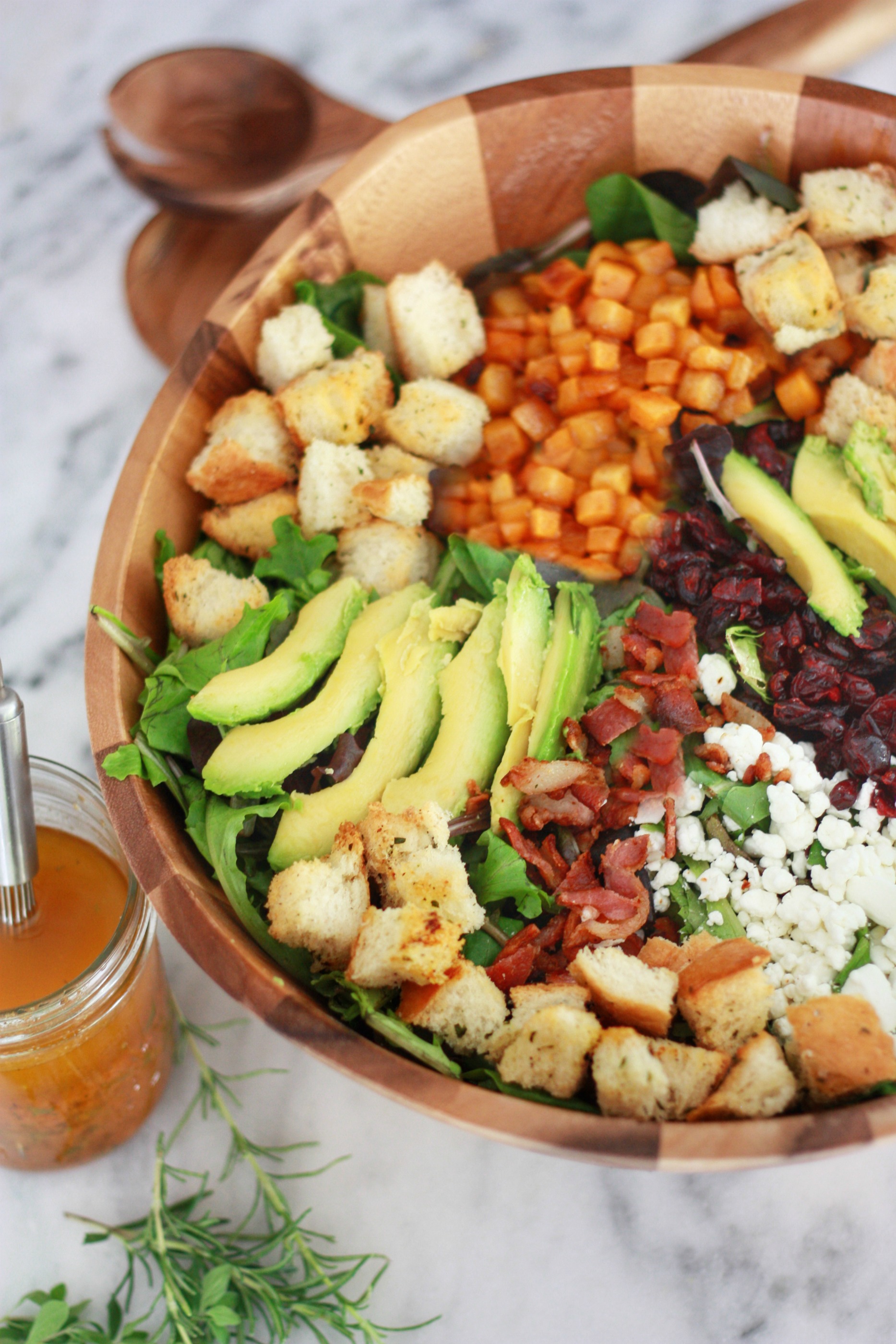 I'm back once again for another blog tour for the Tastes of the Seasons, and this time it's all about Thanksgiving side dishes.  Are you new to this blog or to the Tastes of the Season blog tour, I hope you like it just as much as I like participating in this tour.  It's a blog tour created by my friend,
Kristen from Ella Claire Inspired
, of several bloggers who are creating new recipes throughout the Fall and Holiday season.
You can see the first tour for all things Apple here.
The second tour was for all things Pumpkin and it can be found here.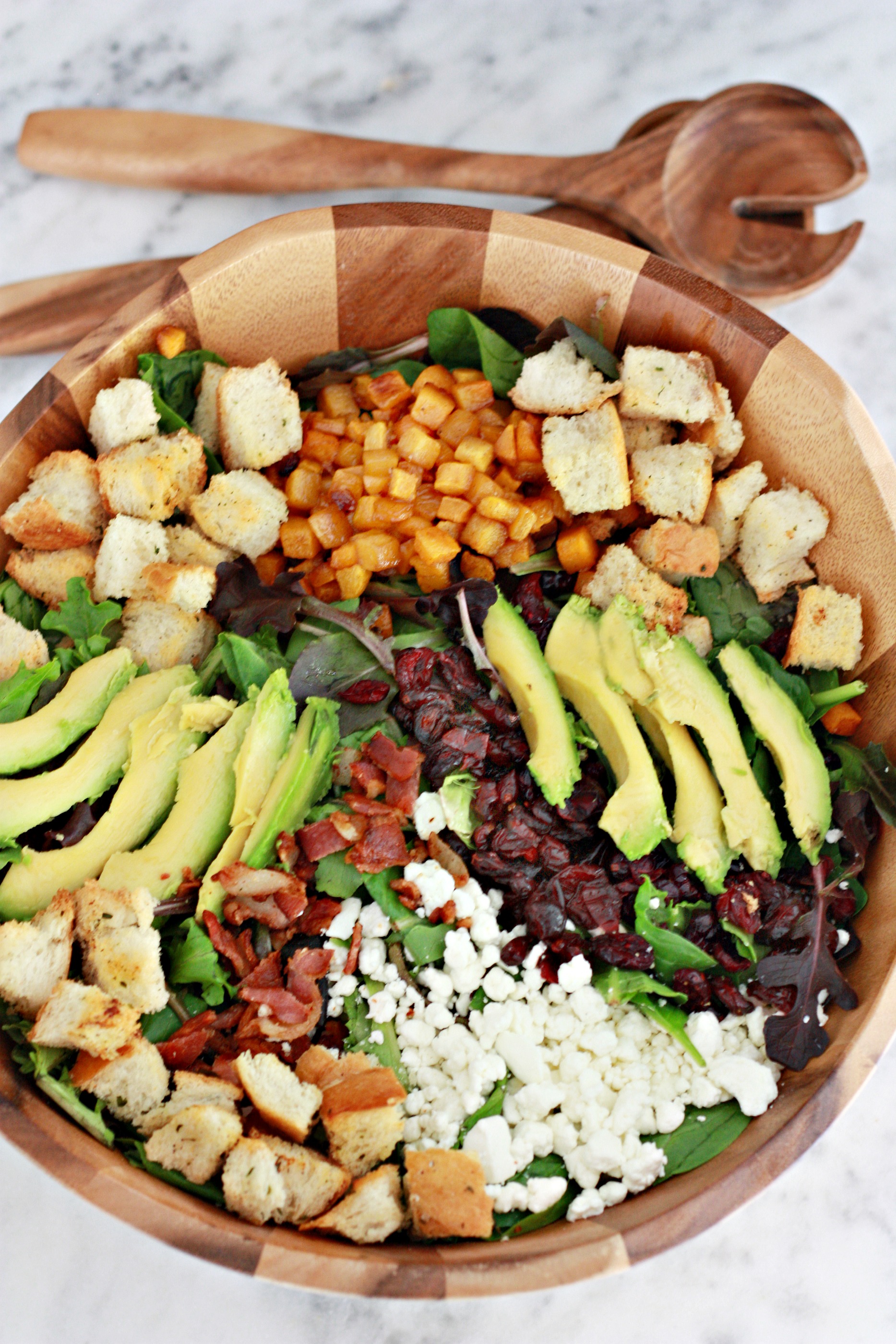 We are now at the third tour which is Thanksgiving sides.  Below you'll find all the links for the beautiful recipes from each blogger.  My mouth was watering just reading the titles.  I decided to create this Avocado Bacon Butternut Salad with pumpkin vinaigrette because Thanksgiving sides can be so heavy in carbs if you know what I mean.
And believe me, I think carbs are the greatest thing on earth.
But sometimes you want to mix in a salad with all those carbs.
Or at least, I do.
And this salad does not disappoint!
Trust me!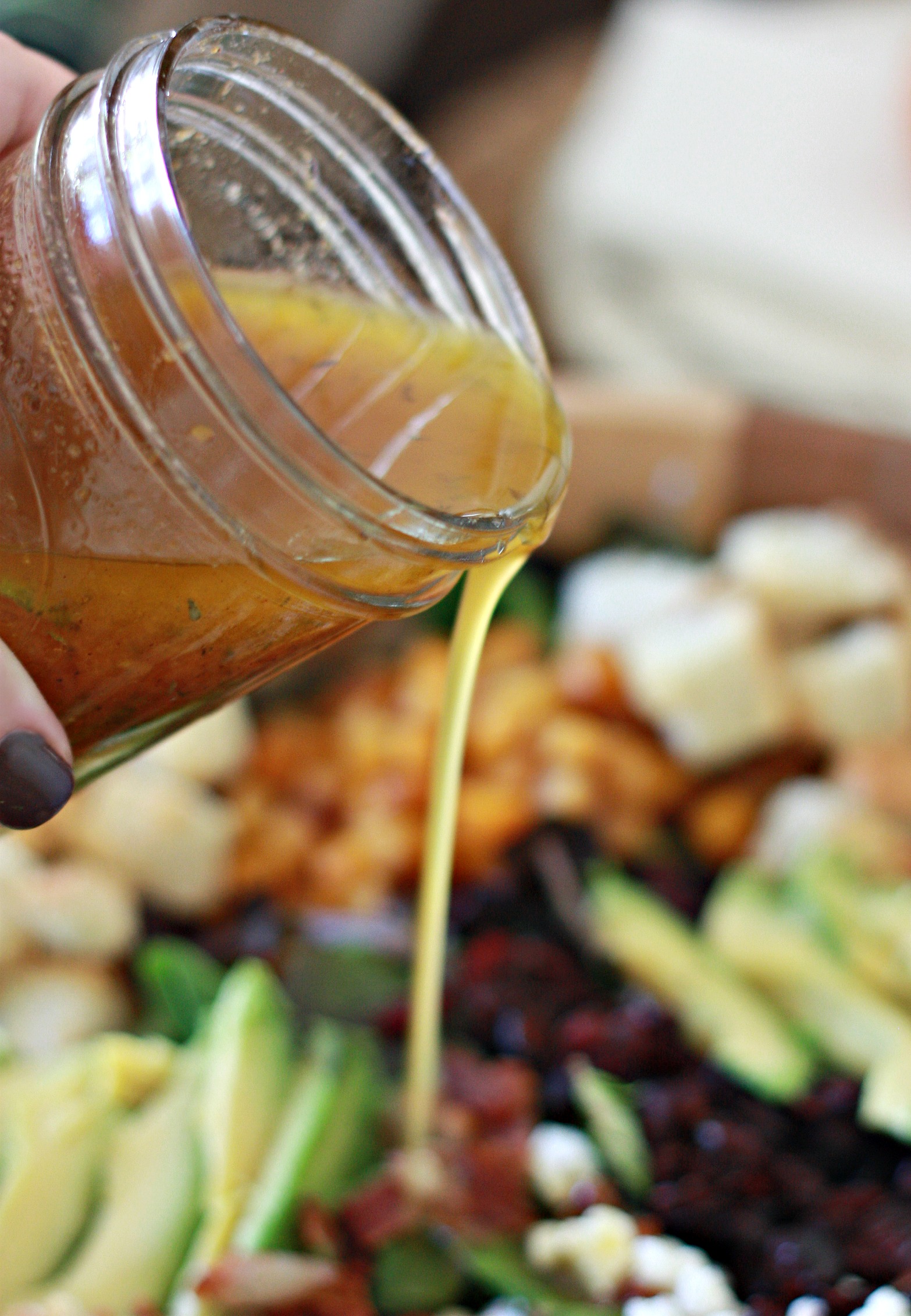 Avocado Bacon Butternut Salad with Pumpkin Vinaigrette
Ingredients
Your favorite kind of lettuce - mix greens, romaine, spinach - whichever you prefer
dried cranberries (about 1/2 cup)
crumbled goat cheese
roasted butternut squash
4-5 slices of bacon chopped
1-2 sliced avocados
croutons - store bought or homemade *see my post for homemade sourdough croutons!
PUMPKIN VINAIGRETTE:
3/4 cup (EVOO) olive oil
1/3 cup apple cider vinegar
¼ cup pumpkin puree
¼ cup fresh basil leaves
1/2 teaspoon of thyme or fresh thyme if you have on hand*
2 cloves garlic, minced
½ tsp salt
½ tsp pumpkin pie spice
1 tbsp maple syrup (or 1 date)*
3 Tablespoons of water
Instructions
This salad does take some prep work, and because it does I love to make it a big salad! All the amounts truly depend on how many people you are making the salad for.
But I created the salad all in layers, and drizzled the salad dressing on each plate. That way I could save some of the salad if there was any left over.
Place all your lettuce in a deep dish salad bowl.
In sections on top of your lettuce, add your cranberries, roasted butternut, bacon, goat cheese, croutons and lastly the avocado.
PUMPKIN VINAIGRETE INSTRUCTIONS:
Place all the ingredients in a mixing bowl and stir with a whisk. You may find you need to add a little more water or EVOO for your liking. Place in a bottle or mason jar to preserve in the fridge.
Drizzle the salad dressing over your salad once served on a plate.
Enjoy!
https://www.nestofposies-blog.com/2017/10/avocado-bacon-butternut-salad-with-pumpkin-vinaigrette/
If you would rather read a full step by step on how I made this amazing Pumpkin Vinaigrette, you can head over to this post.  I also have a post on my homemade sourdough croutons, that's truly make this salad perfection.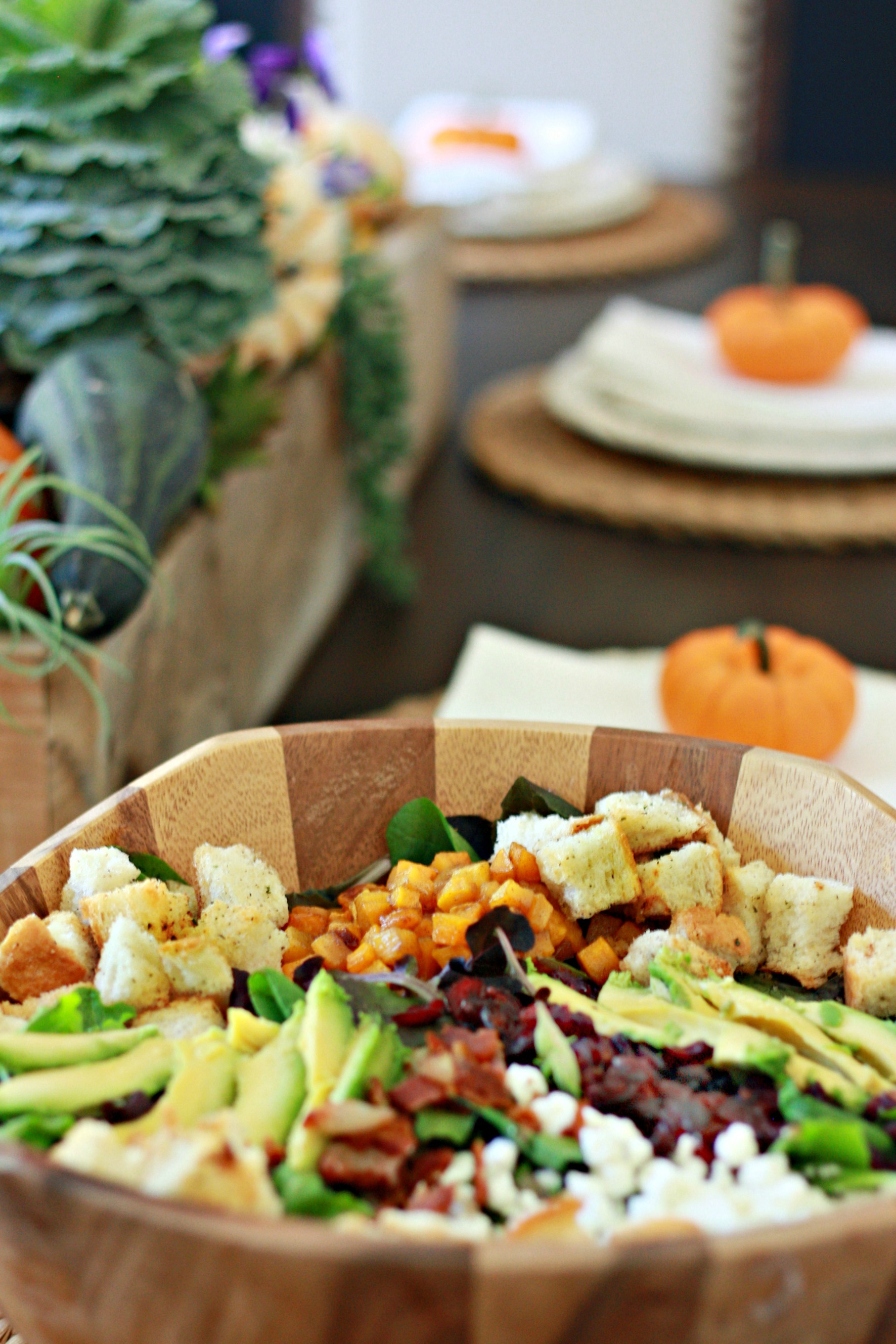 Below you'll find all the beautiful recipes for Thanksgiving sides from all the bloggers from the Tastes of the Season blog tour.  Be sure to click on each link to see the recipe in full and their amazing presentations.
Apple Walnut Cranberry Sauce by Ella Claire | Paleo Sweet Potato Casserole by Nesting with Grace | Herb and Garlic Roasted Carrots by Craftberry Bush | Bacon Green Beans by anderson + grant | Pumpkin & Cheddar Scalloped Potatoes by My Sweet Savannah
Sweet Potato Pie by City Farmhouse | Sweet Cornbread by Nina Hendrick Design Co. | Sally Lunn Bread by House 214 | Cranberry & Brie Bites by Finding Home Farms | Avocado Bacon Butternut Salad with Pumpkin Vinaigrette by Nest of Posies
Cranberry Pretzel Salad by Zevy Joy | Sweet & Savory Cornbread by Julie Blanner | Roasted Carrots with Candied Pecans & Goat Cheese by Inspired by Charm

To get all the details of my homemade sourdough croutons along with the free printable to attach to gift bags (they're perfect for hostess or neighbor gifts) click here.
To get all the details of the Pumpkin Vinaigrette visit here.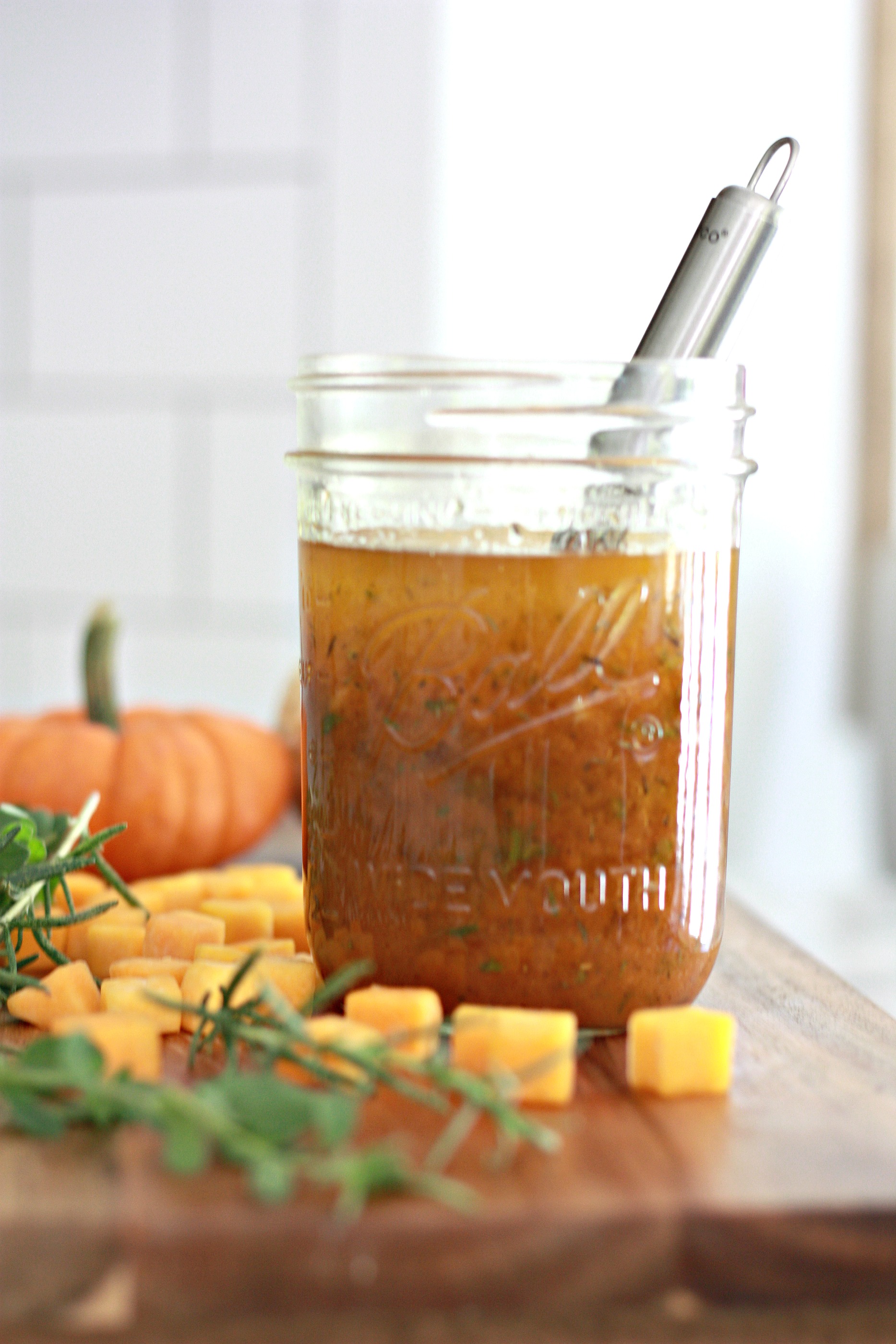 Save
Save
SaveSave
SaveSave
SaveSave
SaveSave
SaveSave
SaveSave
SaveSave
SaveSave
SaveSave
SaveSave